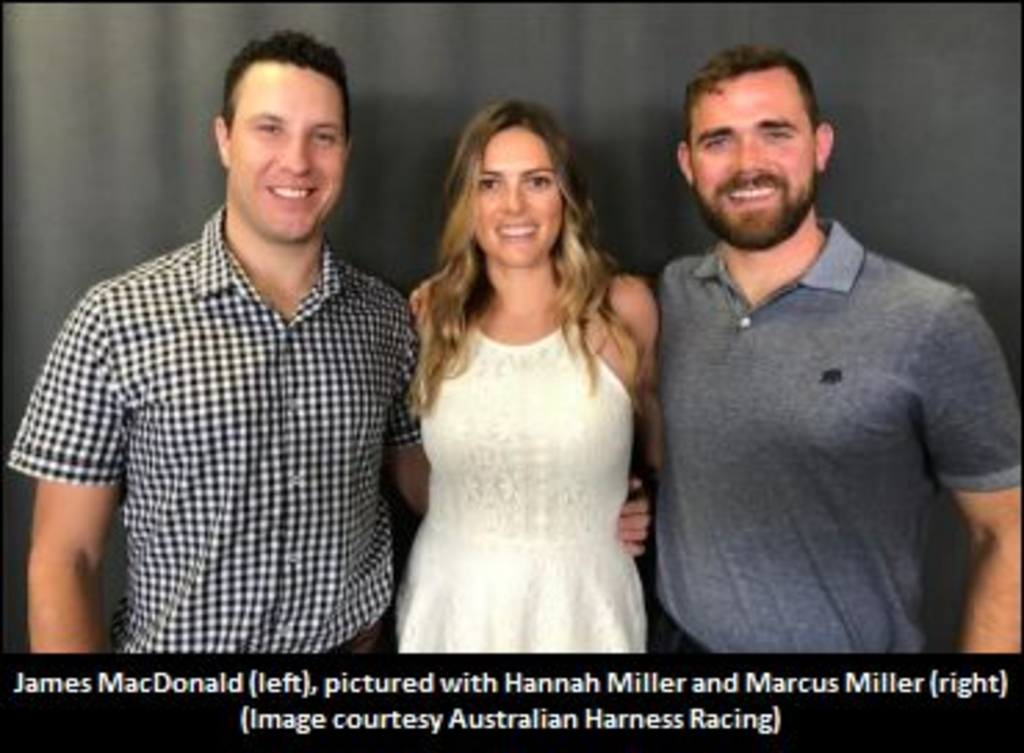 Published:
December 3, 2017 05:56 pm EST
After the first two heats of the International Invitation Drivers Series at Gloucester Park, the contest is too close to call, as there is a three-way tie for top spot between Victorians Greg Sugars and Chris Alford and Western Australian Gary Hall Jr.
All three drivers have 21 points, while another Western Australian in Chris Lewis is on 20 points.
Sponsored by Sky Racing and Slater Gartrell Sports, the final two heats will be held at Gloucester Park on Inter Dominion Grand Final night (December 8). The opening heat saw a daring drive by Gary Hall Jr. behind Abraxas Blues just fail, as he was nailed on the line by Bronze Seeker, who wa driven by Greg
Sugars for trainer Peter Anderson. Anderson's second performer, Lisharry, was a close-up third with Chris Alford in the sulky.
The second heat saw the Colin Brown-trained Christian Cullen mare Eden Franco lead throughout for driver Chris Lewis and score comfortably from the Chris Alford-reined Madame Meilland and the Gary Hall Jr.-driven Ace Bromac.
Visiting North American reinsmen James MacDonald and Marcus Miller found it hard to leave each other's side, as they finished sixth and seventh in the opening heat and eleventh and twelfth in the second heat. Both finished with eight points at the halfway point.
Neither driver had any luck in the ballot for horses in the opening two races and both are hoping for a better opportunity to display their talents on Inter Dominion Grand Final night.
"It was a great experience and the racing is extremely tight and a buzz driving in front of such a big crowd," MacDonald said.
To view the replays of the races, click here.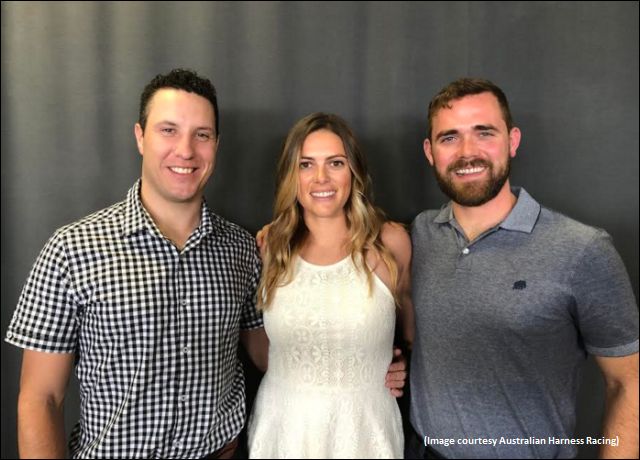 James MacDonald (left), pictured with Hannah Miller and Marcus Miller (right)
There were in excess of 8,000 fans on track on Friday night and more are expected this week for the $1.1 million Inter Dominion Grand Final.
MacDonald, the current World Champion finished seventh on the $6.00 chance Your Excused in the opening heat and 11th on the $37.50 chance A Boy Named Rosie in the second heat.
Miller, who finished third in the recent World Championships, was sixth on the $92.60 chance Ona Happy Note in the first heat, while his drive Extreme Prince at $98.30 suffered an atrial fibrillation in the second heat.
Both MacDonald and Miller were active participants at the traditional Inter Dominion Calcutta held on Sunday as part of the Barrier Draw function for the 2017 Inter Dominion.
MacDonald paid $1,800 to purchase pole marker Tiger Tara as his runner, while Marcus teamed with his father, Erv, to outlay $2,550 for second favourite Chicago Bull.
Marcus' sister, Hannah, is also in Perth and she will be one of ten female drivers taking part in a special Lady Drivers Challenge Race, which will feature the world's leading female driver, Kerryn Manning, who has driven more than 3,700 winners and beaten the men to win five Australian Drivers Premierships.
The special race is being sponsored by Retravision, and with the support of Racing and Wagering Western Australia it will be the 11th race on an amazing card of harness racing which will feature four Group One events, including the $1.1 million TABtouch Inter Dominion final.
The ten competing drivers have won some 5,375 races between them.
Nicknamed 'Hurricane,' Hannah was the USA's National Amateur Driver Award winner in 2015 and 2016 and represented the USA in the World Amateur Driving titles in Hungary in 2016 where she finished as the runner-up.
The International Drivers Challenge points tally after opening night appears below.
Driver
State
Heat 1
Heat 2
Heat 3
Heat 4
Total
Chris Alford
Victoria
10
11
N/A
N/A
21
Greg Sugars
Victoria
12
9
N/A
N/A
21
Gary Hall Jr.
WA
11
10
N/A
N/A
21
Chris Lewis
WA
8
12
N/A
N/A
20
Kerryn Manning
Victoria
9
3
N/A
N/A
12
Todd McCarthy
Victoria
4
8
N/A
N/A
12
Kim Prentice
WA
5
6
N/A
N/A
11
Ryan Warwick
WA
2
7
N/A
N/A
9
James MacDonald
Canada
6
2
N/A
N/A
8
Marcus Miller
USA
7
1
N/A
N/A
8
Shannon Suvaljko
WA
3
5
N/A
N/A
8
Mark Purdon
NZ
1
4
N/A
N/A
5
(Harness Racing Australia)