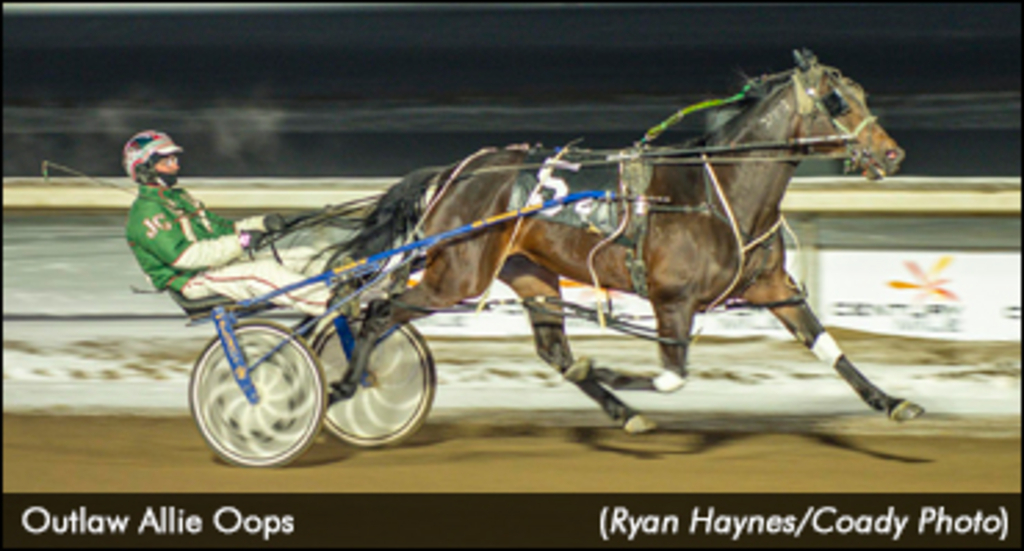 Published:
December 20, 2019 10:48 pm EST
Outlaw Allie Oops completed a sweep of the Century Milers Series with another dominant display in the $20,000 final for three-year-old pacing fillies co-featured on Friday night (Dec. 20) at Century Mile.
Driven by Jamie Gray for owner/trainer Joe Ratchford (who combined for three wins on the card), Outlaw Allie Oops ($2.10) took over command after a :28.4 opening quarter and never looked back as she posted middle splits of :56.4 and 1:25 en route to a 13-length victory to match her 1:54 lifetime mark over a 'good' track. Rapid Reaction and Whatineedisaman rounded out the top three finish order.
The Blue Burner filly's current five-race win streak extends back to the Alberta Sires Stakes Super Final Consolation on November 2. Her dominance in series action is measured by a combined 28 lengths through the three legs.
Outlaw Allie Oops now sports a career record reading 9-2-2 from 21 starts in her debut campaign.
The matching series final for sophomore colts was co-featured on the Friday program with Flying Officer ($6.60) delivering as the favourite with a wire-to-wire effort in 1:56. Michael Hennessy drove the Riverboat King colt for his father, trainer Rod Hennessy, who also co-owns with Lorne Duffield.
Flying Officer was a runner-up in the series opener and a winner in the second round with top three placings in between. In the finale, he carved out panels of :29.2, :58 and 1:27 before holding off the pocket-pulling Joe King and closer Dont Rock The Boat to win by one length.
Jim Vinnell Memorial winner Icy Blue Scooter ($4.10) was back in action winning the $8,100 Open Handicap Pace in 1:54, with Future Star Award finalist David Kelly driving for trainer Nathan Sobey and his co-owners Diane Bertrand and Robert Gilhespy. The win was one of four on the card for Kelly.
To view Friday's harness racing results, click on the following link: Friday Results - Century Mile.