Published:
December 2, 2021 05:01 pm EST
The Meadows Standardbred Owners Association (MSOA) and Hollywood Casino at The Meadows on Thursday honoured driver Hunter Myers, who collected career win 1,000 Wednesday at MGM Northfield.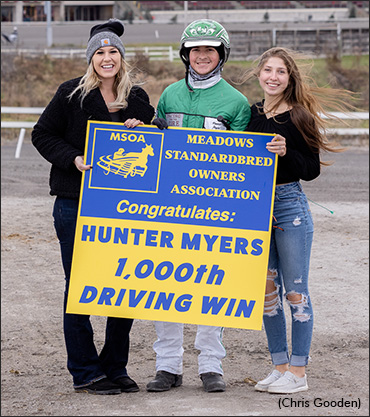 Myers didn't stop there, as he took the first step to the next milestone with career win 1,001.
Myers, 23, resides in Williamsport, Ohio. He scored his first win in 2014 at age 16 at Ohio's Jackson County Fair and is currently enjoying his finest season, with 322 victories to date. His horses have earned more than $7.35 million in purses.
As his fellow Ohioans Aaron Merriman and Ronnie Wrenn Jr., Myers splits his time between The Meadows and Ohio tracks. In 2019, he pursued an even more ambitious schedule; he worked most of the week at MGM Northfield but each Friday drove to Buffalo to race, a six-hour round trip.
"I travel so much that when I wake up and get in the car, it's just another day," he said. "When you have to deal with highway traffic, that's what aggravates you. I guess that's the only downside of racing at different tracks."
Myers is such an accomplished road warrior that he'd welcome work at even more tracks.
"I'd like to be in more stakes races, maybe venture to tracks out East," he said. "Down the road, I might want to train a few, but for now, I want to focus on driving."
(MSOA)