Published:
December 12, 2021 08:14 pm EST

Somewhere Fancy put the finishing touches on a splendid career in the Sunday afternoon (Dec. 12) Preferred Pace at Red Shores Racetrack and Casino at the Charlottetown Driving Park.
Marc Campbell was in the bike behind the son of Somebeachsomewhere as he scored his 58th win when taking the $3,400 Preferred Pace in 1:58.1. Chris MacKay trains the 2018 Gold Cup and Saucer champion for owner John Mehlenbacher of Ontario. Somewhere Fancy shuts down his $850,000 career to stand stud in P.E.I. for the 2022 season.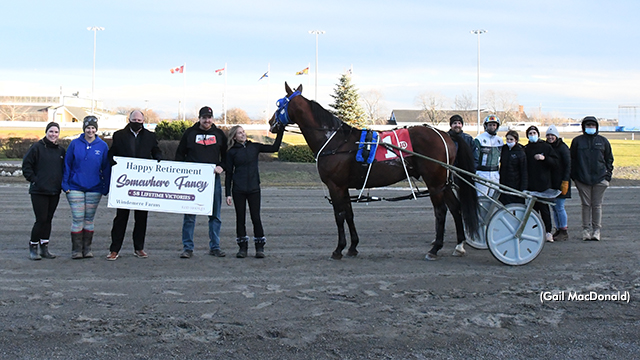 Campbell had three driving wins on the day winning with Sock It Away (1:58.3) for trainer Kevin Maclean and Big Bad Bruiser (2:03.3) from the Neil Bambrick stable.
Corey MacPherson was the most frequent visitor to the winner's circle with four driving wins on the afternoon. The Cornwall driver won with Adventure Luck (2:03) for trainer Reece Williams, Spack Jarrow (2:00.3) for Raymond White and Selkirk Echo (2:02) and Howmacs Dragonator (2:02.1) both from the Ron Matheson stable.
Ken Murphy had a win on a lifetime milestone with Bonitas Sunshine (2:04.1) winning on the Harrington driver's 40th birthday.
Live racing continues Saturday (Dec. 18) at Red Shores Charlottetown.
(Red Shores)