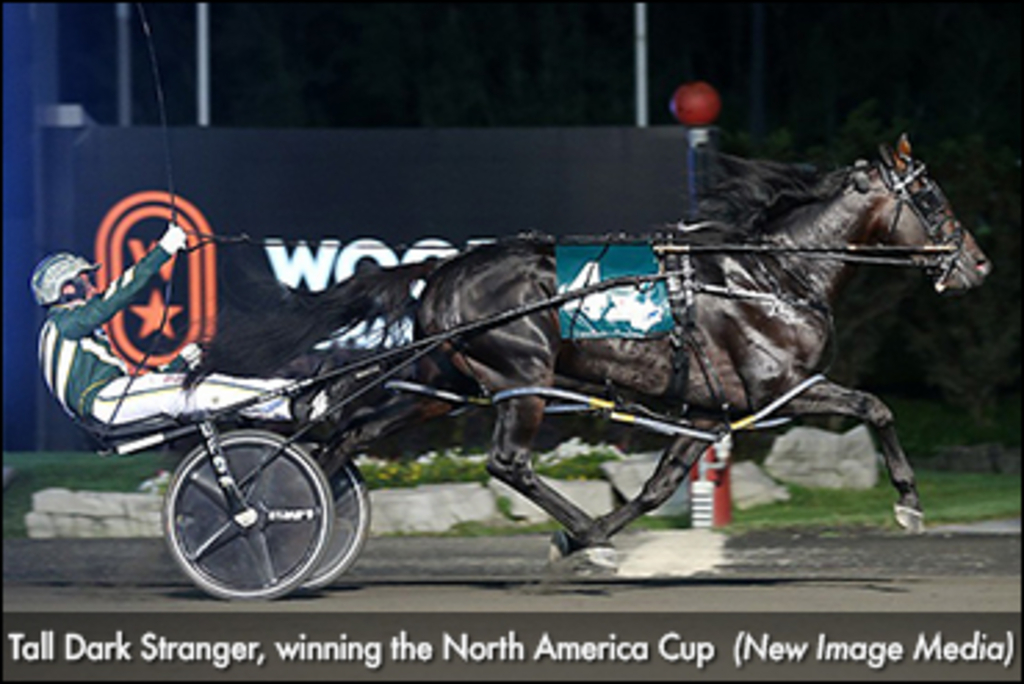 Published:
November 8, 2020 09:32 pm EST

The connections of Tall Dark Stranger have confirmed that the top-ranked horse in harness racing has completed his on-track career.
With a mark of 1:47.1, a career summary of 19-2-0 from 22 lifetime starts and more than $2.365 million in earnings, Tall Dark Stranger will head to the stud barn at Hanover Shoe Farms to begin stud duty in 2021.
After finishing a resolute second in the 2020 Breeders Crown Final at Harrah's Hoosier Park, there was some speculation that Tall Dark Stranger might race later this month in the TVG Free-For-All Final at The Meadowlands. Co-owner Judy Chaffee of Caviart Farms told Trot Insider that the connections have decided to shut their star Standardbred down.
"Everyone is in agreement that Tall Dark Stranger will not race again," said Chaffee. "He will be going to Hanover Shoe Farms to begin his new career there."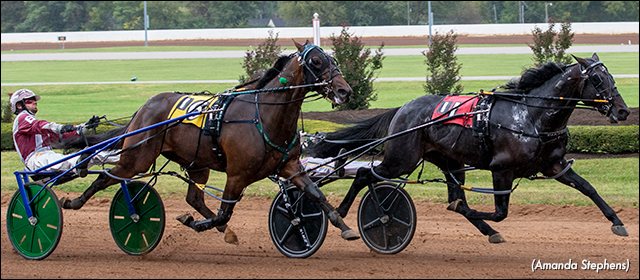 Tall Dark Stranger (#1), shown digging in late — as he had done so many times in his racing career — to repel a late challenge from Captain Barbossa in victory at The Red Mile.
Saying goodbye to Tall Dark Stranger certainly won't be easy for trainer Nancy Takter and Caviart's co-owners, Crawford Farms Racing of Syracuse, N.Y., Marvin Katz of Toronto, Ont., and Howard Taylor of Philadelphia, Penn. Horses like Tall Dark Stranger don't come around often, and Chaffee is hopeful that the second career for the 2020 Horse of the Year hopeful will provide more memories and highlights through his offspring.
"I think it is the right thing to do — have to admit, though, that these two years have flown by. I really don't know where the time went from when I first saw him as a yearling at Lexington — until now that he will be moving along to a career at stud. It has been a joy, though, traveling along with him on this wonderful journey. He has been such a joy! And we have so many incredible memories."
Tall Dark Stranger is the only horse to ever win the Metro Pace and Breeders Crown as a two-year-old and the Meadowlands Pace and North America Cup as a three-year-old. He swept divisional honours in 2019, winning the Dan Patch Two-Year-Old Colt Pacer of the Year in the U.S. and the O'Brien Award and Canada's Two-Year-Old Colt Pacer of the Year. He also posted wins in the Cane Pace, Tattersalls, Bluegrass and International Stallion. Four of his wins this year were clocked faster than 1:48.
His resume is the envy of many, and although Tall Dark Stranger's $330,000 yearling price came with certain expectations, Chaffee, for one, had visions of grandeur ever since setting eyes on the son of Bettors Delight and Precocious Beauty at the 2018 Lexington Selected Yearling Sale.
"You may recall me saying that when I saw him as a yearling, I turned to Buck and asked him, 'Is there such a thing as a horse being too perfect?' I remember that so clearly to this day. So, from that time until he raced, I always knew that he would be special — very special. And now I have that same faith that he will be following in his dad's steps in the stallion ranks. I can hardly wait to see his sons and daughters. And, of course, we will be supporting him.
"I feel convinced that he will not only pass along his racing talent, but also will pass on his 'heart' — that grit that makes him want to win — to beat every horse that comes near him."