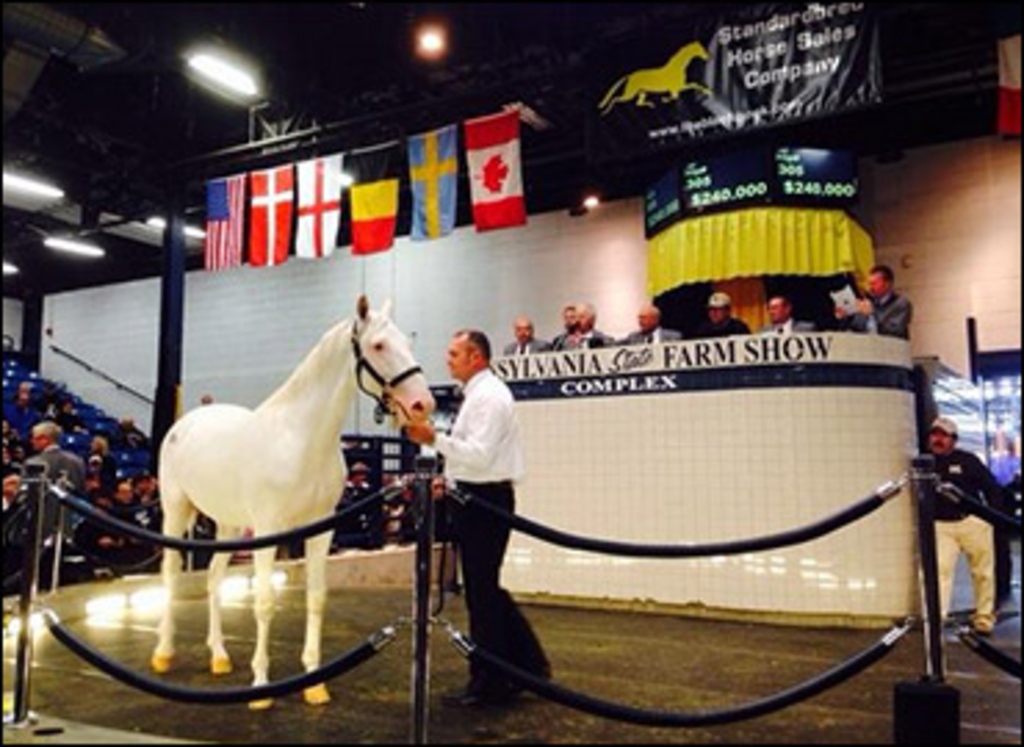 Published:
November 5, 2013 12:52 pm EST

White Bliss, the rare white Standardbred yearling that has made headlines since last Spring, was the sale topper during Tuesday's session of the Black Book Yearling Sale in Harrisburg, Pa.
The son of Art Major-Coochie Mama was purchased for $240,000 by European casino executive Tristan Sjoberg, who currently owns racehorses with top Swedish trainer Ake Svanstedt. Svanstedt previously announced that he would be relocating his stable to the U.S. this month.
The white Standardbred colt, born May 6, 2012, is one of about 200,000 births among Standardbreds and was a big surprise to all at Fair Winds Farm in Cream Ridge, New Jersey. He's the son of a bay stallion and a bay mare, with not a single white relative in the family tree.
Hip 428 Mohegan Blue Chip was purchased for $215,000 by agent Tony Alagna of Steger, Illinois. The son of Somebeachsomewhere-Casino Miss is a half brother to the multiple NYSS winner, Ryder Blue Chip (1:50.3 - $189,675).
Hip 504 Apple Bottom Lindy also fetched a final bid of $215,000. The daughter of Cantab Hall-Lindys Got Back was purchased by agent Robert Lindstrom of Sweden. The filly is the first foal of a three-quarter sister to Teagan (1:56.2 - $255,534).
Hip 346 Migrate Blue Chip was purchased by Ecurie Synergie of Montreal, Quebec for $180,000. The Rock N Roll Heaven colt is the first foal out of the Pro Bono Best mare, Gro (1:50.3 - $454,135).
Hip 459 Severine Hanover sold for $175,000. Agent Linda Toscano of Freehold, New Jersey signed the sales slip on the daughter of Donato Hanover who is the first foal out of the multiple NYSS winner, Secret Credit (1:59.2 - $133,811).
Hip 390 Mullet Blue Chip was purchased by Jeff Gillis of Hillsburgh, Ontario for $160,000. The American Ideal-Babe Watching colt is a half brother to Babe Per View (1:53 - $74,605) and Baberhood, the dam of the undefeated American Ideal colt, Hes Watching (1:50 - $291,722).
Tuesday's session saw 297 yearlings go through the ring for gross sales of $11,803,500 and an average price of $39,742. Monday's opening session saw 218 yearlings change hands for gross sales of $14,197,000 and an average of $65,124.
Important Links:
(photos courtesy @StallKenny and Instagram)