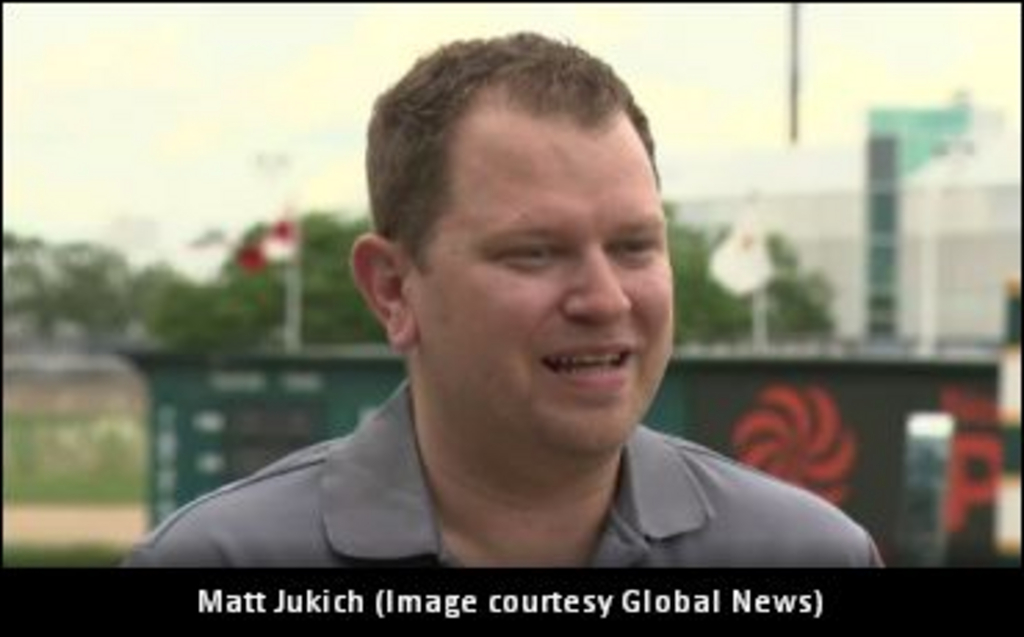 Published:
November 28, 2017 02:57 pm EST
They're off! And with that, Matt Jukich is off as well calling the horse races at Northlands Park — something he has been doing since November 1, 2013. That means he has another 34 years to go if he wants to catch up to his father, Dan Jukich, who has calling the races at Fraser Downs and Hastings Park in B.C. for what seems like an eternity and who is a member of the B.C. Horse Racing Hall of Fame.
The funny thing, however, is that the son never really thought about following in his father's giant footsteps. "It wasn't something I dreamt about. It just kind of happened," said Matt, who is also Northlands assistant racing manager.
"I used to tag along with my dad from the time I was about five years old. I liked being in the booth with him and trying to pick the winners. I loved horse racing. But I never set my sights on calling the races. I didn't grow up thinking this is all I want to do. I sort of fell into it."
Instead, while his dad called the races, Matt did everything else at Hastings. "I stuffed coffee cups for giveaways, I served ice cream, I ran the concessions, I worked in the restaurant, I was a bartender… There wasn't much I didn't do."
Then, after Shannon 'Sugar' Doyle, who was calling the races at Northlands, left for Fort Erie (and now The Raceway at Western Fair District in London, Ont.), Jukich got a call from former Northlands manager Chris Roberts asking if he wanted to come to Edmonton.
"I was working in the race office at Hastings at the time, but I was also doing some work between races from the paddock." At the same time, Matt was also doing some work from his home for Northlands – making the picks in the program and doing a video Pick 4 on who to bet on in those Edmonton races.
Still, Matt had never called a race live in his life. "I figured I could pick it up and Chris had faith in me; he had always been a big believer in me. And I had also practiced calling the races imitating my dad."
Matt arrived in Edmonton on Halloween. The next day he was at Northlands. And, when the 10th race came along, Matt stepped to the microphone. As he recalls, "It didn't go well. There were a lot of long pauses where I didn't say a thing and a lot of hums.
"You can practice all you want, but actually doing it live when everybody is listening was a whole different kind of pressure. I thought to myself, 'oh geez, did I take a job I couldn't do? Did I just make a big mistake?'"
The answer is obviously 'no,' as Matt has turned himself into one of the top race announcers anywhere. He is bright, funny, quick, crisp, concise and has a great resonating, clear voice. But as much as anything he has an amazing, uncanny, memory.
While many people think race callers simply memorize the horse's saddle pad number and attach it to the name of a horse, that's not the case at all. Instead, announcers like Matt memorize the colour of a jockey's silks and the colour of their racing caps and then associate it to the horses.
The reasoning, especially in Thoroughbred racing, is simple. When you have a group of horses clustered together, you can't see the numbers.
Thus, in Thoroughbred racing for example, brown silks with white diamonds on the back is going to be a Bar None Ranches colours; yellow silks with black diamonds on blue sleeves is going to be a Riversedge Racing Stable horse. In harness racing, green white and yellow colours are going to be a horse from Keith Clark's barn and Brandon Campbell's colours are always orange, white and blue.
In Thoroughbred racing, the jockeys' caps are always the same, too. The jockey on the No. 1 horse will have a red cap, the No. 2 horse's jockey will be a white cap, a blue cap is the No. 3 horse, and so on. Give Matt five minutes and he will memorize and associate those colours with the horse's name.
"I know all the silks here front, back and upside down. But then I've always had a good memory for colours and silks. It's kind of a 'Rain Man' thing. It's kind of weird. But give me a program and a race with eight horses and I can do it no problem."
Matt also gets to do a lot of prep work because of his other job of working in the racing office where he takes entries, makes the morning line and helps racing secretary Jason Teague with things like putting out the condition books.
"I talk with the trainers when they are entering their horses; I know who they raced against the last time they ran; I do the morning line; I do the picks for the program. So, by the time the race comes along, I've probably looked at it in different ways seven or eight times."
He also does a little advance scouting of noting who the speed in the race is and which horses – especially the favourites – will be coming from off the pace.
But not too much.
"I don't try and predict what is going to happen. A speed horse can stumble coming out of the gate and then everything goes out the window and you are swimming up-stream."
Every race is also a story for Matt. He sets the race up with a preamble, and then when the harness starting gate truck leaves or the starting gates clang open in Thoroughbred racing, he narrates the action starting out slow, ups the tempo as the race unfolds, and then finishes with a crescendo.
He always knows who the favourites are and who the possible upset possibilities are. And, he'll know which jockey, trainer or driver is having a big day. With five or six minutes to post time, Matt will also often give his insight into who he thinks will win the race or which horses can post an upset. "I do that for the casual fan. I like to give a little insight into things people may not have seen or noticed."
Even in short three-and-a-half furlong Thoroughbred races he also makes a point of mentioning every horse in the field at least once. A full field works better for him. "If you've got a five-horse field and a 1-9 shot is on the front end, there isn't much to say. You are constantly having to fill air time with something trying not to drone on about the same thing."
The more horses the more action there is for Matt to tell his tale. Sometimes those tales can be harrowing. Like the time a horse stumbled leaving the gate, unseated his rider and then started running the wrong way around the track eventually almost colliding with the rest of the field just past the finish line.
"It was June 7, 2014. Race No. 7. The horse that stumbled was Change of Plan; the jockey was Chris Russell," he says as if it was yesterday. "Fortunately, the outrider, Mike Buguead, reached out and grabbed the reins of Change of Plan just in time. It was a desperation grab; Change of Plan probably came within a foot and a half of hitting the two horses that were in front. "It was gut wrenching; I was really rattled."
Just as that memory is forever indelibly etched in his mind, so is the time last year when he shared the booth with his dad at Hastings and called a race. "That was a special moment. My dad wanted me to call one race, so I did. It was May 29. Third race. The No. 2 horse, Wild Rose of Texas, won it. He was sitting fourth and won by a couple of lengths. The jockey was Romario Saunders. The trainer was Jodie Rawson.
"I don't know why or how I can remember things like that, but I can." One thing he doesn't do is bet on the races he is calling. "When we aren't racing I'll go to Billy Budds or some other off-track betting location. Sometimes I'll bet on races from home sometimes and make a few wagers. I take my annual beating every Breeders' Cup. "I like trying to figure out who is going to win. But I don't bet on our racing. If I did I wouldn't be impartial anymore; I always want to be on the up and up."
If he were to bet on a race he was calling, Jukich said he'd also be watching the horse he wagered on and miss what was really happening in the race.
Matt has also had his share of horses with almost unpronounceable names to deal with. "There was a horse that came here from Woodbine. The horse's name was Uisee Fe Palamh. I asked the trainer how to pronounce it – which I do whenever there is a horse's name that I'm not sure how to pronounce. He told me but after the race he said I had gotten it wrong.
"Steve Smith had a horse this year named Qvothe. And then there was a Hastings Park owner who named his horses after Mexican gods. They'd be 15 letters long and consonants where there shouldn't be consonants."
When Matt does get a horse with a strange name – again after asking the trainer how to pronounce it – he will write the horse's name down phonetically on the bottom of the program page. But, at least, he didn't have to call a horse which was actually tongue-twistingly named She Sells Seashells or another horse whose actual name was Yakahickamickadola. Why the Jockey Club would allow such a name is a story all by itself.
On the other hand there was a race in Monmouth, New Jersey when track announcer Larry Colmus got a chance to call a race with two competing names: Mywifenosevrything and Thewifedoesntknow, who, ironically enough ended up running one-two. The call got so famous that it was even on a segment of the Today Show.
Matt would love to have that scenario.
(Horse Racing Alberta)