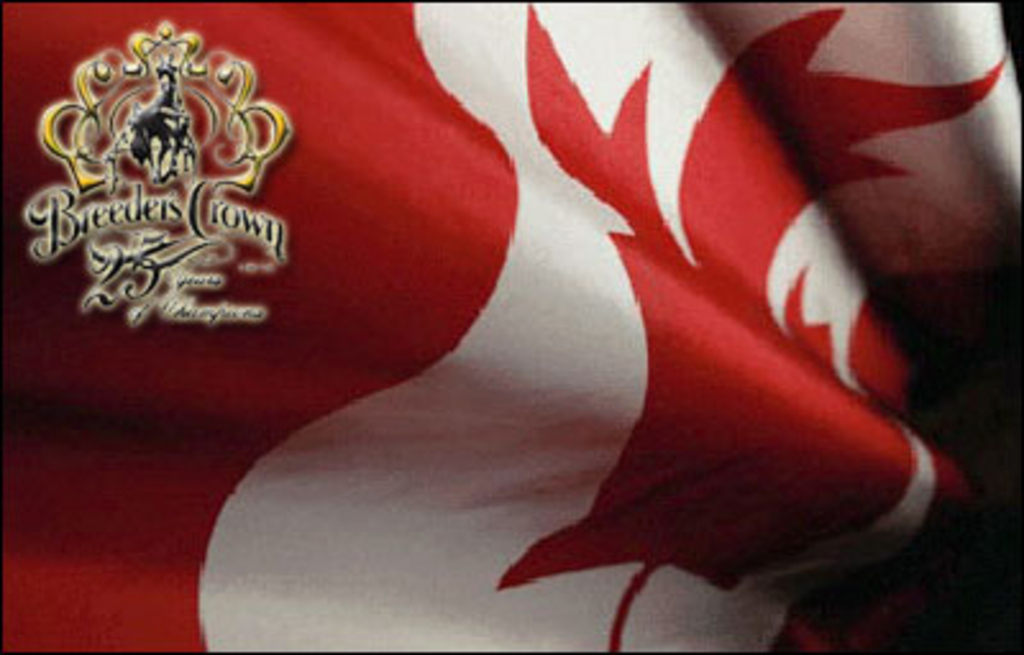 Published:
November 28, 2008 09:34 am EST
With the Breeders Crown celebrating 25 years of championships, Trot Insider has compiled a statistical list of Breeders Crown facts from a Canadian perspective.
25 Years of Crowns. 25 Canadian Crown Connections.
1 - Divisional categories in which John Campbell does not have a Breeders Crown title. Can you guess which one it is? The answer will appear below.
2 - dollars and 15 cents is the average return price on a $2 win bet placed on Crown favourite Somebeachsomewhere in each of his races this year. His highest win payout ($2.80) came on North America Cup night.
3 - Breeders Crown starters this year for sire Kadabra, the most of any Canadian stallion in the 2&3 year old divisional finals. There are three more Canadian stallions represented: Angus Hall (2), Camluck (1) and Mach Three (1).
4 - Divisional categories in which Canadian-sired horses have not won a Breeders Crown title: three-year-old pacing colts, two-year-old pacing fillies, two-year-old pacing colts, two-year-old trotting fillies. Of those, only one can be erased from the record books in 2008 - if Somebeachsomewhere captures the sophomore pacing colt final.
5 - Post 5 at the Big M had more winners than any other post position from January 1 - August 2. Yet none of the eight favourites will leave from the 5 hole on Saturday (7-2-8-2-8-1-3-3). Possible upsets to two Canadian connected horses leaving from the five-hole? Well Said and Dali.
6 - Canadian provinces with owners represented in the Crown Finals. British Columbia, Ontario, Quebec, Nova Scotia, New Brunswick and Prince Edward Island.
7 - Number of wins Mike Lachance sits from the 10,000 win plateau. He won't hit the magical number on Saturday, but he does have three drives in the Breeders Crown finals - the same number of wins he had in the 2006 Crown finals at Woodbine with Possess The Magic, Charley Barley and Calgary Hanover.
8 - Eight drives apiece on Saturday for John Campbell and Brian Sears - the only two drivers with drives in all of Saturday's finals. Sears is the only driver with drives in each of the 12 divisional finals this year.
9 - Combined starters for the "band of brothers" - Andover, Angus and Conway Hall. Each of these sires were winners in a Breeders Crown elim but could not convert in their respective finals.
10 - Straight wins for Somebeachsomewhere with a win on Saturday night. His current streak of nine is the longest streak coming into the finals.
11 - Post for Canadian-campaigned Clerk Magistrate. Has a horse ever won the Breeders Crown from the second tier?
12 - Horses bred by Armstrong Bros. that have won Breeders Crown titles, tops among Canadian nurseries. Six Canadian breeders are represented with starters in the finals on Saturday.
13 - Number of years since "The Magic Man" Bill O'Donnell won the Breeders Crown with three-year-old colt trotter Abundance. O'Donnell aims to work some magic with Feels Like Magic in the three-year-old filly trot.
14 - Breeders Crowns for Canadian-sired colts and geldings, one more than the amount won by fillies and mares.
15 - There have been 15 editions of the Aged Mare Trot, and it's the only division in which John Campbell has not won the final.
16 - Breeders Crown trophies for trainer Bob McIntosh if Lisfinny pulls off the upset on Saturday night. The 14 Crown winners and 15 trophies from the McIntosh barn leads all Breeders Crown trainers.
17 - Years since Camluck captured the aged pacing Breeders Crown for Lachance and McIntosh. Camluck is the oldest Breeders Crown-winning stallion represented in Saturday's finals, with elim winner Chancey Lady.
18 - Years since No Sex Please became the first Canadian-sired horse to capture a Breeders Crown title as Ron Waples guided the gelded son of Brisco Hanover to his first of two Breeders Crown wins in 1990 at Pompano Park.
19 - Number of Breeders Crown divisional speed records held by the Canadian drivers participating in Saturday's finals. (Campbell - 10, Lachance - 4, O'Donnell -2, Ouellette - 1, MacDonell - 1, Ritchie - 1)
20 - Elegantimage winner Lantern Kronos is one of 20 trotters entered using trotting hopples. Of the four trotting events, she's of three favourites wearing hopples - the other two are Honorable Daughter and Deweycheatumnhowe.
21 - Lifetime starts for Somebeachsomewhere after Saturday. The Beach is averaging over $150,000 per start in his his career.
22 - 22 years ago Herve Filion won his second Breeders Crown with the great Grades Singing (her first of three Crown titles). It's the last time that the sport's all-time dash winning driver captured a Crown.
23 - Breeders Crown wins for John Campbell with pacers, more than his total haul with trotters (20).
24 - Number of starts on the season for Shadow Play and John Pauls Legacy, the most in the field going into Saturday.
25 - Straight years of Breeders Crown Final appearances for John Campbell. Although he missed the 2006 two-and-three year old finals due to injury, Campbell was active in the aged finals at the Meadowlands in July of 2006.
If you have yet to make your Breeders Crown picks public, head over to Dean Hoffman's blog and let your feelings be known!