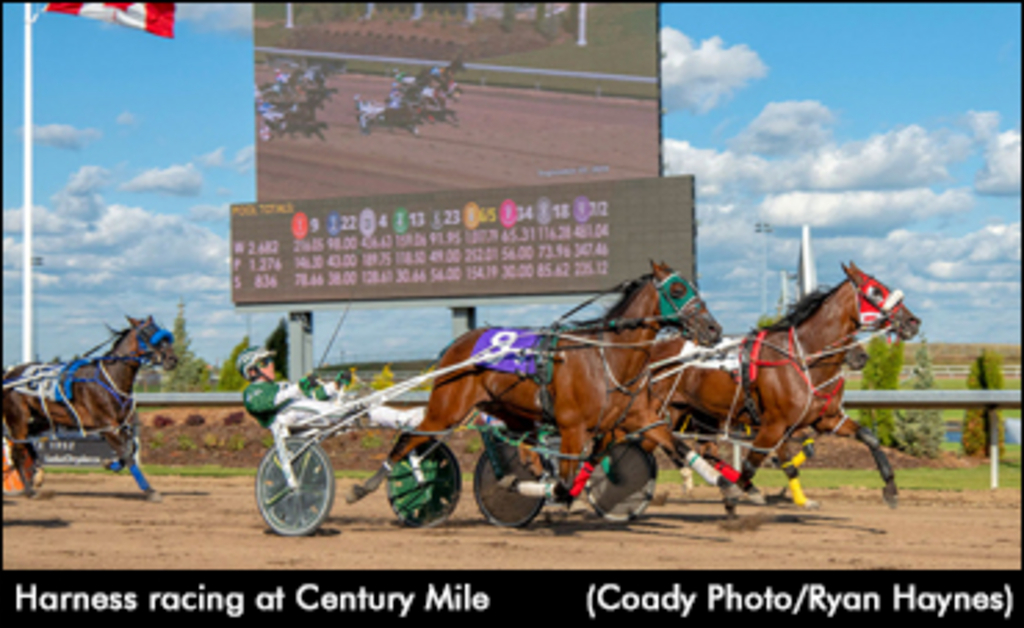 Published:
November 17, 2021 01:45 pm EST
For the first time in almost a year, harness racing returns to Nisku's Century Mile on Friday, Nov. 19.
"It's been a long time; we're excited about coming back," said Fred Gillis, executive director of the Alberta Standardbred Horsemen's Association.
COVID-19 was the reason for the long lapse.
"Because of the pandemic, we stopped racing on December 12, 2020 at Century Mile and didn't get going again until May 18 this year in Calgary at Century Downs. As a result, we were behind the eight-ball right from the start of 2021. We were scheduled to race 93 dates this year but, when we're done at the end of the year, we'll only have raced 59 dates."
Gillis said as a result of the shutdown a lot of owners, trainers and breeders sold some or all of their horses.
"Our horse population is down considerably," he said. "With no racing for five months, COVID made it very difficult to hang onto their horses. Especially the cheaper ones. We probably lost between 50 and 80 horses and I'm actually surprised that we kept as many horses as we did. Hopefully, we have turned the corner. Some trainers are a little thin but the horses haven't stopped eating - they still look good."
But Gillis remains hopeful.
"It's certainly not all doom and gloom. In fact, I'm very optimistic. When harness racing starts up again on Friday, there will be a 10 per cent purse increase. And those purses will go up another 10 per cent on the first of January. We will race for more money overall next year. In 2019 -- the last time we raced for a full year -- our total purses were $10 million. In 2022, we are projecting total purses of $12.5 million. Except this year -- again because of COVID -- the handle had gone up every year since we started racing at Century Downs.
"We hit $200,000 quite regularly in 2020 but we only did that a few times this year," said Gillis, adding that the Standardbred industry in Alberta didn't have a single positive test for COVID.
For the most part, except for a Christmas break, harness racing will take place every Friday at 6:15 p.m. and Saturdays at 1:15 p.m.
While dates have not been finalized for next year, Gillis said the expectation is that they will race once a week -- on Saturdays -- in January and February.
The highlights of the winter meet at Century Mile will be the December 4 Western Canada Pacing Derby and the Century Casino Mile Filly Pace. Both races are each expected to go for purses of $80,000. Twenty-two colts have been nominated to the Derby and 25 fillies to the Filly Pace.
Gillis, a former trainer and driver — "I drove in my last official race on June 15, 2008," — said the Filly Pace will probably be decided between three horses.
"Right from the start of the year, Burning Hot, Graceful Horizon and Exotic Dragon have been battling each other," said Gillis. "I struggle with trying to find any horse outside of those three fillies that can win."
As they have done virtually all year, those three finished 1-2-3 in last month's $60,000 Super Finals for three-year-old fillies with Graceful Horizon going wire-to-wire easily overcoming her outside eight post position and being parked to the first quarter in a quick :27.3. Getting to the half in :56.1 and three-quarters in 1:24.2, Graceful Horizon and driver Kelly Hoerdt still had plenty left cruising to a two-length victory over Exotic Dragon, who enjoyed a perfect two-hole trip right on the back of Graceful Horizon.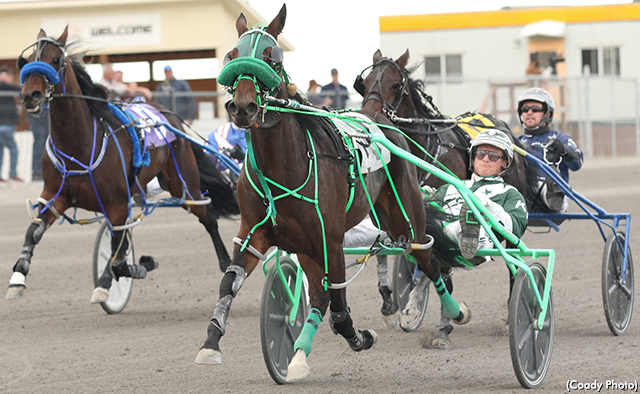 Burning Hot got up for third with the mile going in 1:53.4 - just two-fifths of a second off her lifetime mark. Owned by Derek Gilbert, Velda Olding and trainer Chris Lancaster, the win was Graceful Horizon's seventh in 12 starts this year and 10th in 15 career outings.
Seemingly getting better as the season has gone along, Graceful Horizon, who was the 7-5 favourite in the October 17 Super Finals, also won the elimination leg and $45,400 September 19 Marquis stakes final by a dominant 5-1/2 lengths over Exotic Dragon, who again had the ideal two-hole trip but finished with broken equipment. Burning Hot, who broke stride at the start, was fourth. It was the only time in 14 appearances this year that Burning Hot didn't finish in the top three.
Exotic Dragon, also a marvelously constant filly who has been in the top three in 15 of her 17 starts this year, has certainly had her winning moments too. Owned by Stony Plain's Robert Jones and trained by Nathan Sobey, Exotic Dragon won the June 27 $45,100 final of the $45,100 Diamond stakes where Burning Hot finished second -- by a length and a quarter -- and Graceful Horizon took third.
Sure enough, those three were also 1-2-3 in the August 22 $50,000 Shirley McClellan Final: Exotic Dragon first by a head over Burning Hot with Graceful Horizon third. That race went in 1:54 flat. Since the Super Final, Exotic Dragon was shipped to B.C.'s Fraser Downs where she won the first two legs of the Murphy Stakes. She will race again on Thursday in the $75,000 Murphy Final for three-year-old fillies.
Burning Hot wasn't left out of the winner's circle either. Owned by Clauzette and trainer Rod Starkewski, Burning Hot took the second richest three-year-old stakes of the year: the Gord and Illa Rumpel Memorial on August 22 when Graceful Horizon was second -- by half a length -- and Exotic Dragon fourth.
"All year those three seemed to finish first, second or third every time they raced," said Gillis.
"The Derby for three-year-old colts and geldings is a little tighter," said Gillis. "There are four or five colts that could win that one. You can start almost anywhere trying to find the favourite.
"Samba Beat won the Super Final very impressively," said Gillis of the race Samba Beat won by five easy lengths in 1:54 flat in an upset victory while sent off at odds of 11-1. Codename Cigar Box was second; Dragon Energy was third. Owned by Bill Andrew and trainer Gerry Hudon and his wife, Monica, Samba Beat also won the September 12 Maverick.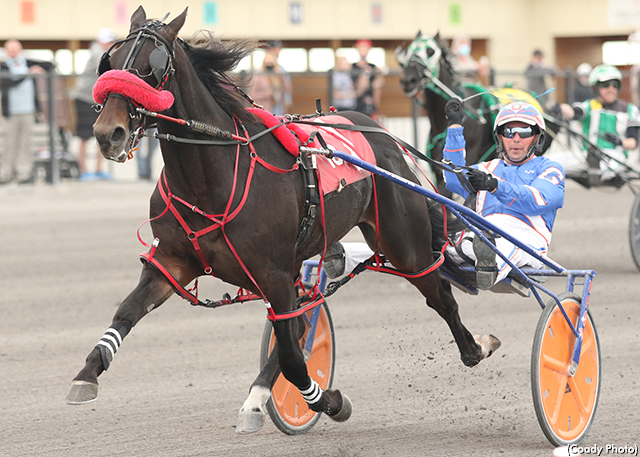 "But I don't know if that makes Samba Beat the favourite for the Derby or not," said Gillis. "Dragon Energy was last year's two-year-old champion. Codename Cigar Box has been right there every time he raced and then there are Sunshine Boy, who isn't an Alberta-bred and wasn't eligible for the Super Final, and Tajmania, who is just getting good. Real good."
On paper, Codename Cigar Box, would probably be the favourite if they raced tomorrow. Like the three top fillies for the Century Mile Filly Pace, Codename Cigar Box has been a gem of consistency finishing in the top three in 14 of his 16 starts this season. Owned by Blair Corbeil, Fred Gilbert and trainer/driver Hoerdt Codename Cigar Box won the September 19 Marquis in 1:53.2 and the August 22 $50,000 Moores Mile Final. Codename Cigar Box has won $121,716 in his short career.
Sunshine Boy is sure to be a factor too. Owned by Jodi Loftus, Dana Shore and George Rogers, Sunshine Boy has won his last two outings -- one of them in a career best 1:54. Sunshine Boy, who has career earnings of $83,516, also won the August 1 $74,870 Ralph Klein, which is second only to the Derby as far as purse money goes. Overlooked by the bettors, Sunshine Boy was sent away at odds 14-1 and got up in time to defeat Like A Shadow by a neck.
"Then there's Tajmania," said Gillis of the colt owned and bred by Sam Johnson. "The Derby is a step up for him but he's won his his last three starts and four of his last five and looked real good doing it.
"We had a lot of good young horses race this year and they will be in action in the Western Canada Pacing Derby and the Century Casino Filly Pace. They should both be really good races.
"It's a rebuild time for harness racing. The whole world is going through a tough spot," said Gillis. "But with purses going up, I'm optimistic that the future will be good."
To view entries for Friday's harness racing card at Century Mile, click on the following link: Friday Entries - Century Mile.
(Curtis Stock / thehorses.com)