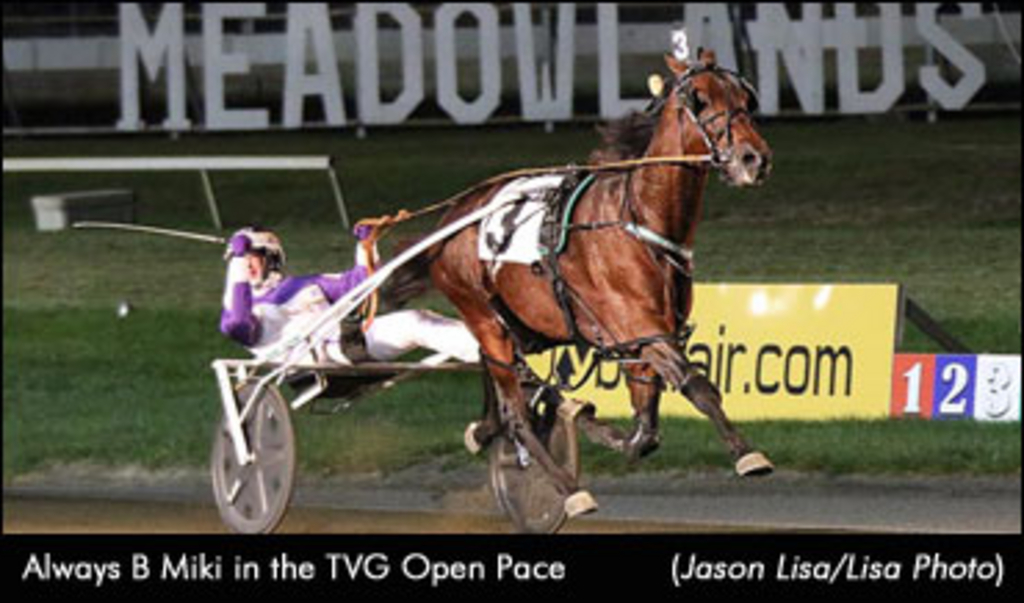 Published:
November 12, 2016 08:57 pm EST

The $1.2 million TVG Free For All Championships headlined Saturday night's (November 12) harness racing card at Meadowlands Racetrack. Always B Miki closed out his career a champion while fellow Breeders Crown winners Hannelore Hanover and Lady Shadow returned to the spotlight and Obrigado kept the excitement flowing right to the finish line.
Breeders Crown champion Hannelore Hanover overpowered Bee A Magician in the stretch to kick off the TVG Championships with a 1:51.4 victory in the $200,000 Mares Trot.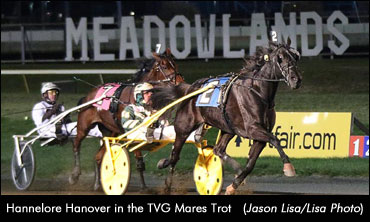 Driver Yannick Gingras settled 4-5 favourite Hannelore Hanover away fifth before flushing out cover down the backstretch in the form of Shake It Cerry (David Miller), who was making her final career start. Meanwhile, 3-2 second choice Bee A Magician (Brian Sears) left from the outside post seven and bypassed a three-hole opening on her way to the top past the :27.3 first quarter. She cleared early leaver D One (Tim Tetrick) and continued to lead past the half in :55.4 and three-quarters in 1:24.2 before Hannelore Hanover fanned three-wide and tracked her down to win by one and three-quarter lengths. Bee A Magician settled for second while D One followed in third.
After the race, Gingras said that his off-the-pace race strategy in the TVG was planned.
"I thought my mare was much the best in the Breeders Crown, but everybody in other camps kind of thought I had it my own way so I figured if I had to move back to the front I was going to get stretched out pretty good tonight," he said. "I think I had the best horse. I think she proved that she's the best mare and she can do it either way."
Gingras said his mare had plenty of trot and he wasn't concerned about tracking down Bee A Magician.
"[When] I was following Shake It Cerry, my mare wasn't so grabby, but the minute I tipped her a little bit -- gave her a little bit of daylight at the top of the stretch -- she kicked into another gear so I knew I had them easy," he said.
Hannelore Hanover added to her million-dollar bankroll by notching her 17th win in 20 starts this year.
"She's a great mare, there's no doubt about it," said Gingras reflecting on the Ron Burke trainee's 2016 campaign that includes a list of stakes victories. "She's only four, and with everything she's done this year, I'm looking for a big, big year for her next year."
The Swan For All-High Sobriety mare is owned by Burke Racing Stable LLC, Weaver Bruscemi LLC, Frank Baldachino, and J And T Silva Stables LLC.
Always B Miki, the fastest horse in harness racing history, put the exclamation mark on his career with one final victory in the $400,000 TVG Open Pace on Saturday night.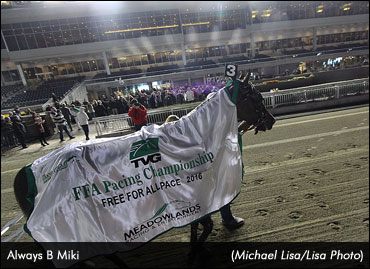 Always B Miki won his final race in 1:48.2 for driver David Miller and trainer Jimmy Takter. He will now retire to stud duty at Diamond Creek Farm in Pennsylvania.
All Bets Off (Matt Kakaley), making one of his final career starts before a stallion career, left from post four to establish the lead with Shamballa (Scott Zeron) firing from the outside three-wide around Always B Miki. All Bets Off sprinted the first quarter in :25.4 prompting Shamballa to tuck into the pocket spot while Always B Miki settled mid-pack in fourth until making his move at the :54.1 half-mile mark. The 1-9 favourite confronted All Bets Off at three-quarters in 1:21.3 and surged by down the stretch to win going away in what track announcer Sam McKee described as "a magnificent finale."
"He was going along pretty easy then when I asked him he took right off," said Miller after the race. "Jimmy's done a great job keeping him good all year. I'd say he was as good today as he's been all year. He's an incredible horse and he's a true champion."
The five-year-old son of Always A Virgin and Artstopper retires with 30 career wins from 53 starts and earnings totalling $2,830,176, along with a handful of records to his credit.
"It's a wonderful feeling standing here at our home track and to race his last start here," said Takter. "He's a wonderful horse to be around. He's so personable. Anybody working with this horse just would love him."
In his well-documented comeback from injury, Always B Miki battled Wiggle It Jiggleit -- not entered in the TVG due to a minor foot bruise and sickness -- in a season-long rivalry (4-3) while winning 12 of his 18 races overall this year and earning $1.5 million.
"It's nice to quit on the top," said Takter of the U.S. Horse of the Year contender. "This horse has a future ahead of him. It's going to be very exciting to train his offspring. It might keep me in the business a little longer than I wanted to."
Always B Miki is owned by Takter's wife Christina along with breeder Bluewood Stable and Roll The Dice Stable.
He paid $2.10 to win. Mach It So (Tim Tetrick) closed off cover to finish second, over four lengths behind Always B Miki, while Melmerby Beach (Marcus Miller) came on for third over All Bets Off.
Yannick Gingras swept the mares divisions of the TVG Championships with Lady Shadow back in the Meadowlands spotlight after her Breeders Crown triumph. The Shadow Play-Lady Camella mare wrapped up her five-year-old campaign with a 1:50 victory in the $200,000 TVG Mares Pace for trainer Ron Adams.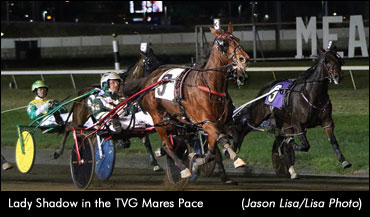 Inittowinafortune (Andy Miller) hustled off the gate from post six to establish the early lead into a :26.4 first quarter before Solar Sister (Brian Sears) rushed from third to first down the backstretch. Gingras then sent Lady Shadow underway from fourth nearing the :54.3 half-mile marker and the 1-5 favourite edged ahead of Solar Sister on the way to three-quarters in 1:22.2. Despite beginning to drift out in the stretch while Solar Sister tried to fight back inside, Lady Shadow drew clear to win in 1:50 flat. Bedroomconfessions (Scott Zeron) came through between horses to finish second ahead of 7-1 second choice Sassa Hanover (Matt Kakaley), who had tracked the winner's cover, and Solar Sister.
"The strategy changed the way the card's been playing out," said Gingras of his winning trip. "I think at this point, everybody knows the front end has been pretty dead. She loves that spot, but I figured I wasn't going to let the bias beat me tonight so there was no way I was going to be on the front.
"I was pretty confident I was going to beat Brian [Sears and Solar Sister], but I knew with Matt [Kakaley and Sassa Hanover] on my back -- she raced really good last week in the Breeders Crown -- so I knew she was the mare to beat, but my mare felt really strong at the top of the stretch so I knew she would have to go a big last quarter to beat me."
Lady Shadow, the defending divisional champion in Canada, completed her 20-race season with 12 wins and earnings of nearly $950,000. She is owned by David Kryway of Amherstburg, Ont., and U.S. partners Carl Atley, Edwin Gold, and the BFJ Stable.
"She's been iron tough all year," said Adams. "We qualified a couple times earlier in the year instead of racing her and I think it paid off tonight.
"If she comes back this good, I'll be happy with her. She's made a big step up [this year]; she's just bigger, stronger. She went big trips last year, but this year she just carried her speed a little better."
The 2016 Meadowlands stakes season ended with a bang in the $400,000 TVG Open Trot as the field spread across the track in an exciting blanket finish. Obrigado and driver Mark MacDonald ultimately claimed the final trophy as they held off Crazy Wow and Yannick Gingras in a close call.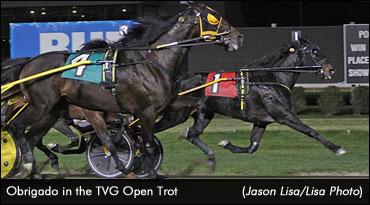 "I wasn't sure [who won]. Yannick thought I did. He's won a lot over here so I was hoping he was right," laughed MacDonald after the race.
MacDonald had Obrigado on the move early, advancing from third just before the :27.2 quarter to take the lead over JL Cruze (Corey Callahan) and Wind Of The North (John Campbell). He continued to lead the field of eight through middle splits of :56.2 and 1:25.1 while 2-1 second choice Bar Hopping (Tim Tetrick), who received an invitation to the TVG as the Breeders Crown sophomore champion, progressed first over with Crazy Wow and Resolve (Ake Svanstedt) following his cover. Obrigado maintained a slight lead down the stretch with the entire field closing in from every angle. In the photo finish, Obrigado nosed out Crazy Wow for the 1:52.4 victory while a from-last Lookslikeachpndale (Scott Zeron) got up for third over 3-5 favourite Resolve. Bar Hopping finished fifth by less than a length.
"I was in a spot where I didn't really want to be so I made a move," said MacDonald of his early strategy. "I wasn't sure if Ake [Svanstedt] would keep coming with his horse [Resolve] and I might end up in the two-hole or what not, but we got a pretty cheap half there and he did the rest."
Paul Kelley trains the millionaire Boy Band-Malimony gelding, who has won seven of his 17 starts and almost $815,000 during his six-year-old campaign.
"He's been fantastic all year. This horse is a warrior. He's been to Ohio a few times, Kentucky, you know, he raced all around. Paul Kelley and the crew, Jenna and Kevin, they've done a fantastic job to keep this horse good all year as good as he's been. He was in the Elitlopp qualifier, the first stakes race they had for Open trotters, and here's the last one, he's still kicking around."
Obrigado is owned by Paul Kelley Racing Stable, SRF Stable, Linwood Higgins, and Stable 45.
He returned $19.80 to his backers at the betting windows as the 8-1 fourth wagering choice.