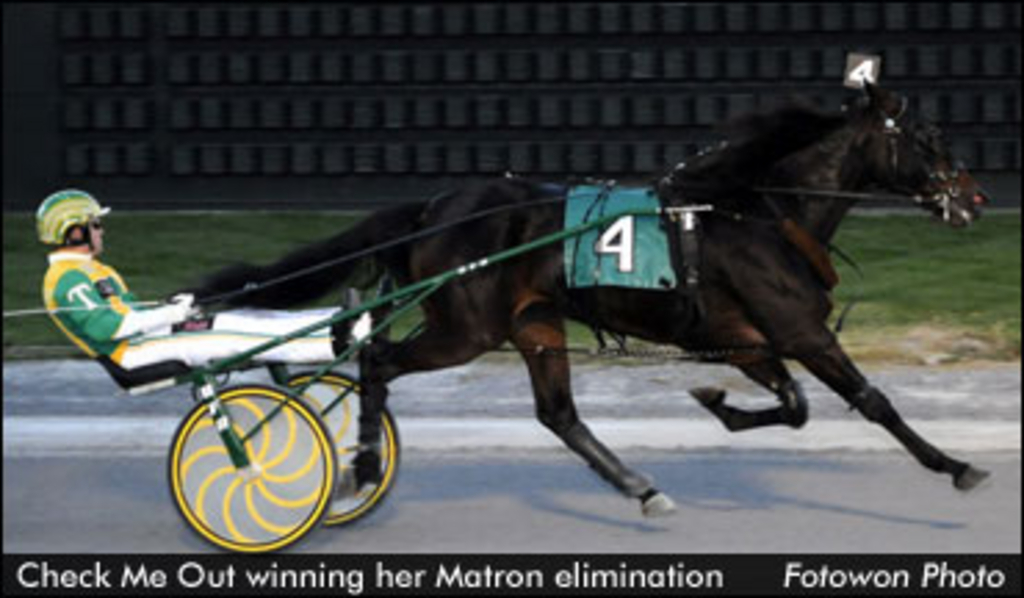 Published:
November 12, 2011 10:17 pm EST

Check Me Out overcame going off stride in the first turn and then made up some 24 lengths to win the first of four Matron Two-Year-Old finals
on Saturday (Nov. 12) at Dover Downs.
Check Me Out eased away from the starting gate third with several horses on the outside as the field reached the first turn. Shortly after Check Me Out broke stride with Tetrick bringing the filly to a virtual halt, steadying her and then back trotting with the trailing filly about two-dozen lengths ahead. It took until mid-backstretch before they could catch the field. The daughter of Donato Hanover-Illusion Bi was sent three-wide picking up horses along the way. She dashed down the lane with two horses to beat and caught them with a short neck to spare in 1:58. Voluptuous Ronda (Ross Wolfenden) finished second in front of Exercise To Go (David Miller) third.
Tetrick realized he made a tactical mistake not letting the world record holding filly trot right away from Post 1 at the start.
"I just tried to be nice to her, she trotted to the eighth pole good. [Check Me Out] overcame my mistake in the first turn. I should of parked everybody to make it easier for her," admitted the reinsman.
"I knew at the start there would be trouble," said trainer Ray Schnittker, who co-wns with Charles Iannazzo. "I saw that [Tetrick] had to double her up in the middle of a bunch of horses. I know she's a great mare and I didn't know if she could beat them after being back so far."
The win was the 14th in 16 races and upped her seasonal bankroll to $900,619.
Randy Ringer's Destinys Chance scored a head victory in 1:53 to take the $128,600 Matron frosh filly pace notching her seventh win of the year and $287,178 earnings. Four Starzzz Girl (Montrell Teague) took second with fast finishing Notreadytobenice (Mike Lachance) third.
Miller had nothing but admiration about the filly.
"I can't ask for her to get any better. I left last week [in the elimination] to get the front and I tried to do that again this week. It almost cost her the race," said Miller, who knew it would be a battle to the finish line with two foes bearing down on them. "She raced very game to the wire, I didn't give up on her she kept on going."
Tim Tetrick, who won five races during the night, piloted Heston Blue Chip home in 1:50.4 to win the $177,275 Matron colt and gelding final. Tetrick made a quick move to take the lead before the clubhouse turn and the sped away to his 11th win of the season in 13 races.
"[Heston Blue Chip] raced really well in the race. He's a good horse and he has proven he is a good horse. I take none away from the other horse [second-place finisher Hurrikane Kingcole, the race favourite], he worked hard to get my horse," admired Tetrick.
Hurrikane Kingcole, driven by David Miller, raced off the pace and after moving to the outside passing horses, couldn't catch Heston Blue Chip, and finished off the board.
The New York Sire Stake champion held off fast closing Allstar Legend (Andy Miller) and third place Steelhead Hanover (Joe Pavia) for the win. Heston Blue Chip entered the Matron upon a $30,000 supplemental payment by owner Ken Jacobs.
"We thought we could win this race," said the winning owner. "We thought we should give him a chance."
Although Heston Blue Chip finished second in the Matron elim last Saturday, trainer Linda Toscano felt Heston Blue Chip would give a good account of himself.
"He is a good horse and a pleasure to be around. He is a nice and calm horse. I had confidence that he wasn't overdriven last week. I thought he would be a little sharper tonight."
The son of American Ideal-Shot Togo Bluechip has won $375,650 in 2011.
Pekoe Fashion enjoyed a perfect trip sitting behind leader Delano until deep stretch when Tim Tetrick pulled the Broadway Hall-Orange Pekoe homebred of Jules Siegel's Fashion Farm to the outside and then went on for a 1:56.1 triumph.
"Last week was the first week I drove him, tonight he responded and he got the job done. He gets a little excited and he's willing to go anytime you ask him," said Tetrick.
Jim Campbell, who trains Fashion Farm's racing stable was impressed with both Tetrick's drive and the way Pekoe Fashion raced.
"Timmy gave him a great drive and it worked out great," said Campbell. "He has shown more speed and made more money, so he was the stronger of the two [Fashion Farm] entries. He was great from the beginning, trained with no problem, we can't be any happier with him."
Southwind Austin (Andy Miler) got up to finish second with Delano (Ray Schnittker) holding on for third. Pekoe Fashion is now a winner of $226,900 this season.
The $330,000 Progress Pace and three Matron sophomore finals highlight the end of Dover Downs Million Dollar weekend of harness racing on Sunday.
(With files from Dover Downs)