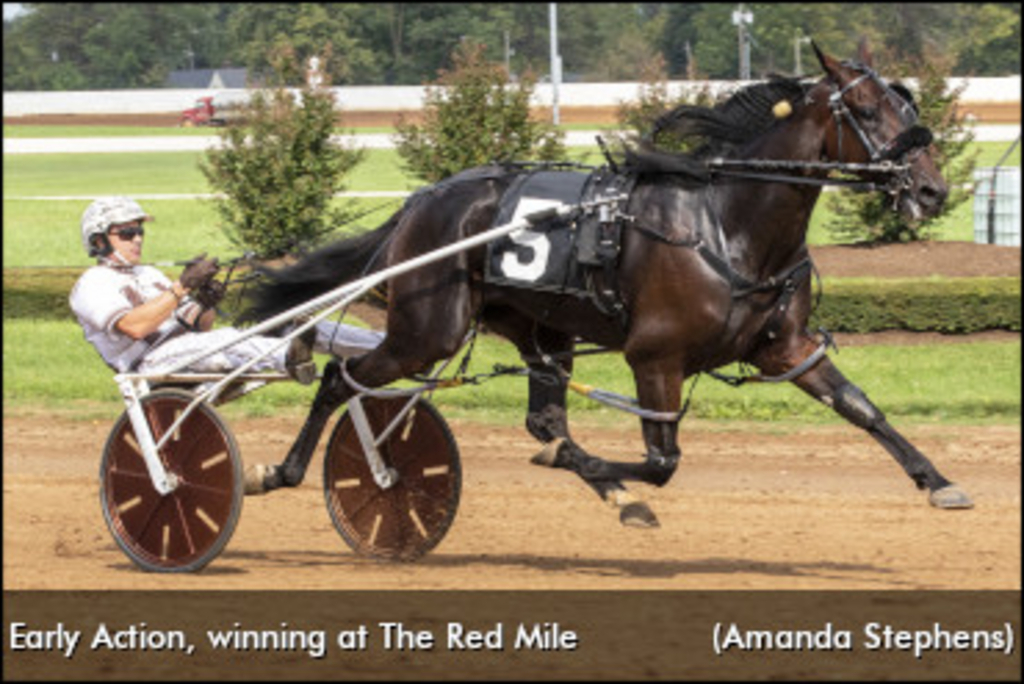 Published:
October 9, 2021 05:35 pm EDT

Early Action forged uncovered for the top and powered to the finish with ease to down his competition in the first division of three divisions for the $278,900 International Stallion Stakes for two-year-old pacing colts and geldings on Saturday (Oct. 9) at The Red Mile.
Gulf Shores, the even-money second choice, grabbed the lead to a :28 first quarter while driver Brian Sears settled Early Action into fourth, where he stayed until angling off the pegs past a :55.2 half. To the far turn, the Huntsville gelding ranged to within a length of Gulf Shores to three-quarters in 1:23 and swiftly slid by the pacesetter off the corner, striding to a two-length victory in 1:50. Birthday rallied from third over to take second with Market Based snagging third from a photo with Gulf Shores.
"The two efforts here, and when he had raced in the Kindergarten, I was impressed," trainer Joe Holloway said after the race. "That night, I started counting the number of starts to make sure we don't get too many for next year. Once he took command, I knew it was over. David Miller had said it, he said 'The colt likes to win.' He felt bad for picking off – he had a good one for Ron Burke – but he said 'Your colt likes to win.' That's a big thing when they like to do that."
Winning his seventh race from nine starts, Early Action has banked $170,558 for owners Val D'Or Farms and Ted Gewertz. Brian Sears piloted the $3.40 winner.
Pebble Beach powered off cover to take the lead just before the finish and win the second split of the International Stallion.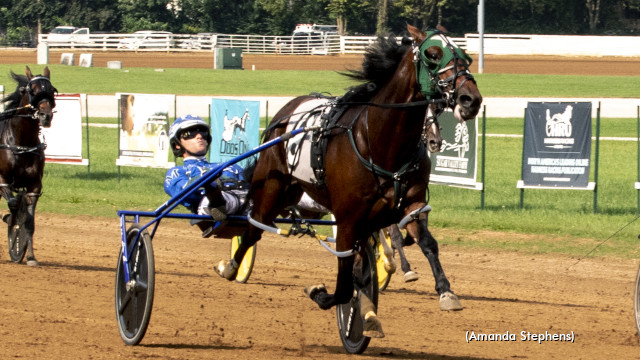 Driver Todd McCarthy floated Pebble Beach to race sixth while Fourever Boy clicked the first quarter in :28.1. Seaside Way pulled first over from fourth and catalyzed the pace up the backside to a :55.4 half before folding his bid midway around the final turn. Risenshine Seaside rushed three-wide to challenge Fourever Boy to three-quarters in 1:23.3, with Caviart Camden and Pebble Beach swinging to the centre of the course coming for home. Fourever Boy dug to the lead through most of the straightaway, though Pebble Beach motored with the most momentum and edged to a length win in 1:50.4 over Caviart Camden, with Fourever Boy settling for third and Velocity Chaps taking fourth.
"Noel [Daley] decided that a half-mile track was not his liking," co-owner Joe Sbrocco said after the race. "So he took him out and took him down here, and Noel knows his business. He's a great trainer. [Todd McCarthy] decided that we were going to hold him off the pace a little bit and he did a great job with it. Scared the heck out of all of his, but he came home pretty good."
Daley trains Pebble Beach for owners Patricia Stables, Joe Sbrocco, Country Club Acres and LA Express & JAF Stables. The Downbytheseaside colt collected his sixth victory from nine starts, lifting his earnings to $283,950. He paid $3 to win.
Captain Cowboy cruised around his rivals through the lane to land an 11-1 upset in the last division of the International Stallion.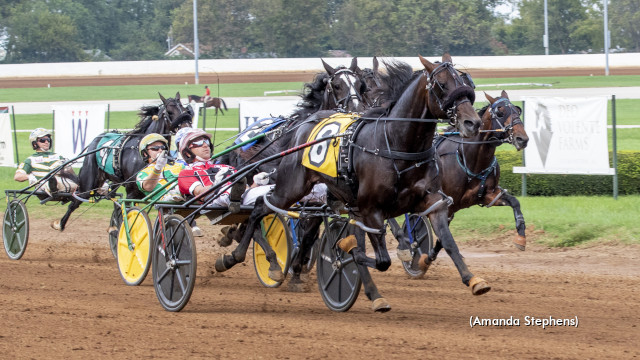 Loukes Perry pushed for the front to a :29 first quarter with Nautical Hanover yielding for the pocket into the backstretch. Monte Miki moved first over out of fourth by a :56.1 half with Six Feet Apart in tow second over and Captain Cowboy third over. He progressed to match strides with Loukes Perry past three-quarters in 1:25 but faced no match for the fresh legs in behind.
Six Feet Apart swept to the lead coming to the eighth pole as Captain Cowboy gathered himself to the center of the track and soon darted by under minimal encouragement from driver Dexter Dunn. The Captaintreacherous colt rolled to a two-length victory in 1:51.2 over Six Feet Apart, with Monte Miki giving chase from third and Nautical Hanover taking fourth.
"I was lucky to pick the drive up, obviously," Dunn said after the race. "There was actually lots of confidence in the camp – he didn't get much luck last week and was full of pace. And going to three-quarters, I was pretty confident, too.
Captain Cowboy scored his fifth victory from eight starts, pushing his earnings to $109,705 for trainer Ake Svanstedt through his Ake Svanstedt Inc., along with co-owner Little E LLC. He returned $25.40 to win.
Each division of the Tall Dark Stranger International Stallion Stakes was sponsored by the Tall Dark Stranger Syndicate and Hanover Shoe Farms.
Date Night Pulls Off Perfect Rookie Season
The Bar Hopping filly Date Night chalked another win on her unbeaten record when taking her seventh straight with a 1:52.1 score in the second of four divisions for the $314,000 International Stallion Stakes for two-year-old trotting fillies.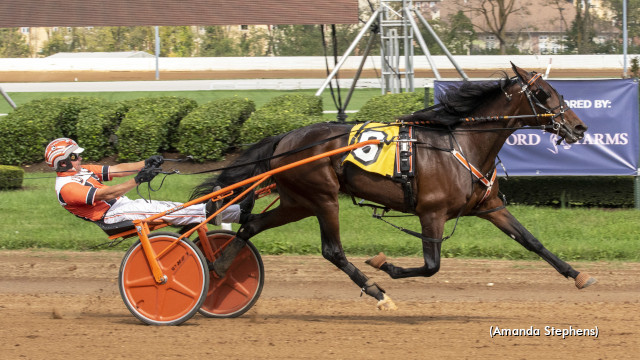 Following a fiery 1:50.4 mile in the Bluegrass, driver Andy Miller positioned Date Night in sixth to a :28.2 first quarter as Misswalner Fashion brushed to the lead into the backside with Cash Infusion settling for the pocket. Misswalner Fashion continued unchallenged to a :55.2 half and slowed the tempo into the final turn as Andy Miller pulled Date Night off the pegs and rushed first over. By three-quarters in 1:23.4, Date Night put away Misswalner Fashion and coasted to the finish to win by a length over fast-closing Adore Me. Cash Infusion finished third and Danznqueen Hanover closed from second over for fourth.
"[Marvin Katz] said 'I've got a filly that's well bred. I don't know how good she is, but she's got a lot of pedigree behind her. Take her and see what you guys can do with her," Andy Miller said after the race of the Marvin Katz and Sam Goldband homebred, whom the duo bought back for a mere $20,000 as a yearling. "She loves a target, and when she's around the last turn she just digs in and wants to beat horses. That was kind of the game plan all along [to stay at The Red Mile]. She was a little immature early and got a little sick, so we just brought her along slowly and targeted The Red Mile."
From her seven starts, Date Night has earned $143,325. The Julie Miller trainee paid $2.80 to win. She will reportedly be shut down for the season after Saturday's victory.
Second-choice Raised By Lindy wore down 4-5 favourite Lilbitalexis through a stubborn stretch battle to nail a 1:51.3 victory at the beam of the first division for the International Stallion.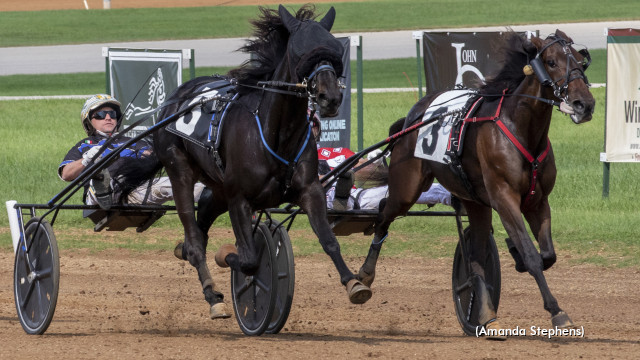 Selfie Queen protected position from the pylon post to lead the field to the quarter in :28.1 before yielding command up the backside to Lilbitalexis through a :56.1 half. Driver Yannick Gingras remained patient with Raised By Lindy to the final turn, tipping his charge off the cones to march towards the top to three-quarters in 1:23.4. Off the turn, the Domenico Cecere-trained daughter of Walner pressed Lilbitalexis until she gave way in the stretch sprint to the tune of a half length at the beam. Selfie Queen gave pursuit from third with Shestheluckyone rallying well behind to take fourth.
A homebred for Lindy Farms of Connecticut, Raised By Lindy won her fourth race from eight starts, lifting her bankroll to $147,743. She paid $5 to win.
Joviality S cruised first over to an easy 1:53 victory in the third division of the International Stallion.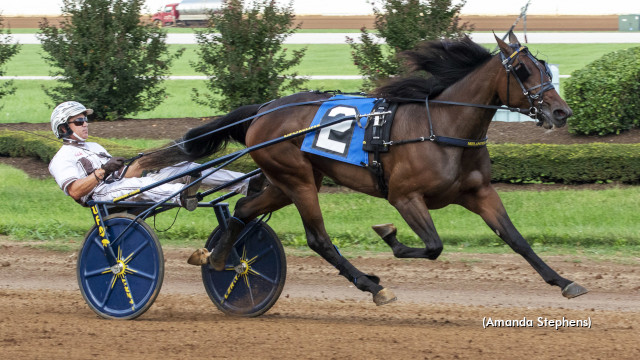 Ebbies Lady led the field by the quarter in :29 with Mon Cheval sitting second and Joviality S positioned third. Through a :57.2 half, Delilah Hanover pulled first over from fifth and flushed Joviality S, the 1-5 favourite, off the pylons into the final turn. Ranging towards Ebbies Lady through three-quarters in 1:25.4, Joviality S overtook the pacesetter through the lane and strode to a 1-1/4-length win over Delilah Hanover. Ebbies Lady held third and Mon Cheval took fourth.
Trained by Marcus Melander for owner Courant Inc., Joviality S has won seven races from nine starts and earned $363,748. The Chapter Seven filly paid $2.60 to win.
Palermo Hanover pulled another upset after breaking her maiden at 39-1 in the Bluegrass last week, this time again firing home to land a 23-1 shocker in the final division of the International Stallion.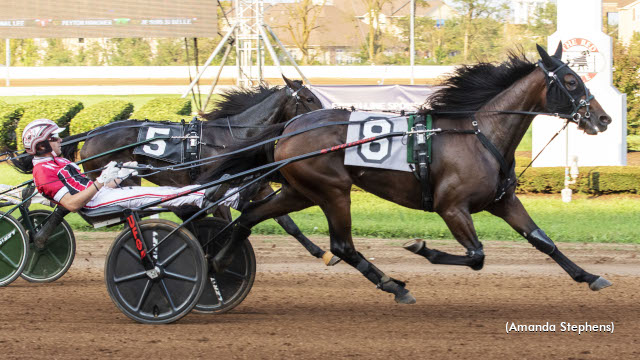 The Father Patrick filly raced last of the nine to a :27.3 first quarter set by Brickhouse Babe, who took the top from Eternal Lee into the backstretch. Brickhouse Babe rolled on the point to a :56.1 half with the outer tier developing and soon securing a helm from Peyton Hanover to the final turn.
Peyton Hanover made minor gains but got cover as Eternal Lee popped pocket by three-quarters in 1:25.1. The front brigade spun for home leg weary while the covered horses came calling, with Jiggy Jog S forging to the lead from third over coming to the eighth pole. But driver Dexter Dunn had loads of trot with Palermo Hanover, who was swung widest of the charge for home and flew to the lead to score a length win over Jiggy Jog S. A Perfect Helen closed for third and Mrs Taylor weaved through horses to take fourth.
"She's got the breeding – all her siblings have been better at three – and she's been fine the whole time," trainer Noel Daley said after the race. "We really didn't think she was quite up to this grade, but she was marginal even bringing out, just trying to get a little bit of black tar maybe running second or third. [She's] surprised the hell out of us two weeks in a row."
Paying $48.80 to win, Palermo Hanover has now won two races from nine starts and earned $107,633 for co-owner Noel Daley along with partners Lenny Zelin and The Gandolfo Stables.
After the second race on Saturday, horsemen gathered into a horseshoe formation in front of the grandstands for a memorial ceremony honoring the late champion trainer Ron Gurfein, who passed away at the age of 80 in May. The memorial included a moment of silence for the Hall of Fame trainer, a winner of three Hambletonians among many other accolades through a long and colourful training career.
Live harness racing resumes at The Red Mile on Sunday (Oct. 10) for the closing card of the Grand Circuit meeting. The 129th edition of the Kentucky Futurity headlines and caps the 12-race card, which also includes the $351,000 Kentucky Filly Futurity, $500,000 Tattersalls Pace, $207,000 Glen Garnsey Memorial and dashes of the Allerage Farms for each division of aged standardbred. First-race post time is 1 p.m. (EDT).
(With files from The Red Mile)