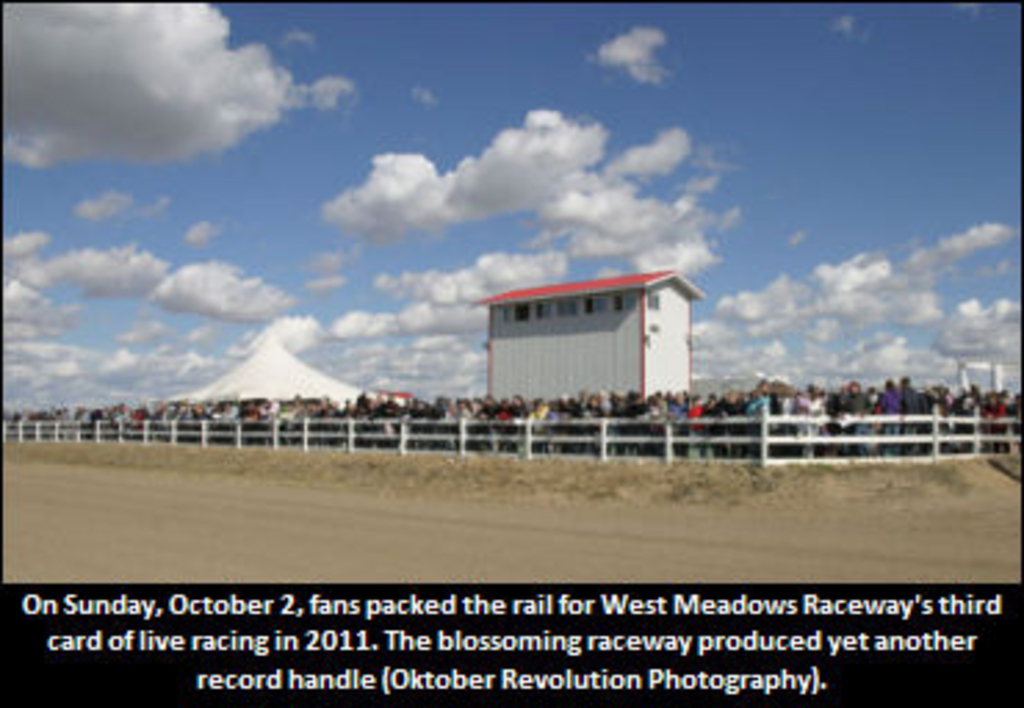 Published:
October 3, 2011 02:41 pm EDT

This past weekend, West Meadows Raceway, Regina's newest entertainment venue, hosted the third of the four live race dates it was granted for the 2011 racing season
. Provincial government had mandated to organizers that the track needed to produce a rise in its handle to have continued support. The track is holding up its end of the bargain.
On Monday, October 3 the Regina raceway issued a press release with more elation from officials. After having produced the province's highest handle in more than 10 years just a few weeks ago, West Meadows Raceway handled a new record, $16,430 in wagers, on Sunday.
A total of 10 dashes went postward during the card, which saw the features races won by Iza Bin Freezin and Sophio Hanover, the latter in a new track-record time of 1:59.1. For a complete recap of the card, click here. To view the charted results from the card, click here.
"I am so pleased with Race Day No. 3," WMR President Jane Grainger told Trot Insider. "The crowds, the new track record and, of course, the new record handle was awesome!"
Saskatchewan Standardbred Horsemen's Association President Glenn Le Drew explained that the crowd was a little slow to arrive yesterday, and that he thought the track's previous record wager --- $15,080, which was bet on opening day --- would be tough to top. Although, by the third race patrons had to elbow their way to the front if they were looking for space on the rail. Wagering lineups were long all day long, as well.
The crowd was certainly as big as opening day and they responded with a record wager of $16,430. It is for sure the largest wagering day in Saskatchewan since the start of the new millennium, and it was a special day to see the first sub-two minute mile at the new half mile oval.
"All of our sponsors, including Standardbred Canada's WannaBet, have helped promote and increase awareness of harness racing's return to the Queen City," Grainger said. "There has been so much positive feedback from both the horsemen and the fans."
"While these numbers may seem small in comparison to larger racing jurisdictions, for a province that has seen harness racing's handle average around $5,000 - $6,000 it is very exciting for us here to be moving in a growth direction," said Le Drew. "The fan base is there --- our provincial government has stated in order to have continued support we need to see a rise in the wager and this is certainly a step in the right direction. With the work done in Yorkton and Regina all the hard work promoting harness racing is paying off and we feel the future is getting brighter which each race day."
To view a photo gallery of Race Day No. 3 at West Meadows Raceway, click here.
The final race day for the Saskatchewan harness racing season will get underway this coming Sunday (October 9) at West Meadows Raceway in Regina. First-race post time is 1:00 p.m.
(With files from WMR)