Published:
October 26, 2019 11:39 pm EDT
Bold Eagle came. Bold Eagle soared. The horse lived up to the hype as the eight-year-old trotting star overcame the travel, the elements and the competition to win the $655,000 ($500,000 USD) 2019 Breeders Crown Open Trot and cap the championship finals Saturday at Woodbine Mohawk Park.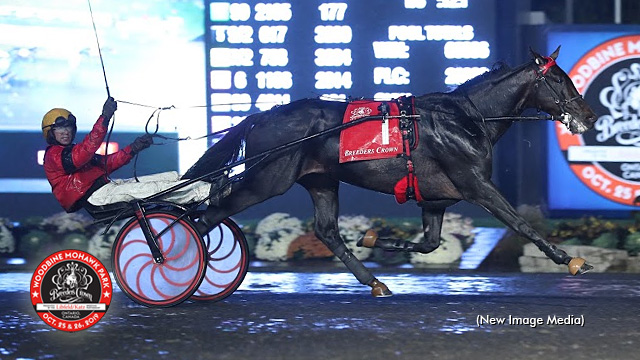 Leaving from the rail, Bold Eagle and driver Brian Sears left strongly enough to be spotted within the top four as highly-regarded contenders Atlanta (Yannick Gingras), Guardian Angel As (Tim Tetrick) and Lindy The Great (Louis-Philippe Roy) all darted out with authority from the middle of the gate. Lindy The Great eventually landed on the lead after a :26.2 first quarter. Sears made his move from fourth, advancing first over on Lindy The Great with Six Pack (Ake Svanstedt) on his helmet. Bold Eagle landed on top and hit the half in :55.2, with Svanstedt applying pressure from Six Pack with Fiftydallarbill (Corey Callahan) second over. This outer flow kept Atlanta pinned to the pylons through a 1:24 third panel, with Bold Eagle not allowing Six Pack to make a dent in his lead.
The stretch drive looked to shape up with the matchup harness racing had hoped for as Gingras found clearance for Atlanta and angled her to the three-path for a shot at Bold Eagle. Sears asked the classy stallion to stay on task and Bold Eagle responded by keeping his rivals ay bay and winning by two lengths in an impressive 1:52 over the track rated 'good'. Six Pack rallied to finish second ahead of third-place Atlanta.
"I figured he had a lot of class on the field facing the competition that he faced over in France," said a soggy Sears to TSN's Laura Diakin. "He made a strong move on the backside which I thought might take something out of him because he did get used very hard but he showed his class and dug in down by the wire to hold on."
"It could have been worse, it could always be worse as far as weather goes but the horse was a little tough scoring down, full of himself and a little bit of a handful but the marshal Deb [O'Brien Moran] she did a great job with me, helping me out and getting him to the gate. Everything went pretty smooth after that."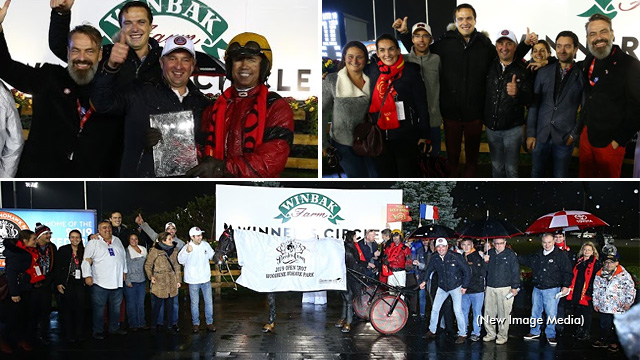 The win was the third of the year for Bold Eagle (Ready Cash - Reethi Rah Jet) from nine starts and 45th lifetime win, putting his career earnings at $5.69 million for trainer Sebastien Guarato and owner Ecurie P Pilarski of Sallanches, France.
"I thought (Bold Eagle) might stop a little before the wire, but he didn't do that today," said Six Pack's Ake Svanstedt. "He looks good. He was strong. I have nothing to complain about. I'm satisfied with (Six Pack). Bold Eagle was just too good today."