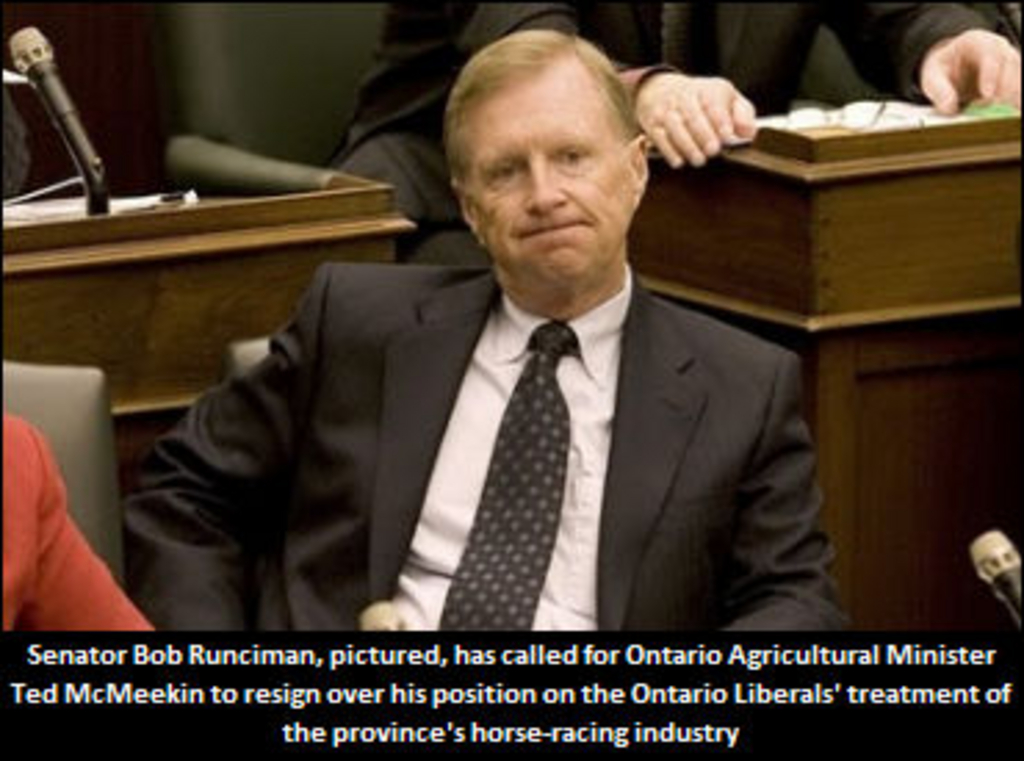 Published:
October 26, 2012 05:02 pm EDT
Pro-Ontario horse-racing supporter Senator Bob Runciman pulled absolutely no punches Friday, October 26 at a Town Hall Meeting in Waterdown, Ont. when he called, and gave specific reasoning, for the resignation of Ontario Agricultural Minister Ted McMeekin.
Runciman claims that McMeekin sat idly by and essentially did nothing at all while the Ontario horse-racing industry was delivered a calculated body blow by the provincial government in which he is a part of.
"A good minister, a minister who was dedicated to representing the agricultural community, would have resigned," Runciman said.
Runciman's release appears below in its entirety.
---
ONT. AGRICULTURE MINISTER SHOULD RESIGN OVER SLOTS FIASCO
Ontario Agriculture Minister Ted McMeekin should resign over the McGuinty government's attack on the province's horse-racing industry, Senator Bob Runciman said today.
The cancellation of the Slots at Racetracks program announced by Finance Minister Dwight Duncan on March 12 --- two days before cabinet even received a briefing paper on the move --- was "a deliberate blind-siding" of the agriculture minister, said Runciman, "and I think it says a lot about Mr. McMeekin's standing in the government."
Runciman made the remarks during a town hall meeting held here Friday organized by Donna Skelly, PC candidate in the riding of Ancaster-Dundas-Flamborough-Westdale --- the riding McMeekin represents in the legislature.
The cancellation of the program is expected to lead to the loss of at least 30,000 jobs and the killing of up to 13,000 horses. "Cancelling slots at racetracks will have the most devastating impact on the farming community of any government decision in recent memory," Runciman said.
"A good minister, a minister who was dedicated to representing the agricultural community, would have resigned," Runciman said, but McMeekin didn't even say anything until he issued an open letter two months later. "And the open letter didn't say anything, either.
"For Ted McMeekin, the car and driver and the extra salary mean a lot more than the interests of the rural economy," Runciman said.
McMeekin should use the opportunity provided by the impending resignations of Finance Minister Duncan and Premier McGuinty to ask for the continuation of slots at racetracks, Runciman said. With a lame-duck premier, it's time for McMeekin and other MPPs who know this was a bad decision to speak out, Runciman said.
"If you care about those jobs, if you care about the lives of 13,000 horses, then I urge you to call Mr. McMeekin and other Liberal MPPs and tell them to stand up for the people they were elected to represent, rather than to stand with the insiders and special interests that want to see this change," Runciman told the crowd at the Dutch Mill restaurant.
---