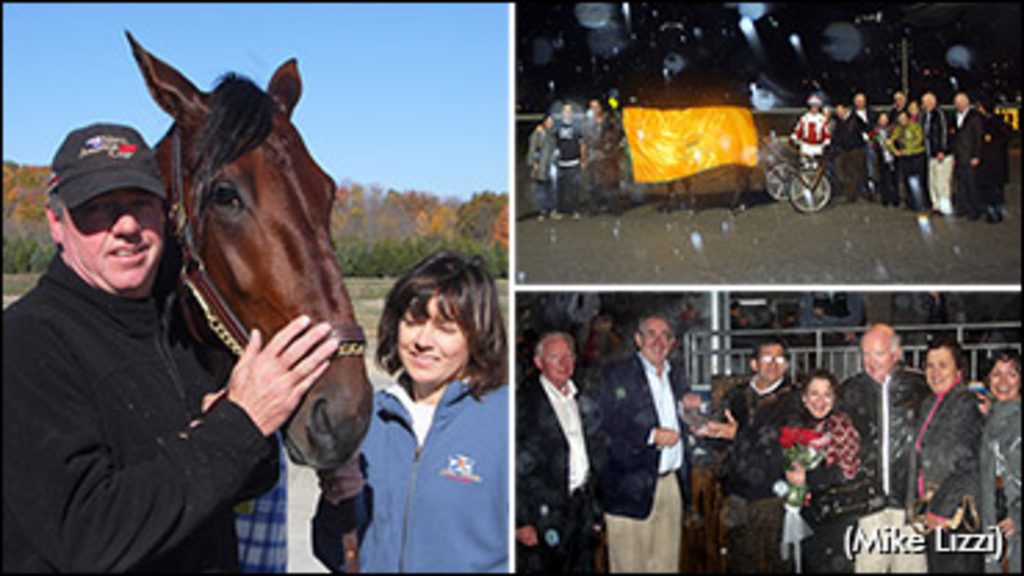 Published:
October 25, 2018 06:35 pm EDT

It was 10 years ago this year that pacing colt Somebeachsomewhere dominated harness racing's headlines throughout his nearly flawless sophomore season.
In honour of the Canadian-sired superstar many consider one of the greatest Standardbreds to ever look through a bridle, Trot Insider will post the news stories from his on-track appearances throughout the year as they happened a decade ago along with the replays from those captivating races.
It was 10 years ago today that Somebeachsomewhere slugged it out with Shadow Play in the 2008 Messenger Final at Yonkers Raceway. Despite the dreadful conditions and a less-than-ideal trip, it was a race that Somebeachsomewhere refused to lose.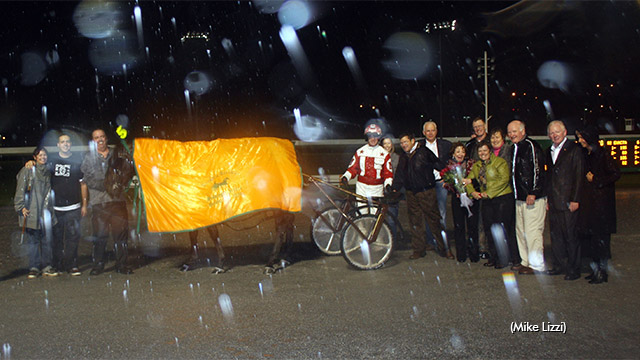 Somebeachsomewhere Takes Messenger

It's official - any weather truly is Beach weather. World champion Somebeachsomewhere muscled his way past Shadow Play in deep Yonkers Raceway stretch Saturday night, taking the $650,000 Messenger Stakes -- the final jewel of the Pacing Triple Crown -- in 1:52.1.
Over a surface compromised by a deluge of wind-driven rain, Somebeachsomewhere out-gamed his Maritime rival by neck. That effort, with the conditions slowing the footing at least a couple of seconds, was just a tick off Always a Virgin's stakes-winning local record of a season ago (the all-venue Messenger record was Allamerican Ingot's 1:50.3 at the Meadows in 2002).
With Paul MacDonell -- in his first local visit in a decade -- driving for trainer (and co-owner as part of Schooner Stables) Brent MacGrath, Somebeachsomewhere started outside his five sophomore rivals as the 3-10 favorite. The tandem settled in third as Shadow Play (Dave Miller), the 2-1 second choice, worked around pole-sitting Legacy N Diamonds (George Brennan) to the lead.
Shadow Play gained the advantage just after a :27.1 opening quarter-mile, then found a :56.2 intermission.
Somebeachsomewhere moved nearing the half, methodically marching toward the lead. Shadow Play maintained the throttle at the 1:24.2 three-quarters, with 'The Beach' a half-length away.
The lead was evaporating in and out of the final turn, with Somebeachsomewhere collaring 'The Shadow' in the shadow of the wire. Legacy N Diamonds was third with stablemate Santanna Blue Chip (Tony Morgan), Dali (Pat Lachance) and Brother Ray (Jason Bartlett) rounding out the order.
"This is probably as good an effort as he's had, and that's saying something," MacDonell said. "He's never had to race in conditions like this and he's never had to come first-over before, but he's done everything else, so there was no reason to think he couldn't handle it.
"I thought I was going by sooner, but Shadow Play refused to quit."
Somebeachsomewhere, a son of Mach Three, returned $2.60 for his 12th win (eighth consecutive) in 13 seasonal starts. The even-money exacta paid $4. The $325,000 winner's share pushed Somebeachsomewhere's '08 stash to $2,075,003. His 18-for-19 career has now bankrolled $2,848,299.