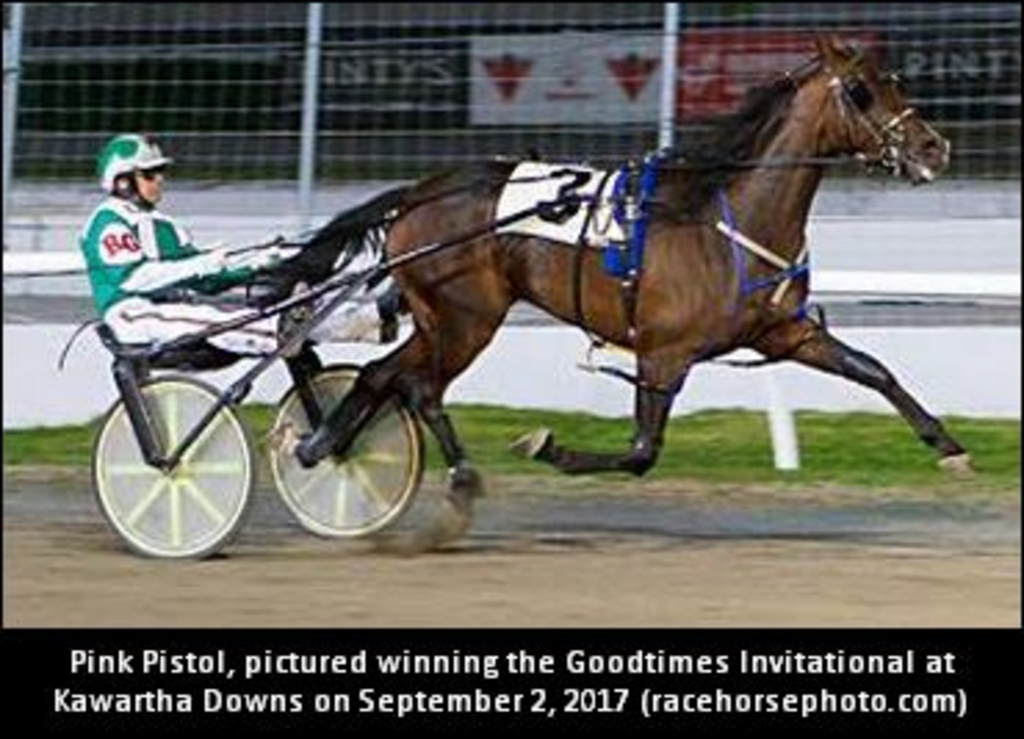 Published:
October 23, 2017 11:14 am EDT
Seven years ago, horse agent Pete Shody saw a four-year-old female trotter named August Revenue win by nearly 10 lengths in 1:54 at Pocono Downs and called her owners to see if the mare was for sale. She was not, he was told, because she was going to be bred. But Shody did not forget about her.
Five years later, the Ontario-based Shody came across a two-year-old female trotter for sale online for $6,000 Canadian. Her name was Pink Pistol and she was a daughter of August Revenue. Shody was interested immediately. After checking out the Cantab Hall-sired filly, he convinced his wife, Sharon Cameron, and several partners to buy her.
Pink Pistol battled a variety of issues in the ensuing years, but has won 10 of 39 career races and earned $123,793. On Friday she will compete in the $250,000 Breeders Crown Mare Trot at Hoosier Park Racing & Casino in Indiana. All Breeders Crown events for female trotters and pacers will be contested Friday and the evening's program of racing will get underway at 6 p.m. (EDT).
The four-year-old Pink Pistol will start from Post 3 with Louis-Philippe Roy driving for now-trainer Shody and Cameron's Knightstalker Stable. She is 8-1 on the morning line. Emoticon Hanover, who finished second in last season's Breeders Crown for three-year-old female trotters, is the early 6-5 favourite.
"It's a huge thrill," Shody said. "Being around this business as long as I've been, and Sharon has had horses for about five years now, for a small 'mom-and-pop' outfit, it's pretty much everything you could dream about in the business."
Added Cameron, "It's always nice to see the little guys once in while rather than the big barns all the time."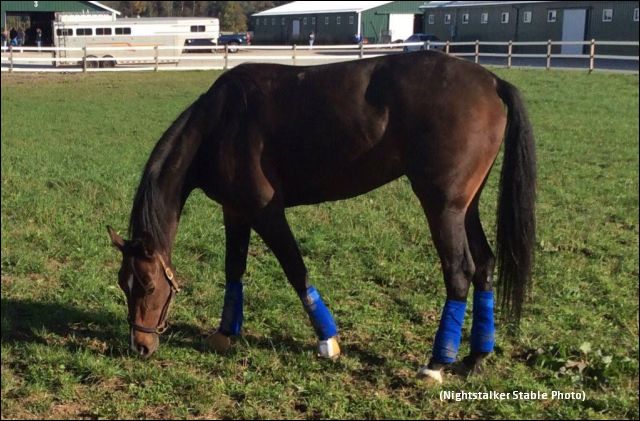 Pink Pistol (Nightstalker Stable Photo)
Knightstalker Stable has two horses, Pink Pistol and 10-year-old male pacer Battle Call. Shody trains both. The stable was named after two of Cameron's cats, Knight and Stalker, whose names originated from the mid-1970s TV series 'Kolchak: The Night Stalker.'
Shody followed his father, who owned several horses, into the sport and worked for Continental Farms in the mid-1980s before starting his own small stable in the early 1990s. He stepped away from training for two decades while focusing on his work as an agent, but got re-licensed last year.
Pink Pistol enters the Breeders Crown off of a third-place finish in a conditioned race at Mohawk. She was beaten by a half-length by gelding Lean Hanover in 1:53.2. The second-place finisher in the race was Breeders Crown three-year-old male trot finalist Seven And Seven.
In her previous start, she won a conditioned class by three and one quarter lengths in 1:55.
"I think she's turned the corner," Shody said. "She always was a good filly, she just had a lot of issues that lingered for a while. It was an easy decision to put her in (the Breeders Crown) after her last two starts. I think she's got a good chance, to be honest with you. If you look at the horses she raced with in her last start, it was a real tough field. She's heading the right way.
"It's a race. We're all trying to do the same thing."
Pink Pistol raced only once as a two-year-old. At three, she won five of her first eight races, including a division of the Pennsylvania Sire Stakes at the Meadows.
"We're glad we have her," Shody said. "She's a tough filly. She's a racehorse. I think her best is ahead of her. She turned the corner, I think, to becoming a good horse. I guess we'll see Friday."
Emoticon Hanover will be making her third appearance in a Breeders Crown final. As a two-year-old, she finished fifth in both her elimination and final at Woodbine Racetrack. Last year, she finished second to Broadway Donna in both her elimination and final at the Meadowlands Racetrack.
She enters this year's Breeders Crown final with a three-race win streak and four victories in her past five starts. Her wins include the Joie De Vie Stakes on August 27 at Tioga Downs, the Miss Versatility Series championship on September 21 at the Delaware County Fairgrounds in Ohio, and the Allerage Farms Mare Trot on October 8 at the Red Mile.
Emoticon Hanover's time of 1:50.2 in the Joie De Vie was the fastest mile ever by a four-year-old female trotter on a five-eighths-mile track. In her next start, the Miss Versatility championship, her time of 1:52 on Delaware's half-mile oval was one-fifth of a second slower than Maven's world-record 1:51.4 set in 2013.
Since having raced a total of six times in May and June, Emoticon Hanover has raced only five times in four months.
"I'm happy with her and that she didn't have to race (in an elimination)," said trainer Luc Blais, who trains Emoticon Hanover for owner Serge Godin's Determination stable. "She is easy to keep in shape. She doesn't need very many starts. She is tough on herself, with travelling and stuff like that. When you give her more days to come back, it works. I think she likes the schedule. We go with what the horses tell us."
Following is the field for Friday's $250,000 Breeders Crown Mare Trot. Swedish-bred Pasithea Face was expected to be scratched, but no formal announcement was made prior to the draw.
(PP-Horse-Driver-Trainer-ML)
1. Emoticon Hanover-Dan Dube-Luc Blais-6/5
2. Flowers N Songs-Jim Pantaleano-Rich Gillock-10/1
3. Pink Pistol-Louis Roy-Peter Shody-8/1
4. Caprice Hill-Yannick Gingras-Tony Alagna-9/2
5. Pasithea Face S-Tim Tetrick-Jimmy Takter-2/1
---
This story courtesy of Harness Racing Communications, a division of the U.S. Trotting Association. For more information, visit www.ustrotting.com.