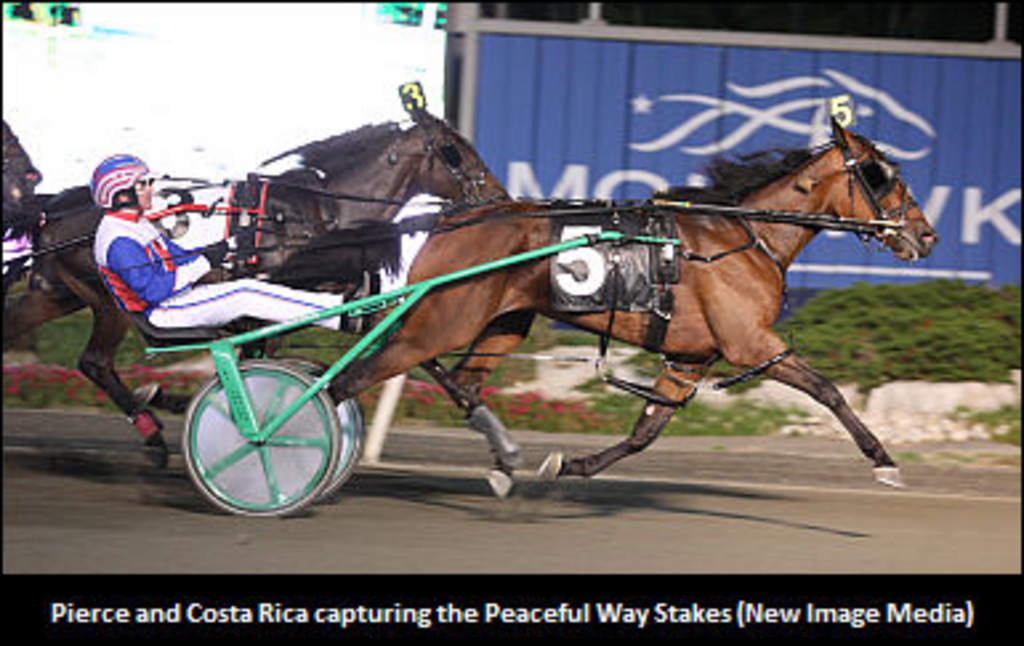 Published:
October 23, 2009 04:30 pm EDT
In early October, driver Ron Pierce declined to go on the record with Trot Insider after the Kentucky Horse Racing Commission handed him a 10-day suspension for putting both lines in one hand to use his whip on his mount, Costa Rica, in a division of the Bluegrass Stakes
at the Red Mile.
Since the ruling was under appeal, Pierce could not go on the record in regard to the incident (he ultimately received a stay). Trot Insider recently spent some time with the veteran pilot and discussed some of the new urging/whipping rules which have been implemented in various North American jurisdictions as of late.
Pierce had plenty to say.
The 53-year-old is one of the top drivers in the sport of harness racing. He has reached the winner's circle over 7,000 times and has driven some of the industry's top equine stars to over $158 million in purse earnings. He is currently in the midst of his sixth consecutive season in which he has piloted horses to over $10 million in purses.
While on the lead in the homestretch with two-year-old pacing filly Costa Rica in a division of the Bluegrass Stakes on September 29, Pierce needed to urge his mount on in the lane, as pressure was coming up behind him. In a move that has come naturally to Pierce and the rest of the North American drivers' colony for years, he put both reins in one hand and used his whip in a respectable manner in order to get his charge to the wire first.
"I was aware of the rule in Kentucky. I knew that I was supposed to keep both hands in the handholds and to keep the whip over the horse's back and don't go under the shaft. I was aware of that," Pierce told Trot Insider. "I was driving Costa Rica and she was something like 1-5. She came up a little empty, but [I thought I was] going to win the race anyway. I looked back at about the eighth pole and I saw a filly flying up on the outside. I put the lines over in one hand and I gave her two little swats. The filly on the outside ended going by us anyway. I didn't even realize that I had done it (put both lines in one hand).
"After the race, the judges called me. I thought they wanted to know why the filly raced so poorly. One of the judges said, 'Ron, when you hit that filly, you took the lines in one hand and you hit her.' I said, 'I did?' I didn't even know I did it. I really didn't have any idea that I did it," Pierce explained.
In the Bluegrass Stakes incident, Pierce did not utilize his whip in a manner which would be deemed harmful to a horse, which was conceded by the KHRC. Clear rules for excessive whipping have been on the books of North American racing jurisdictions for decades, although stringent 'urging' rules have been implemented as of late. There is a widely-publicized position which some have chosen to take within the horse racing industry that whipping is one of the main reasons why track handle and fan base have deteriorated in recent years.
"I've been driving horses for 33 going on 34 years now and it is our job to know how to make horses go fast. Now, all of a sudden, they take that away from us, and now we have to learn how to make horses go fast all over again. I feel along with all the other top drivers -- except for maybe one or two…maybe just one -- that it puts us in a dangerous situation out there. I mean, there are a lot of loose lines out there now. It is just a matter of time before a horse trips because of a loose line and a driver isn't able to pick him up in time, and I think it is going to cause a serious crash."
From what Pierce told Trot Insider, he is not the only driver against the rule -- in actuality, there may be a throng of more passionate drivers ahead of him when it comes to the topic.
"I think it's safe to say that 70 per cent of the leading drivers are against the rule more than I am. They have been doing the same thing: trying to get the most out of their horses as they possibly can, and knowing that they can get a lot more out of their horse if they could just use the whip. A lot of horses aren't as stupid as we think they are. Once they find out that they are not going to get 'licked' if they don't go, than they are not going to go. I mean you're going to have a horse that knows that he can go a lot faster, but if he knows in his own mind that he's not going to get licked, he's not going to get going."
Pierce said that in jurisdictions which have adopted stricter urging rules, drivers are forced to perform within those rules, although it makes for reinsmen learning new styles of driving on the fly within pari-mutuel races, all the while hoping to not violate rules.
"We have no choice but to change our style and try to do things that we normally wouldn't be doing because they (commission urging rules) took this away from us. A lot of us drivers feel like monkeys out there, to tell you the truth. We're not allowed to push [horses] home; we're not allowed to work on them. It's like we just have to sit there and say, 'come on little fella, you can do it.'"
Pierce stressed to Trot Insider that he is in no way, shape or form advocating the harming of horses. He stated that rules governing excessive whipping have been on the books for a long time to curb the act, but that he believes there is a great misconception on the physical effect when it comes to common use of the whip within horse racing.
"Another thing a lot of people don't understand is that [a horse's] hide is not like a really thin piece of skin like a human's. Their hide is about a quarter-inch thick and the whip doesn't hurt them -- it might sting them, like [a human] getting popped with a rubber band, but it doesn't hurt them.
"I think if a driver could talk to a horse after he races -- even after say the driver was licking on him pretty good in the lane -- and the driver could ask him what hurts, the horse would probably say that his feet are stinging him really badly after having raced on a hard track; or that its upper back hurts because the bike puts too much pressure on it; or that its knees are really stiff. I think the last thing that horse is going to complain about is that whip. I really don't think the horse would say, 'my side hurts from the guy hitting me,' or 'my back hurts from that guy hitting me.'"
When Trot Insider asked Pierce if the urging clampdown is going to have a positive effect on the industry going forward, it didn't take him long to come up with his answer.
"I believe that it is not going to help us one bit," Pierce said. "It's great for mommy who brings her little girls down to the grandstand to watch her horses race, but for the gamblers -- the people who are our bread and butter -- we are losing them every day. Before the slots came [the gamblers] were all we had to live on, the people who came to bet on us. They are going elsewhere. It is just going to hurt us, and hurt us, and hurt us.
"What are we going to do when we don't have slots? If we don't have the gamblers and then we don't have the slots, it will just be a matter of time before we don't have racing."
Related Stories