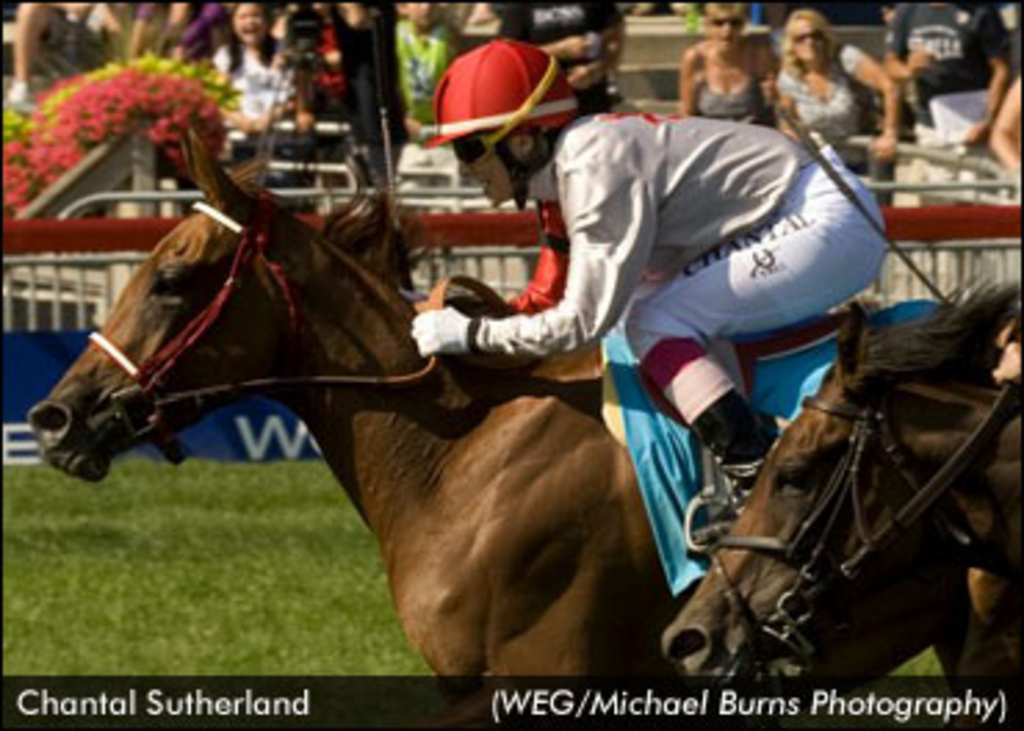 Published:
October 21, 2012 07:37 pm EDT
Jockey Chantal Sutherland, who won her first career race on October 9, 2000 at Woodbine aboard Silver Bounty, announced her retirement on Sunday afternoon following a seventh-place finish aboard Crushin Hard in the Bunty Lawless Stakes, won by Pender Harbour, at Woodbine Racetrack.
"I love Woodbine, I love riding here," said Sutherland. "It's nice that I could end it here, where it all started for me."
The 36-year-old Sutherland, a Winnipeg native who got her start in Ontario, moved her tack from Woodbine to Santa Anita in 2011, but wanted to return to Canada for her final mount aboard a horse owned, in part, by her father Hugh Sutherland.
Sutherland, calm and professional before the race, admitted afterwards that it was difficult to be walking off the track as a jockey for the last time.
"It's a very emotional experience," said Sutherland. "It's sad, but I feel good about the decision and the timing is right for me. I hope to be remembered as a very good jockey."
Just prior to the running of the Bunty Lawless, Sutherland, who retires with a record of 931 wins, including 71 stakes scores from 7,350 mounts, released a statement on her website, ChantalSutherlandJockey.com.
"Horse racing has been my life for the past 14 years," she declared in the statement. "I've reached many of the goals that I set for myself. I've lived out many of the dreams I had as a little girl, back when I was riding my pony, mucking stalls, feeding cows, aspiring to finally become a professional jockey and racing in stakes races on a worldwide stage. I'm so very blessed and grateful of the life that I have lived and career that I've had."
Sutherland wrote fondly of her memorable rides aboard multiple-graded stakes winner Game On Dude, a horse she made history with in 2011 by becoming the first female jockey to win the Grade 1 Santa Anita Handicap.
"This past year or so has been so amazing it's actually overwhelming having to put it to words. I crossed paths with a horse that happened to change my life," she said in the statement. "That horse is named Game On Dude and what a horse! He's a soldier. Together we travelled the world. We won the Santa Anita Big Cap, Goodwood, almost won the Breeder's Cup Classic; we won the San Antonio, Hollywood Gold Cup, and the Californian. We travelled to Dubai and raced in the world's richest race, the Dubai Duty Free World Cup."
Sutherland's rise to prominence at Woodbine was meteoric. In 2001, she captured 44 wins and 145 in-the-money finishes. Her stellar year was rewarded with a Sovereign Award as Canada's top apprentice rider.
In 2002, Sutherland stamped herself as a genuine talent, notching 124 wins in 724 mounts. She ranked third overall in the colony and won her first-ever stakes race aboard Biddy's Lad in the Bull Page Stakes. She capped off her campaign with a second-straight Sovereign as the country's top apprentice.
She rode in New York and Florida in 2005 for several high-profile trainers, including Hall of Famer Allen Jerkens and Eclipse Award-winning trainer Todd Pletcher, but returned to the Toronto oval in 2007 winning 69 races, ranking seventh.
In 2008, Sutherland, featured prominently in the TV reality series 'Jockeys,' and won 89 races at Woodbine to rank seventh. She also partnered champion Mine That Bird, upset winner of the 2009 Kentucky Derby, to three added-money scores (Grey, Silver Deputy and Swynford).
In 2009, Sutherland was a Sovereign Award finalist as Canada's top rider after finishing second at Woodbine, with a career-best 139 wins and 12 local stakes wins, along with over $7.5-miliion in purse earnings.
In 2010, Sutherland was once again a dominant force at Woodbine, winning a career-best and colony-leading 18 stakes, recording 136 victories, to finish third in the standings. She posted nearly $8 million in purse earnings, also a career-high number and was a Sovereign Award finalist as Canada's top rider.
Game On Dude took Sutherland to new heights in 2011 with Grade 1 wins in the Santa Anita Handicap and Goodwood, as well as a second-place run in the Breeders' Cup Classic.
In 2012, she continued her winning ways with Game On Dude taking the Grade 2 San Antonio at Santa Anita, as well as the Grade 2 Californian and Grade 1 Hollywood Gold Cup at Hollywood Park. Fittingly, Sutherland's final stakes score came on July 29 at Woodbine in the Wonder Where Stakes aboard Awesome Fire - a Canadian-bred filly owned by her brother, Hugh Sutherland.
In addition to her riding talents, Sutherland, who graduated from York University in Communications and Psychology, has modeled and appeared in a 2004 TV commercial for Esquire watches and the 2006 edition of Vogue magazine, photographed by Annie Leibovitz. Sutherland was selected as one of 'People Magazine's Top 100 Most Beautiful People' in 2006 and appeared alongside Dustin Hoffman in the HBO racing series 'Luck.'
Sutherland's final win came aboard Castletown on September 3, 2012 at Del Mar Racetrack in Calinfornia.
(WEG)