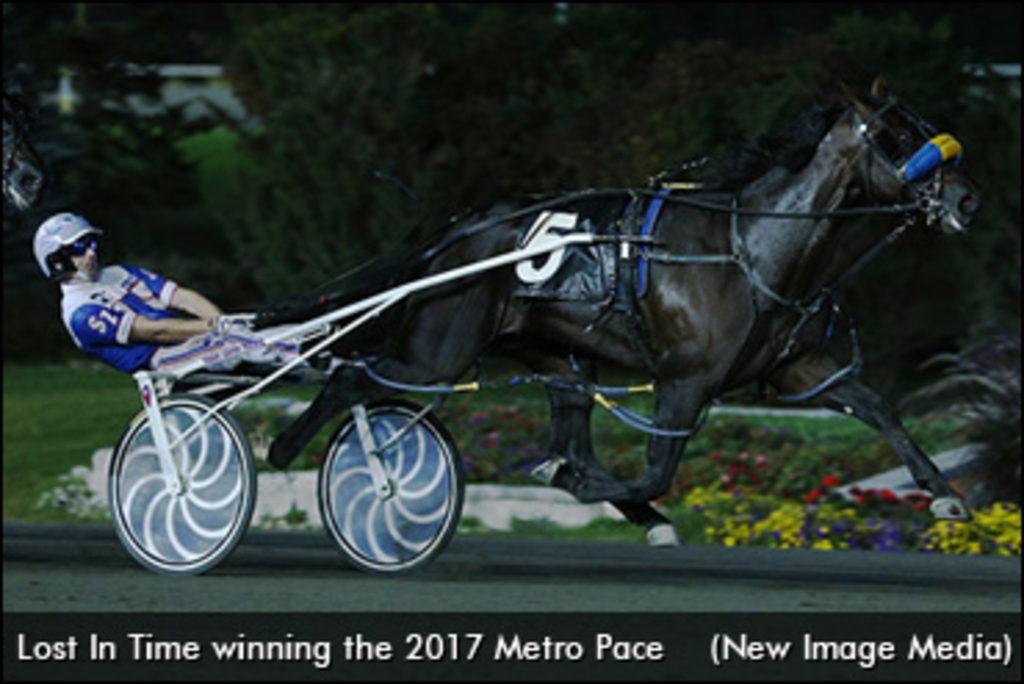 Published:
October 20, 2017 05:31 pm EDT
When Ellen Mulinix answered her husband's phone regarding an inquiry about Lost In Time, she responded with a laugh as the couple was merely performing the daily tasks they had lovingly conducted with his sire at the very same stage in his career.
"Jim is putting shoes on him right now while I am holding his head," said Ellen. "Can he call you back?"
A two-year-old son of A Rocknroll Dance-Summer Mystery, Lost In Time, co-owned by Mulinix (as part of A Roknroll Dance Racing), Denny Miller, William Rufenacht and Team S Racing Stable, is certainly following in his world champion father's hoofprints, as he hails from the same barn, possesses a similar demeanor and has thrived in an identical program.
This colt, however, has already accomplished something the 2012 Meadowlands Pace victor did not with a triumph in the $660,960 Metro Pace at Mohawk Racetrack on Sept. 23.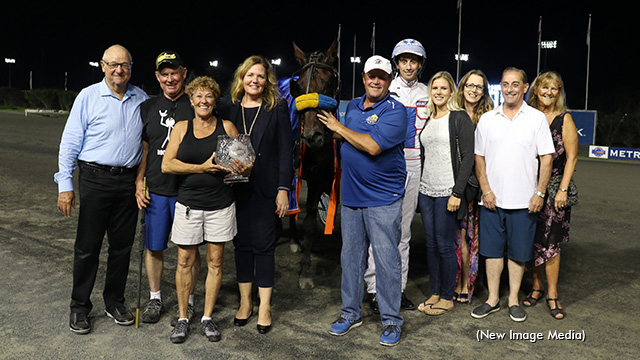 Jim and Ellen Mulinix hope he can replicate that achievement with a Breeders Crown trophy on Oct. 28 at Hoosier Park, but first he must place five other qualified rivals in his wake in the first of three $20,000 eliminations on Saturday (Oct. 21) to claim a spot on the starting gate for the $600,000 final.
The colt will have the services of Scott Zeron and the duo will commence their quest for a Crown from post position six as the 2-1 morning line favourite. They will, however, have to contend with the likes of Nutcracker Sweet (post one, Tim Tetrick, 5-2) and This Is The Plan (post five, David Miller, 4-1).
"As you already probably know 'Dance' did not win the Breeders Crown just like the Metro Pace (he finished second in both races)," Jim Mulinix said. "And I think it could have been for the same reason as we had to change drivers from the eliminations to the finals for those races. Dance wasn't a hard horse to drive but you had to know him."
Unlike his father, Lost In Time retains the services of his regular pilot, but Jim and Ellen Mulinix have embarked upon nearly exactly the same course they did with A Rocknroll Dance for his freshman campaign. To date, the colt is 5-3-2-0, has banked $454,875 and has a lifetime mark of 1:50.1 established during his Canadian journey.
"We started Dance at Raceway Park for his first (qualifying) start," Mulinix said. "People laughed at me when I started this colt at the fairs, but we had another horse in (at the Hicksville, Ohio Fair) and I just wanted to see how he would handle shipping. Shortly after the first turn is where all the rides are and that caught his attention so he was looking all over the place, but when it came time on the backside nothing was a problem.
"Then we decided to take him to Kentucky for the sire stakes. His other owners kept telling me he had to finish first or second to make the final, but I was already thinking of the Metro Pace, as winning the Metro Pace would make him a real horse. Donnie Harmon drove him down there (at The Red Mile) for me and he asked me if he could leave but I told him not to do that. My instructions were to not race him hard early, put him in position and let him come home. When Donnie got off of him he said he waited to let him go and when he did he could have went another mile. Since we finished second I could now talk my other owners into the Metro Pace."
Lost In Time did not capture his elimination for that contest like A Rocknroll Dance did, but was second by a neck to the very talented Stay Hungry in 1:50.2.
"He ran into a little trouble in that race when another horse was doing something funny in front of him and saw his head go straight up," Mulinix said. "Scottie had to pull him out of it and he hit himself, but he raced very well.
"Scottie is such a good young driver and knows what he has to do to win races. He told me this horse would have to leave to win the Metro final so he could keep him in a good position. I told him he could, he just hadn't yet because I didn't want other people to know exactly what I've got and with the great drive Scottie gave him we won. We are just so lucky to have a driver like him for this horse."
Lost In Time returned to the Bluegrass State for the International Stallion Stakes on Oct. 7 at Red Mile. He won his $58,000 division well within himself and paced his final quarter in :26.1.
"I was very pleased with how he raced in Kentucky," Mulinix said. "He has some splint bones that have been bothering him and was really on the right line in Canada. We have been working on them and painting them, which seems to have helped him. So far our plan has worked for him and everything has fallen into place, which is unusual not only in this sport, but any sport. We just hope it continues for us at Hoosier Park."
The Anderson oval may also be the very last occasion Jim and Ellen will care for and condition Lost In Time for a Grand Circuit event, as the couple has decided to slow down as they learned from A Rocknroll Dance, it was time to relish life a bit more.
"We couldn't even enjoy it when Dance won the Meadowlands Pace," Mulinix said. "My grandkids called us at 2:30 a.m. and couldn't believe we were eating soup from a gas station, while trying to get a couple hours of sleep instead of having a nice dinner to celebrate winning such a big race. I tried to explain to them nothing else was open and I had other horses to get back and shoe and train; we also had a 10-hour drive. I'll never forget that drive as we were so tired and worried something was wrong with the truck and we wouldn't make it back without breaking down.
"Even with only being down to eight or 10 horses, the travel for these big races is just too much for us. Because of Dance we were able to buy a farm, the Gilchrist Training Center in Florida, that is affordable for us and we will raise a couple babies, then have a couple horses to fool around with but I didn't buy any yearlings this year and we don't plan on it. In fact my wife made me pour cement in one of the stalls in Florida to make it a feed storage area so I wouldn't be tempted to put a horse in there."
Even if Lost In Time procures restitution for his sire's misfortune in the Breeders Crown, Jim and Ellen are still not tempted to continue with the horse's career, no matter how bright the future may be.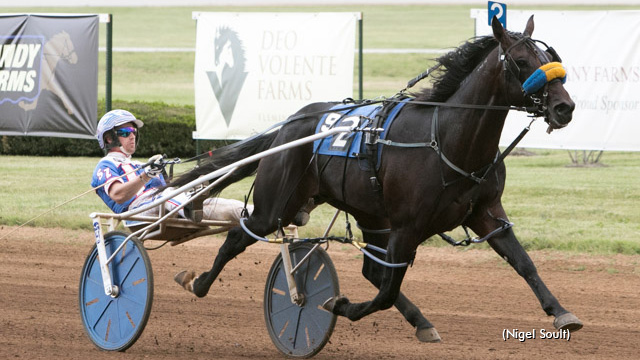 "I didn't even want to buy him as a yearling, but I had to support Dance as a stallion and this horse looked like the best one," Mulinix said. "I always thought and still think Dance will make a great stallion and this horse is so athletic, with the same attitude. If I had to compare them, it would be that Dance was a fullback and Lost In Time is like a running back or halfback, but the shipping and back and forth is too much for us.
"At the Metro people were talking about Jimmy Takter retiring and I can understand why. You work so many hours and this is not like a regular job and it is so easy to get burnt out because you don't have the chance to just enjoy what you have done.
"Jimmy and I have called each other for years about how to shoe our horses when I go out east and he comes out here. I know he said it would be his last year next year, but I asked him to take this horse to train and he said yes.
"Of course the Breeders Crown would be so meaningful for us to win, not just because it would make up for Dance, but because we are so blessed in our lives to have him, this horse and so many other things that have come along. We hope our good fortune continues in Indiana, but we made our plan whether this colt wins the race or not.
"He might go to the Governor's Cup, I'm not sure right now, then maybe to Florida with us but then it is time for us to pretty much retire."
Eliminations for the Breeders Crown will take place at Hoosier Park this weekend. To view the entries for the Friday elims, click here. To view the entries for the Saturday elims, click here.
---
This story courtesy of Harness Racing Communications, a division of the U.S. Trotting Association. For more information, visit www.ustrotting.com.