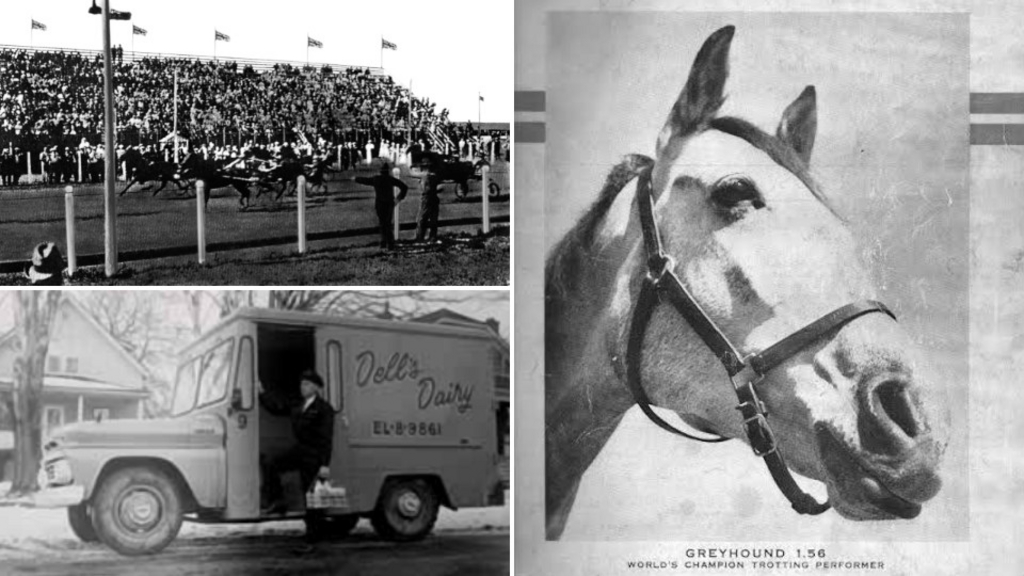 Published:
October 2, 2022 11:01 am EDT
This week's Rewind is the monthly version of 'Years Ago',  a short review of a few of the people and events taking place during the decade of the 1930's. Robert Smith has assembled a few old pictures and short stories from those long ago days. In the 1930's our society was still deeply rooted in a "horse-based" way of life.  People had a great love of all kinds of equine figures and much of the population  just naturally loved horses and for that matter harness racing. 
1931 - Big Race Day Held At Northam, P.E.I.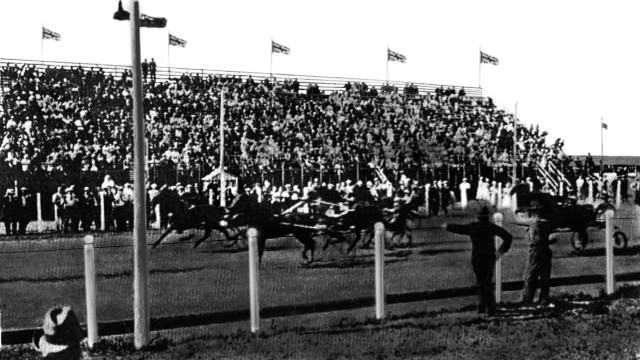 July 16, 1931 - The following excerpts from The Agriculturist Paper fully describe the opening of The Milligan and Morrison Race Track. It should be noted that, although the address is Northam, the property Is located In Birch Hill, Prince Edward Island. 
The magnificent new track, buildings and equipment were an eye opener for the vast throng in attendance.  A grand field of horses and exceptionally fast times were made in all events. All roads yesterday afternoon led to Northam. It is estimated that over 7,000 people were present at the big opening race meet of this magnificent new race course.  It was said to be the largest to ever have attended at a rural horse racing track on Prince Edward Island. 
1937 - Dairy Owner Enjoying Harness Racing 
Melvin Dell of Niagara Falls, Ont. is enjoying his involvement with harness racing in addition to operating his successful dairy business.  Mr. Dell started out in the 1920's with a one-horse delivery wagon and soon built up a thriving operation selling milk and cream door to door.  He eventually moved to motorized vehicles as shown elsewhere.  At this time he had a horse named Great Dean that was wintering at Dufferin Park after racing at many one day meets in Ontario during the summer and fall. 
In later years Mr. Dell had a number of horses with several trainers, among them Wes and Cecil Coke,  Vic Lutman and Harold and Wm. Wellwood. I believe a number of his horses were roan in colour as they descended from the same family as the famous performer The Count B.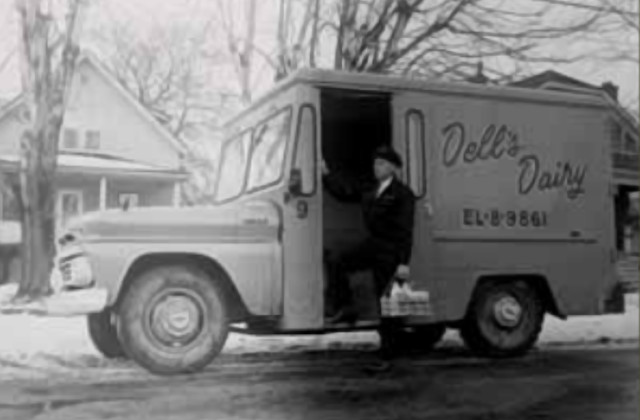 1937 - London Horse Sets New Record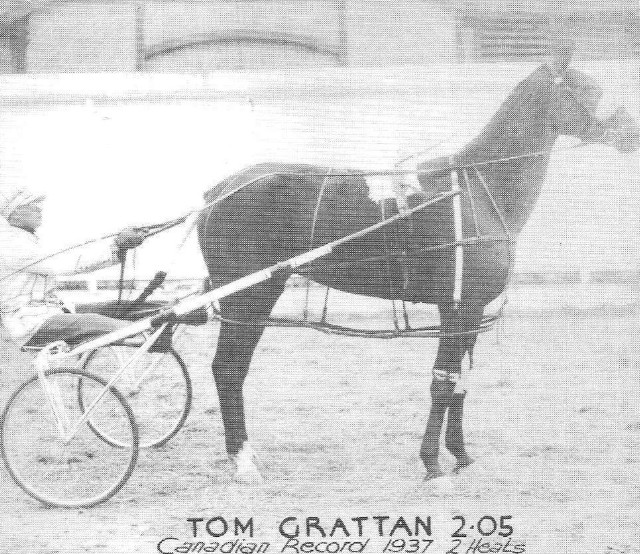 During the 1937 racing season the stable of horses owned by London hotelier Alex Parsons was an active and successful enterprise.  Racing under the guidance of trainer Wm. Herbert and his assistant Lew James,  a number of horses from their barn won several important races and at least one performer set a new Canadian race record.  During the London meeting held in conjunction with the annual Western Fair,  the pacing gelding Tom Grattan established a new Canadian speed record.  With Lew James in the sulky this aged gelding won two heats in the identical times of 2:05 even.  This set a new standard.  
1938 - Greyhound Draws Worldwide Attention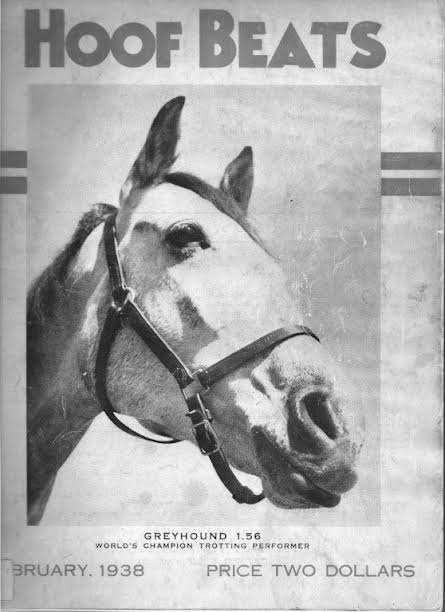 The front cover of the 1938 issue of Hoof Beats magazine carried a head shot of the most famous standardbred horse of the times who to this day remains highly recognizable.  The then famous grey trotting gelding had established a world's record of 1:56 during the previous season in a time trial. Canadian racing fans had the opportunity to see this great horse in action early in his career when he appeared at Thorncliffe Park in Toronto.  
1938 - Manchester Farms Holds Annual Auction 
In the 1930's the opportunity to purchase yearlings at auction in Canada was a rarity.  One of the few farms that bred and raised young stock was the Manchester Farm located at Galt, Ontario, the current area known as Cambridge.   The farm had a track on the premises and a resident manager.  The farm was owned by a local businessman, F.S. Scott who operated a shoe factory in Galt.  A former mayor and MP for the area he was also at one time the President of the C.T.A.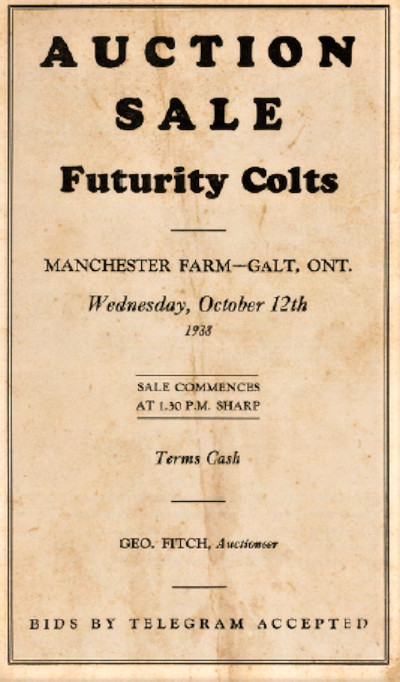 The above notice announced the 1938 sale.  It is interesting to note that prospective buyers could enter a bid via telegram.  Ad courtesy of Leon Siple. 
When he wasn't tied up with business or politics, Scott indulged his passion for harness racing at Manchester Farms, a huge rural property he owned that had a half-mile training track. It was in the area east of the Delta intersection between Samuelson Street and Avenue Road.
"He was an all-around sportsman...but his lifetime passion was for harness horses," one obituary said when Mr. Scott died in 1943.
Quote For The Week: "A compromise occurs when two people agree to something that neither one wanted in the first place."
Who Is It?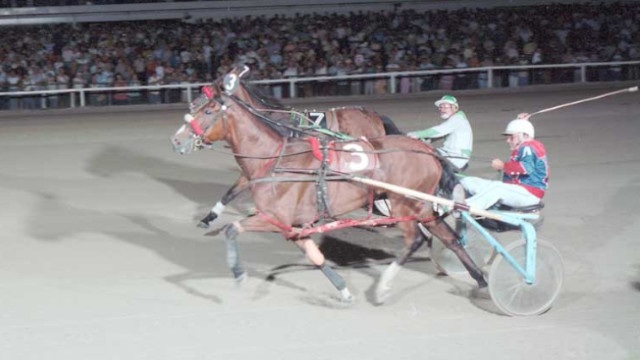 Can you identify this driver of #3 as he heads for a possible victory. (Abahazy photo collection) 
Who Else Is It?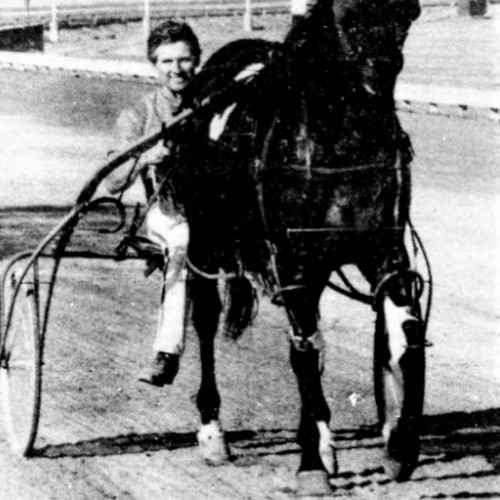 Can you identify this young lad who somehow was allowed out on the track without his helmet? Who is it? 
Blast From The Past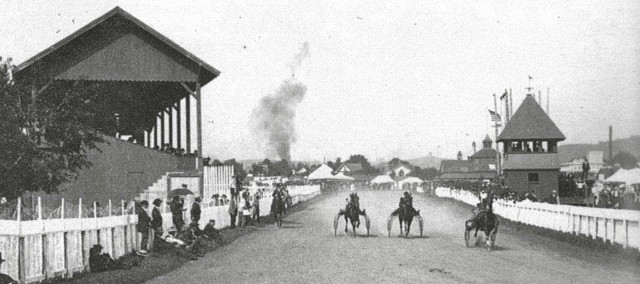 A field of horses headed down the stretch in this old undated photo at an unknown location. A few lucky fans had a nice view of the proceedings as they were seated on the fringe of the track.