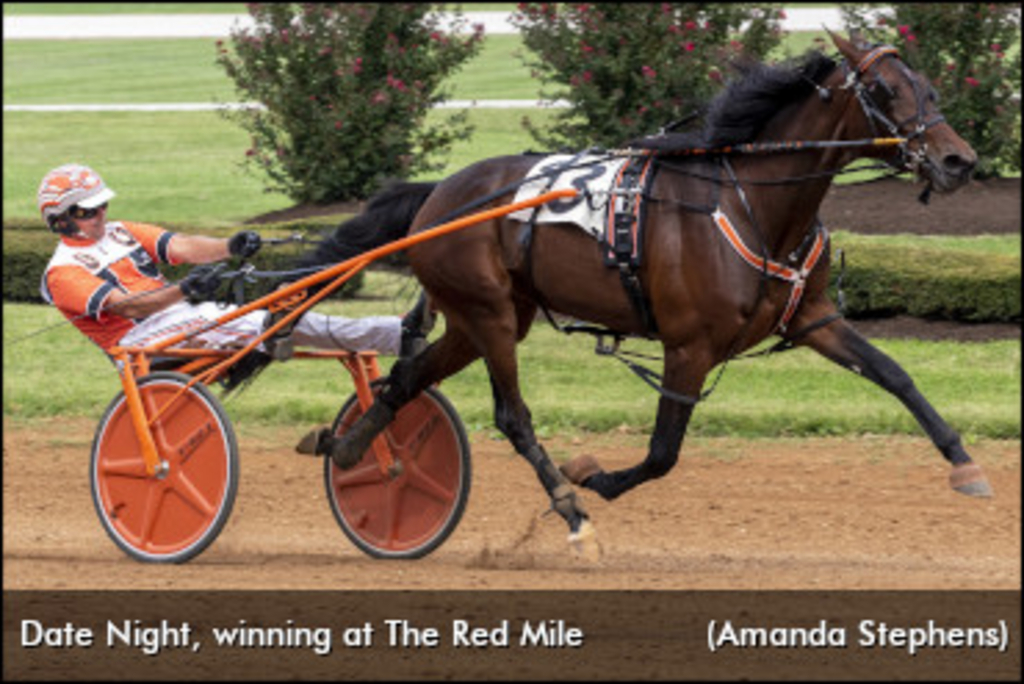 Published:
October 2, 2021 06:18 pm EDT
A wicked tempo set by Missy Trix laid the groundwork for 1-2 favourite Date Night to lunge into the collapsing pace and power through to finish a sizzling mile in the second of five divisions for the $390,000 Bluegrass Two-Year-Old Filly Trot on Saturday (Oct. 2) at The Red Mile.
Missy Trix motored from the pylon post to an open lead with Pauline Hanover settling into second and Delilah Hanover into third approaching a :27 first quarter. Date Night raced fifth as the field strung out up the backstretch to a :54 half, where driver Andy Miller made his move with Bar Hopping filly.
Date Night procured cover from Delilah Hanover into the final turn as that pair aligned second and first, respectively, to three-quarters in 1:22.4. Delilah Hanover turned for home veering from the pylons before going into a gallop and leaving Date Night alone on the lead. Through the stretch, the Julie Miller trainee showed no signs of tiring as she slid past the beam in 1:50.4 to miss the world record for a freshman trotting filly, set in 2014 over the red clay by Mission Brief, by just one-fifth of a second. Ebbies Lady gave chase in second, beaten 8-3/4 lengths, while Delilah Hanover settled for third and A Perfect Helen took fourth.
With the win, Date Night remains undefeated from six starts and has collected $104,200 for owners/breeders Marvin Katz and Sam Goldband. She paid $3 to win.
Jiggy Jog S strolled to victory in the first division of the Bluegrass, stopping the clock going away in 1:52.2.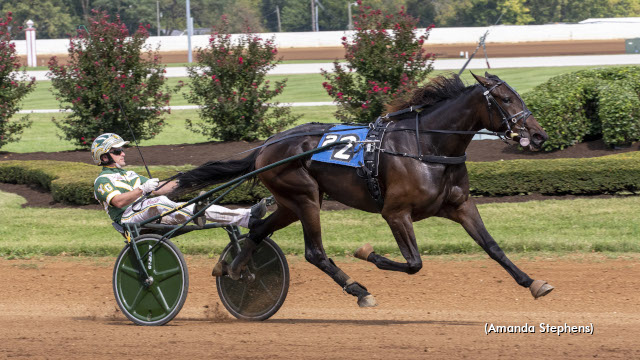 Second-choice Mon Cheval bucked and reared behind the gate when breaking stride, leaving Je Suis Si Belle to grab the lead from Jiggy Jog S on the first turn. Past the quarter in :29, Je Suis Si Belle hustled up the backstretch with the field single file behind her to a :56.4 half, where Mon Cheval caught the field and ventured overland to recoup ground through the final turn.
Mon Cheval marched closer towards the top, but began to stall as Jiggy Jog S readied to pop pocket past three-quarters in 1:25.1. With racetrack ahead off the corner, Jiggy Jog S jetted by Je Suis Si Belle and passed the line under wraps 3-1/4 lengths in front. Wallabee gave chase from third while Mrs Taylor took fourth and Mon Cheval faltered to last of the six.
Off the 3-5 favourite, Jiggy Jog S returned $3.20 to win when collecting her second victory in her seventh start. The daughter of Walner, driven by Yannick Gingras for trainer Ake Svanstedt, has accrued $106,068 in earnings for owner Jorgen Sparredal Inc.
Raised By Lindy rolled to the top off the final turn and strode under wraps to a 1:52.1 victory in the third division of the Bluegrass.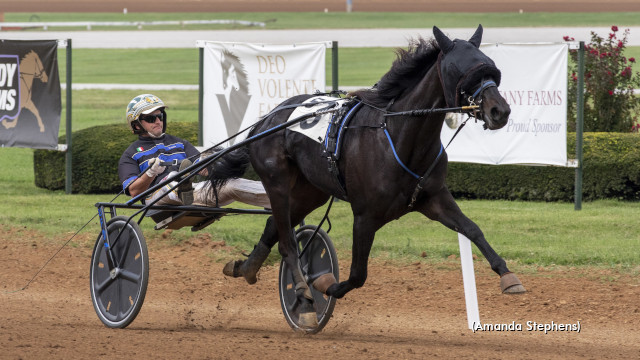 Driver Yannick Gingras floated Raised By Lindy to race fifth off the car while Baptism took the lead to a :27.3 first quarter with Danznqueen Hanover ranging uncovered for the front. Danznqueen Hanover assumed the lead into the backstretch before Baptism circled back to the front from the pocket to a :55.4 half as Raised By Lindy flushed cover from Adore Me to the far turn.
Adore Me advanced slightly uncovered to three-quarters in 1:24.4 but raced one-pace into the stretch as Gingras gave Raised By Lindy her cue. The Domenico Cecere-trained Walner filly stormed by Baptism in the straightaway and expanded her lead with each stride as Danznqueen Hanover overtook second from Baptism, beaten 6-3/4 lengths. Adore Me held fourth.
"I didn't know the filly. I let Brian [Sears and Joviality S] go pretty easy there at Hoosier just hoping to be second at that point," Gingras said after the race of his first drive behind Raised By Lindy, which came in the $200,000 Kentuckiana Stakes. "The filly didn't have a good week last week – I knew that going in. But she was super. I really liked her and I put a scare to [Joviality S] and I knew today she'd be really good. She could've been on the front I think and won as well, but anytime you can get a nice second-over trip we'll take it."
A homebred for the Lindy Farms Of Connecticut, Raised By Lindy won her third race from seven starts, pushing her earnings to $103,618. She paid $4.20 to win.
Palermo Hanover pulled a 39-1 shock capitalizing off the break of 1-9 favourite Misswalner Fashion to take the fourth Bluegrass split in 1:55.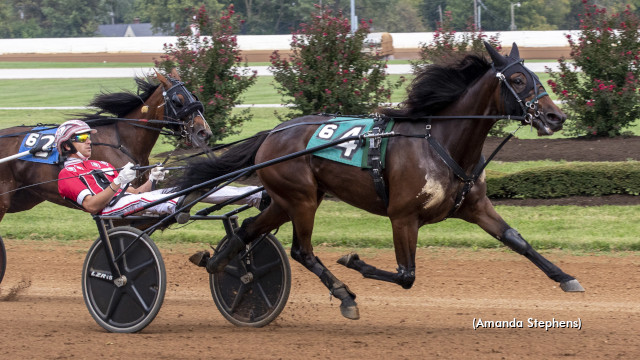 Misswalner Fashion secured an uncontested lead to a first quarter of :30.1, which proved tepid enough to lure Eternal Lee off the pegs from third and blitz for the lead. Her acceleration up the backside proved too strong for Misswalner Fashion, who lost stride before a :57.3 half.
Eternal Lee steadied the tempo to the final turn as Ryder In The Sky got underway overland out of fourth. By three-quarters in 1:27.1, Ryder In The Sky rushed close to the leader but gave way as the pair from the backfield began to lift over the top. Palermo Hanover came closing quickest of all and held off Pioneer As — the longest shot on the board at 64-1 — to win by 1-1/4 lengths. Eternal Lee settled for third with Cash Machine Girl taking fourth.
Returning $81.40 to win, Palermo Hanover nabbed her first victory from eight starts, pushing her earnings to $68,008 for trainer Noel Daley and co-owners Lenny Zelin and The Gandolfo Stables. Dexter Dunn sat behind the daughter of Father Patrick.
Lilbitalexis bolted through traffic to win the final division of the Bluegrass drawing away in a 1:52.4 mile.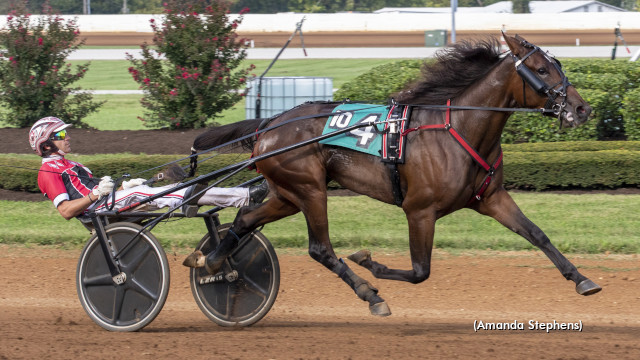 Taking the lead through a :29.1 first quarter, Lilbitalexis found herself shuffled past a :56 half as Behindblueyes grabbed the lead before Brickhouse Babe brushed to the top into the final turn. American Beauty was left uncovered in pursuit of Brickhouse Babe to three-quarters in 1:24.4 and faltered into the stretch with the backfield fanning across the track. Room opened, with Brickhouse Babe drifting and Behindblueyes to the pylons, for Lilbitalexis to charge through and to the lead in midstretch. From there, the Walner filly coasted to a 5-3/4-length victory over Brickhouse Babe. Peyton Hanover closed for third along with Bold And Beautiful for fourth.
Trained by Richard "Nifty" Norman for owners Pinske Stables and David Hoese, Lilbitalexis won her sixth race from seven starts, pushing her earnings to $114,300. Dexter Dunn piloted the $2.40 winner.
Each division of the Bluegrass Two-Year-Old Filly Trot was sponsored by Arden Homestead Stable, Elbridge & Peter Gerry, Stoner Manor & Menhammar Stuteri AB, Jorgen Jahre Jr., William DeVan, Lawrence DeVan and LST Stables.
Early Action Hits Best Stride Late For Bluegrass Score
Early Action took the lead early, yielded control to Pebble Beach and tracked every move of that 3-5 choice before upending him in the final strides to win the second of three splits for the $330,000 Bluegrass Two-Year-Old Colt & Gelding Pace on Saturday (Oct. 2) at The Red Mile.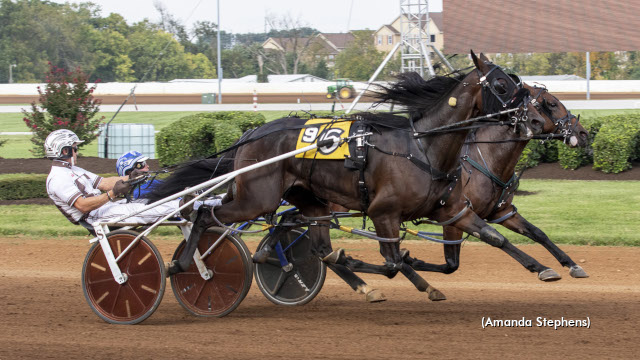 Leading to a :28.1 first quarter, Early Action let Pebble Beach brush by to the point into the backstretch and stayed put as River Ness advanced first over into a :55.3 half. Pebble Beach continued on the lead under minimal pressure to three-quarters in 1:23.2 before Early Action began to threaten off the turn. With each stride, Early Action cut into Pebble Beach's advantage until the Hunstville gelding eventually edged by just before the line to win by a head in 1:49.4. River Ness held third with Lous Sassin finishing fourth.
"[Brian Sears] does a great job," winning trainer Joe Holloway said after the race. "He also has the ability to – once he left with him – to get him to relax in the two hole. He doesn't need my advice. [Early Action] has improved. Unfortunately, we had to geld him, but after that the horse came around. He wasn't paying attention to business. I'm not a big fan of gelding, never really had it work out too well. I've had two in my career and this is the second one. He's a high speed horse and he's coming along."
A winner in six races from eight starts, Early Action has earned $124,408 for owners Val D'Or Farms and Ted Gewertz. Brian Sears piloted the $10.40 winner.
Longshot Nautical Hanover blew up the tote board and cracked the unbeaten streak of 1-5 favourite Gulf Shores when landing a 46-1 upset in the opening division of the Bluegrass.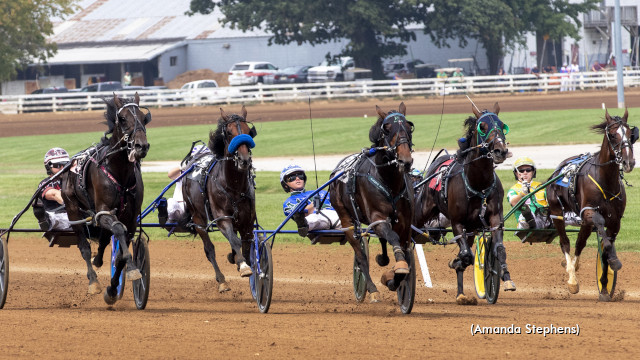 Danger Zone zipped off the wings from the pylon post to lead Loukes Perry into the first turn while Gulf Shores, who bobbled slightly behind the gate, floated to race sixth. By the first quarter in :27.1, Danger Zone kept the clip hot to a :55.1 half as Gulf Shores attempted to flush cover from the back, securing a third-over position when Nautical Hanover committed to race uncovered to the turn.
Nautical Hanover made steady gains on his pace-setting stablemate to three-quarters in 1:23.3 and promptly took over the lead straightening for the finish. Gulf Shores shot off cover and charged after Nautical Hanover coming to the final eighth, but could not overpower the late leader who hit the beam a half-length better in a 1:51 mile. Seaside Way rallied for third and Last Beach finished fourth.
"He raced great up in Canada in the Metro; he just got interfered with," co-owner Brad Grant said after the race. "We might've been third or fourth, so I was kind of surprised. Unfortunately I didn't get here in time [to bet him] – they were just going behind the gate when we walked in. So I'll take the purse."
In his maiden-breaking score, Nautical Hanover produced a $95.80 mutuel when making his 10th start while pushing his bankroll to $101,764 for owners Brad Grant, VJ Stable, Jablonsky Held Stable and In The Gym Partners. Tony Alagna conditions the Captaintreacherous colt and Todd McCarthy sat in the sulky.
The final Bluegrass division went the way of JMs Finaltreasure, who launched from the pocket to win in 1:50.4.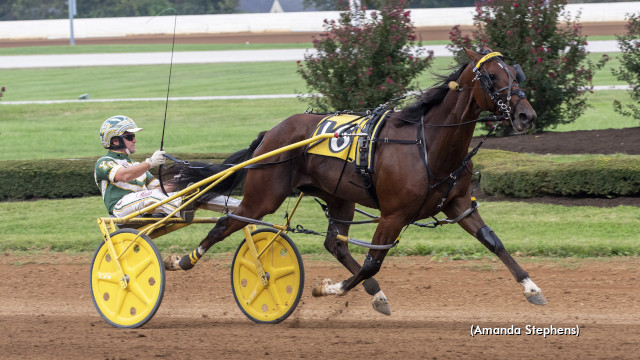 Securing the lead to a :27.1 first quarter, JMs Finaltreasure settled for the pocket up the backside as Wearinmysixshooter came rolling first over for the front. Wearinmysixshooter then led the field to a :55.1 half as an antsy Rose Run Xplosion blew off the pegs and rushed to the pacesetter around the final turn. However, Rose Run Xplosion's uncovered bid was brief and he began to back through the field to three-quarters in 1:23.1.
As the backfield circumvented the tiring horse, JMs Finaltreasure had enough room to swing from the pocket and dash by a tiring Wearinmysixshooter through the lane to win by a widening two lengths. Captain Cowboy scooted up the inside for second, but a pylon violation in his rally disqualified him to fifth. PJ Lou assumed second, Atlas Hanover took third and Wearinmysixshooter finished fourth.
JMs Finaltreasure won his fourth race from 10 starts, pushing his earnings to $205,063 for owners Burke Racing Stable & Weaver Bruscemi, J&T Silva-Purnel & Libby and Phil Collura. The gelded Sweet Lou half-brother to Captaintreacherous had Yannick Gingras in the sulky for trainer Ron Burke and paid $5.20 to win.
Each division of the Bluegrass Two-Year-Old Colt & Gelding Pace was sponsored by the Stay Hungry Syndicate and Hanover Shoe Farms.
Live harness racing resumes at The Red Mile on Sunday (Oct. 3) with a total of nine stakes events spread through the $253,000 Bluegrass Three-Year-Old Colt & Gelding Pace, $208,000 Bluegrass Three-Year-Old Colt & Gelding Trot, $223,600 Bluegrass Three-Year-Old Filly Trot and $150,000 Bluegrass Three-Year-Old Filly Pace. On the betting front, Sunday's card will feature a $40,000 guaranteed pool for the Pick 5, spurred by an $8,282.07 carryover on the Saturday card. The Pick 5 encompasses Races 2-6 and carries a 50-cent minimum.
First-race post time at The Red Mile is 1 p.m. (EDT).
(With files from Red Mile)