Published:
October 19, 2018 08:56 pm EDT
Driver George Brennan won the 10,000th race of his career Friday night (October 19), doing so at his second home, Yonkers Raceway.
Brennan, who entered the night with 9,998 wins, immediately knocked off the 'to-do' list when he took down the chalky daily double in the down-the-road fashion.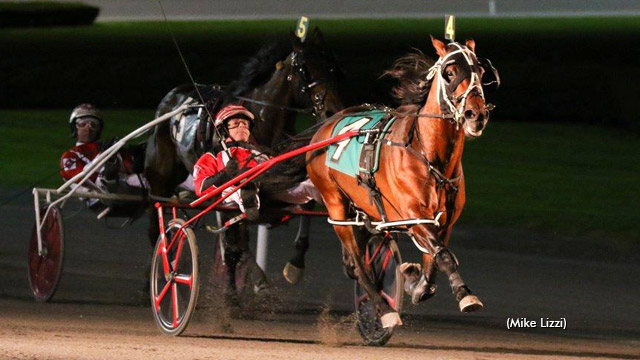 Top of the Mark ($6) won in the $17,000 pacing opener in 1:54.3, his second consecutive win after beginning the season 0-for-27.
Our Zak Whitby A ($2.80) was a never-in-doubt, two-length winner (life-best 1:52.3) in the $23,000 second-race pace.
The 4-4 Brennan-Brennan double returned $10.20.
Brennan, who become the 16th North American driver to reach that five-figure number, had a rather large welcoming committee in the winner's circle, including his stepfather, Joe Ricco Jr., several drivers and racing officials.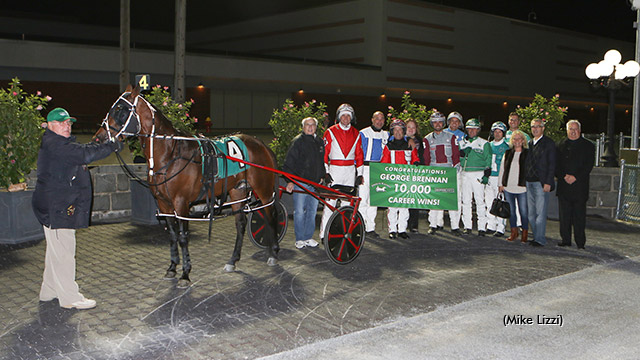 The 51-year-old Brennan, a native of Monticello, NY, took the latest milestone in stride.
"It's a good number, but nothing I was aiming for, but I understand it's significant," he said.
Brennan won his first race -- behind Rob Ron Romper -- at his hometown track as a high school junior back in 1982. His career purse earnings of approximately $172 million ranks seventh in the all-time list.
(Yonkers)