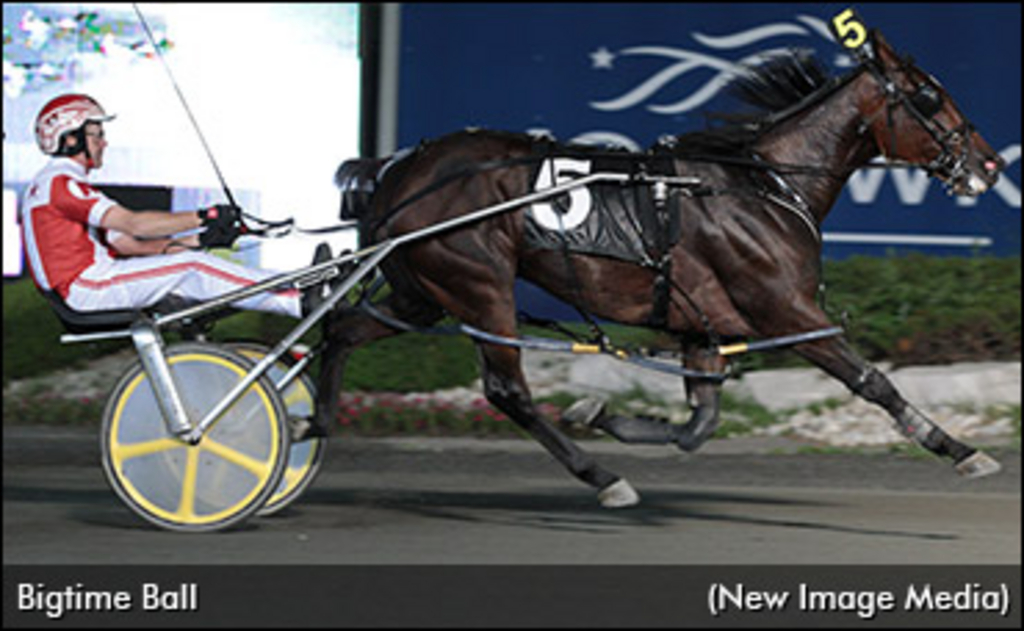 Published:
October 16, 2013 05:11 pm EDT

Trot Insider has learned that after seven tremendous years on the racetrack, 2009 O'Brien Award winner Bigtime Ball has been retired.
Trainer and owner Gord Irwin said the decision was made after consulting with his veterinarian and Bigtime Ball's longtime regular driver Paul MacDonell. Irwin stated that the wear and tear of racing has caught up with the nine-year-old son of Presidential Ball-Keystone Trinidad.
"It's for the best of the horse," said Irwin. "We're now in the process of finding a good home for him to live out a happy retirement."
The brother to Hall Of Fame pacer Invitro, Bigtime Ball carved out superstar statistics of his own. With 116 career starts, Bigtime Ball was a winner 40 times, finishing second in 27 outings, tacking on another 15 thirds to provide the bulk of his $1.625-million bankroll. Bigtime Ball took his career mark of 1:48.2 in an open event at Mohawk in July 2009, but his name still resides in Canadian harness racing's record books by virtue of his 1:49 mile at Georgian Downs in June of that year.
The time of the mile still stands as the fastest mile ever paced on a five-eighths mile track in Canada, and was one of the wins that swayed voters into choosing Bigtime Ball as the O'Brien Award winner for older pacing horses and geldings in that 2009 campaign. His summary for that season was a solid 14 wins and five seconds in 21 starts with all but one race against open or stakes competition.
"He was just a pleasure to drive from Day 1, said regular driver Paul MacDonell. "His ability to race at such a high level for so many years has always amazed me, I will surely miss our usual Saturday night get-together."
Bigtime Ball last found the winner's circle on Sept. 28, grinding out a win in 1:49.4 against a solid group of conditioned horses. It was the second straight year that Bigtime Ball was victorious on OSS Super Final night, winning the Preferred during the 2012 Super Final night program. In 2007, Bigtime Ball himself was a Super Final winner at age 3.
MacDonell also commended Irwin on the job he did keeping Bigtime Ball "fresh and happy for so many years."