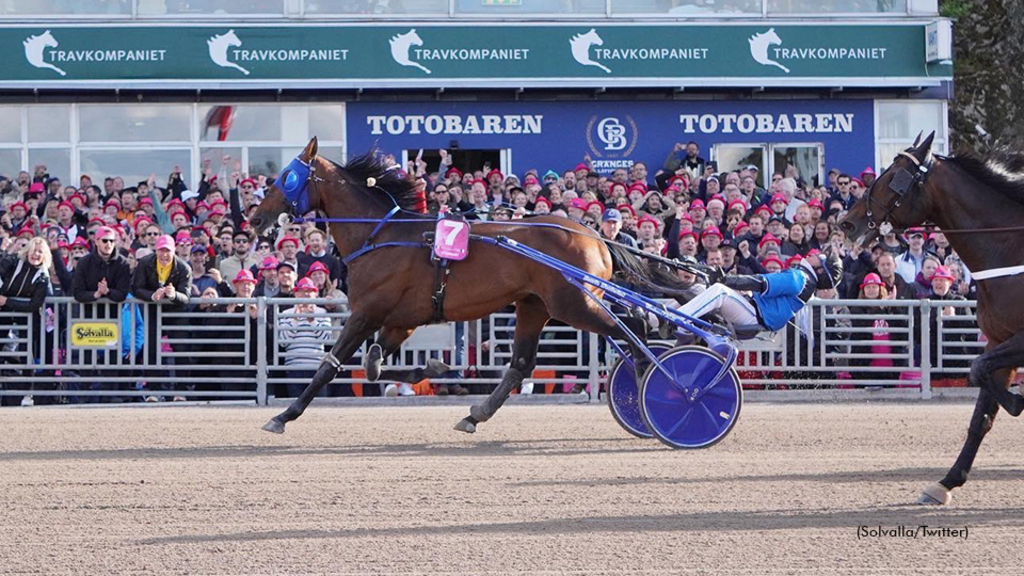 Published:
October 12, 2022 04:22 pm EDT
Richard Westerink enjoys travelling, and his French standout Etonnant has brought him on an amazing journey this season.
Etonnant, an eight-year-old son of Westerink's champion Timoko, heads to Saturday's $1 million MGM Yonkers International Trot at Yonkers Raceway with this year's Elitloppet title to his credit and nearly $1.2 million in purses from 12 starts in 2022. He has finished no worse than second in nine of those races, winning five.
Over his past five starts, which date back to his Elitloppet triumph in Sweden on May 29, the stallion has three victories and two seconds, with the setbacks coming by a neck and a head to multiple Group 1 winner Vivid Wise As.
The trip to Yonkers brings Etonnant to his seventh different track in his fourth different country this season.
"I like to race over here; I love New York," said Westerink, who owns and trains Etonnant and is bringing a horse to the International Trot for the third time. "I love racing everywhere in the world. I like travelling. I like to do things other do not do.
"[Etonnant] is winning a lot of big races. I have a chance to race in the good races like that, and that's fun."
For his career, Etonnant has won 15 of 58 races and earned nearly $1.9 million. Those numbers exclude five under-saddle victories, good for an additional half-million dollars. He has four Group 1 wins, three of which have come this year, including the Elitloppet.
"This is his best year," said Westerink. "Last year was very good also, but this year is exceptional. I think he's growing up and is a little bit stronger than before.
"He's not a trotting machine, like his father, but he's a very strong horse, a big horse."
Etonnant's win in the Elitloppet — a race Timoko captured twice — came after the stallion went off stride at the half and found himself in seventh place on the backstretch. He rallied with a four-wide move around the final turn and charged down the outside of the stretch to victory.
"It was amazing," said Westerink. "I said it was over [after the miscue] and then he won."
On Saturday, Etonnant will try to win one of the races that eluded his father. Timoko competed in the 2015 International Trot, which marked the return of the event after a 20-year absence, and finished second to Papagayo E.
Timoko raced on the outside for the entire distance of 1-1/4 miles while Papagayo E saved ground on the pylons before taking advantage of his pocket trip behind Creatine and bursting through the then-existing passing lane to win by a half-length.
"We were beaten when there was an open stretch," said Westerink. "[Timoko] went an amazing race."
Etonnant, out of the French mare Migraine, will start the International Trot from post seven (coincidently, the same as in the Elitloppet final) with regular driver Anthony Barrier and is the 5-2 morning-line favourite in the field of 10. Westerink was grateful for an outside starting position, admitting the half-mile oval at Yonkers is a concern.
"I'm afraid a little bit," said Westerink. "We'll see if he can take the turns over here. We'll see in a couple of days. It's a little track for him.
"I'm very happy with the [post]. He can have a little bit of space on the outside in the first turn and then I hope we will see him up there on the front. He's a very tough horse with a lot of speed. I think we can be maybe three-wide and that's not a problem."
Favourites have won three of the five editions of the International Trot since its renewal in 2015. Italy's Zacon Gio, one of those favourites, won the most recent of the International Trot in 2019 before two pandemic-related cancellations of the event. The seven-year-old stallion is back to defend his crown and will start from post 10 in the second tier on Saturday.
Racing begins at 12:30 p.m. (EDT). There also will be two $250,000 invitationals — the MGM Aria Pace and MGM Robert Miecuna Trot — on the International Trot Day card. Both will go with 10-horse fields and be raced at the distance of 1-1/4 miles.
The International Trot (race seven) is scheduled for 2:30 p.m. It will be the first leg of a $20,000 guaranteed Late Pick-4, which also includes the Robert Miecuna Trot and Aria Pace as races eight and 10, in conjunction with the USTA's Strategic Wagering Program.
A lunch buffet dining option is available on the second floor of the Empire Terrace at a cost of $80 per person on MGM Yonkers International Trot Day. Tickets will be sold at the door, but advance reservations can be made by calling 609-317-7295.
There will be a Yonkers International Trot hat or t-shirt giveaway to the first 500 fans on the track apron. 
The following is the field for the International Trot with driver, trainer and morning line odds.
$1 million Yonkers International Trot
Post - Horse (Country Represented) - Driver - Trainer - Morning Line
1. Tycoon Conway Hall (Denmark) - Kasper Foget - Flemming Jensen - 4-1
2. Lovedbythemasses (Canada) - Todd McCarthy - Jeff Cullipher - 10-1 
3. Cokstile (Norway) - Vincenzo Dell'Annunziata - Mattia Orlando - 5-1
4. Stoletheshow (Norway) - Frode Hamre - Frode Hamre - 8-1
5. Ecurie D (Denmark) - Ake Svanstedt - Ake Svanstedt - 3-1 
6. Back Of The Neck (USA) - Tim Tetrick - Ake Svanstedt - 7-2
7. Etonnant (France) - Anthony Barrier - Richard Westerink - 5-2
8. Its Academic (USA) - David Miller - Ron Burke - 12-1
9.] Kennedy (Sweden) - Jason Bartlett - Erik Bondo - 8-1
10.] Zacon Gio (Italy) - Roberto Vecchione - Holger Ehlert - 9-2
(With files from USTA)