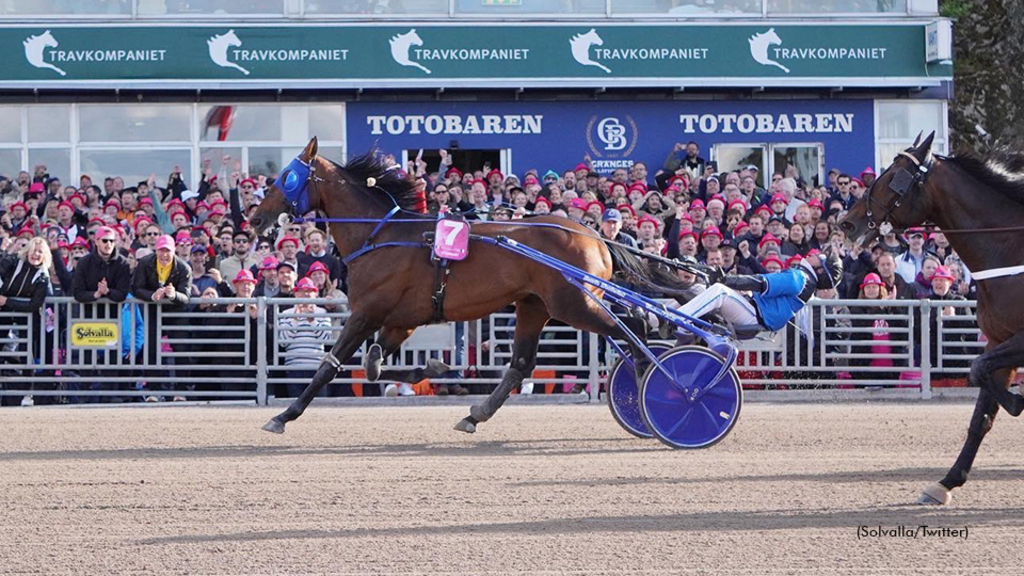 Published:
May 29, 2022 08:04 am EDT
Etonnant was simply amazing as he recovered from an early miscue and staged a late rally to close on the far outside and win the Elitloppet on Sunday (May 29) in front of a packed grandstand at Sweden's Solvalla Race Course.
Etonnant is an eight-year-old son of two-time Elitloppet winner Timoko (2014 & 2017) for owner/trainer Richard Westerink.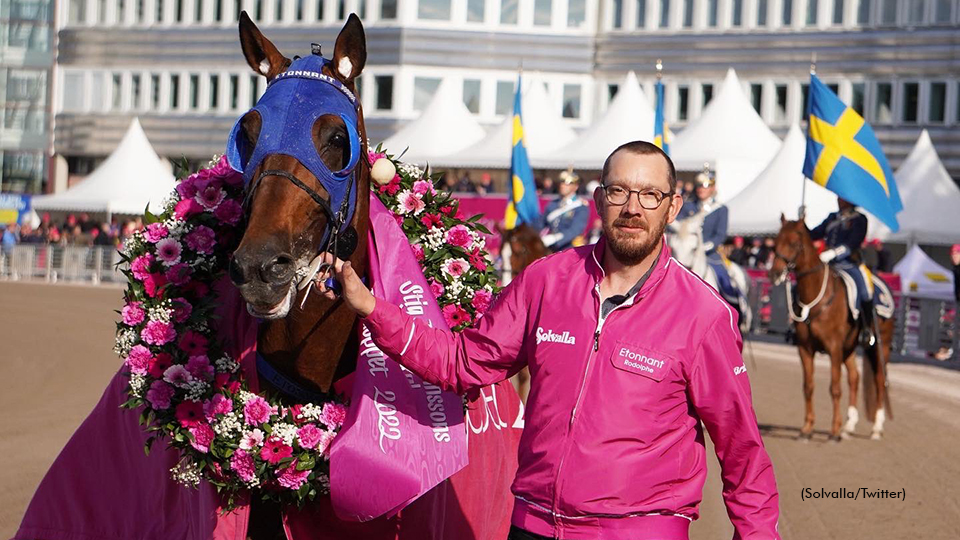 ​
After finishing fourth in the first of the day's two trial heats won by defending champion Don Fanucci Zet, Etonnant was left with post seven in the draw for the eight-horse final.
It was a disappointing start for the favourite Don Fanucci Zet (Örjan Kihlström), who broke stride as the gate opened. Click Bait (Ulf Ohlsson) took control from post three with Don Fanucci Zet's stablemate Hail Mary (Erik Adielsson) and Vivid Wise As (Matthieu Abrivard) offering up challenges throughout the race. 
Meanwhile, Etonnant was racing near the back towards the outside early on for driver Anthony Barrier and got rough-gaited on the clubhouse turn when angling wide. He managed to regroup quickly though and followed the cover of Önas Prince (Per Nordström) in the three-path down the backstretch then went four-wide off the final turn where Önas Prince broke stride.
Down the stretch, Hail Mary pulled ahead in the duel with Click Bait and Vivid Wise As but Etonnant powered up in the final 30 metres to score the one-length victory, timed in 1:51.3. Hail Mary settled for second and Mister F Daag, an upset winner in his trial earlier in the day, finished third off a ground-saving trip. Vivid Wise As and fourth and Click Bait rounded out the top five finish order.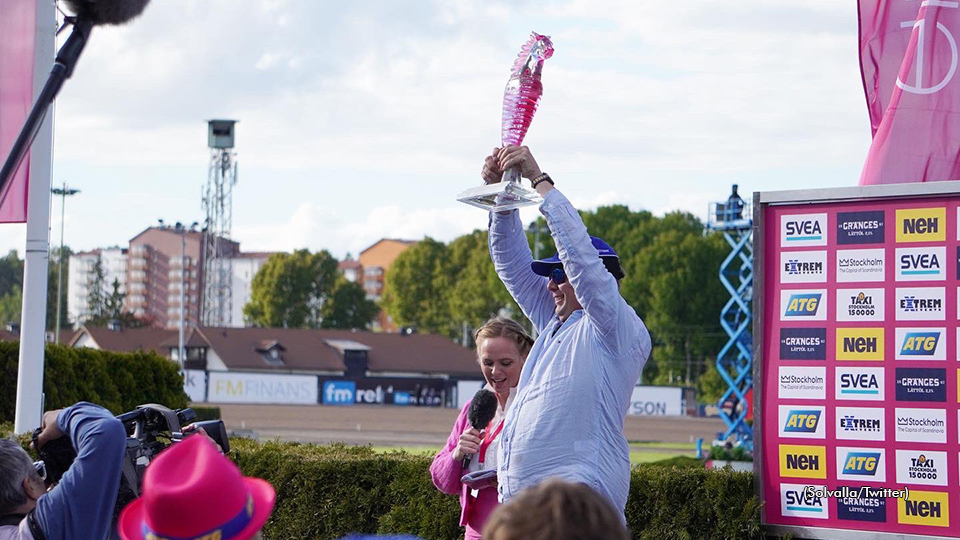 ​
"Unbelievable, incredible," said Westerink after the race. "I don't understand in the turn on the outside, on the other side, [why] he [made] a mistake. I [thought] it was over. But it was not over.
"He's strong, very strong... It's amazing."
Representing France, Etonnant had won the Grand Critérium de Vitesse leading up to the Elitloppet.
The top four finishers from a pair of trials made up the field for the final. Canadian representative Perfetto had finished fifth in the first trial.
---
Elitloppet Trials Contested; Posts Drawn
The field of eight for the 2022 Elitloppet has been determined following a pair of trial heats contested on Sunday (May 29) at Solvalla Race Course in Sweden.
Defending Elitloppet champion Don Fanucci Zet was victorious in the first trial, overcoming his outside post and wearing down the front-striding Önas Prince near the finish line for driver Örjan Kihlström, trainer Daniel Redén and owner Stall Zet. Canada's representative Perfetto finished fifth.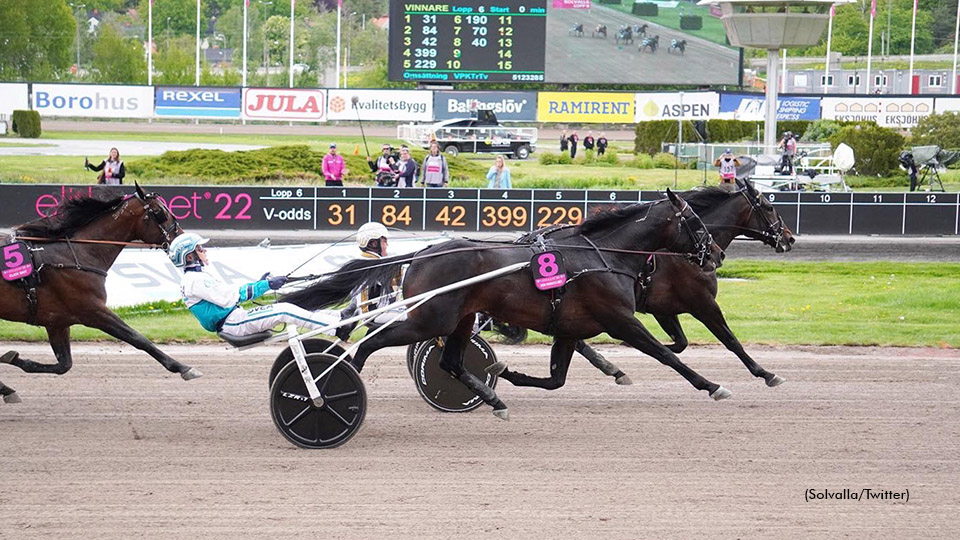 ​
Don Fanucci Zet (#8) in the first Elitloppet trial
With trainer/driver Dagfin Henriksen aboard, Perfetto left out for the early lead from post four and was parked by insider Önas Prince (Per Nordström), who pressed on to take command through the first turn with Click Bait (Ulf Ohlsson) following in the pocket. 
As Canada's two-time reigning champion male trotter raced outside, Don Fanucci Zet swept wide around him into the first-over position, with France's Etonnant (Anthony Barrier) later moving three-high down the backstretch. 
Önas Prince continued to lead turning for home but Don Fanucci Zet surged ahead just before the wire. Click Bait got up for second over Önas Prince while Etonnant rounded out the top four finishers that will advance to the final later in the day. 
In the second trial, Copenhagen Cup winner Mister F Daag rallied from the backfield to catch late leader Hail Mary for the upset victory in reign to Robin Bakker for trainer Paul Hagoort and owner Jozef Vanduffel.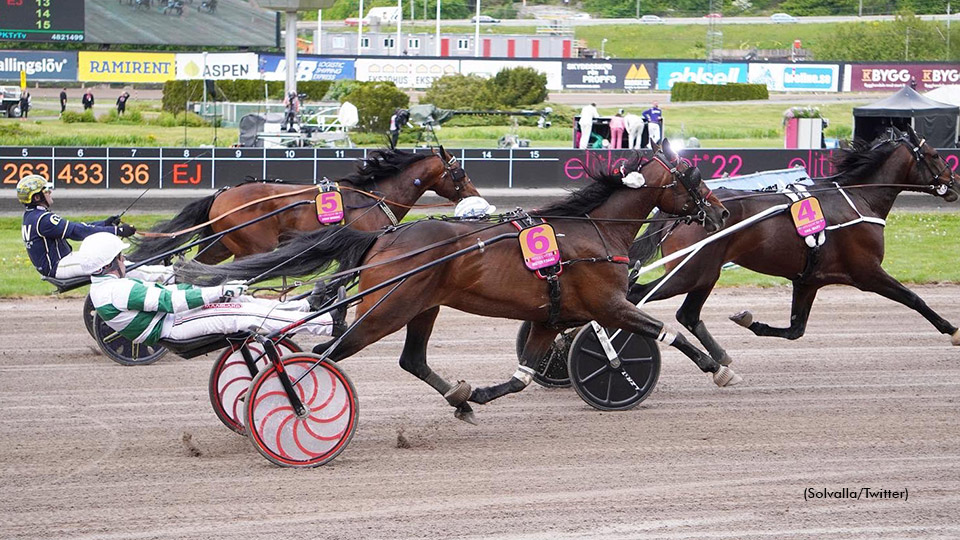 ​
Mister F Daag (#6) in the second Elitloppet trial
Night Brodde (Conrad Lugauer) led most of the way with Whos Who (Åke Svanstedt) looming to his outside before the Redén-trained Hail Mary (Erik Adielsson) swept three-wide down the backstretch and forged ahead in front of the grandstand.
However, Belgium's Mister F Daag rallied by late to steal the show, forcing Hail Mary to settle for second. Trailing early, Vivid Wise As (Matthieu Abrivard) closed for third with Night Brodde hanging on for fourth as Admiral As (Per Lennartsson) broke stride when making his bid in the stretch.
The top four trotters from each trial will face off in the final of the Elitloppet in race 11 on today's card at 11:45 a.m. (EDT). Live streaming video of the race card is available here.
The field for the final is listed below in post position order. The connections of the elimination winners had first pick of their posts.
1. Don Fanucci Zet
2. Mister F Daag
3. Click Bait
4. Hail Mary
5. Önas Prince
6. Vivid Wise As
7. Etonnant
8. Night Brodde
---
Watch The 2022 Elitloppet
Canada's two-time defending champion male trotter Perfetto is set to take on the world in Sweden's famed Elitloppet on Sunday, May 29 with live video available here.
Targeting a victory in the Elitloppet, the seven-year-old Ontario-sired son of Majestic Son could join elite company both on the international stage and at home. The list of winners dating back to 1952 includes popular trotting stars Mack Lobell, Moni Maker, Varenne, Nahar, Commander Crowe and Timoko, to name a few. Only two other Canadian representatives have won the race, both decades ago: Fresh Yankee in 1969 and Billyjojimbob in 1992.
Perfetto has drawn post four in the first trial heat, scheduled as race six on Sunday at Solvalla Race Course with an approximate post time of 9:28 a.m. (EDT). The second heat is race seven, scheduled for 9:55 a.m. (EDT). The top four trotters from each trial will face off in the final of the Elitloppet in race 11 at 11:45 a.m. (EDT). With a major purse boost for the 2022 edition, a total of 11,350,000 Swedish Krona (approx. $1.47 million CAD) will be up for grabs. Click here to view the fields in post position order.
Trainer/driver Dagfin Henriksen is happy with how his horse is feeling going into the biggest race of his life. His phone, however, could use a bit of a rest.
"It's been crazy. The phone is off the hook. Hard to keep up with everyone," Henriksen told Trot Insider on Saturday. "We arrived in Sweden [Friday] from Belgium and stabled at a farm not far from the track. He's going to be stabled at the track for detention barn.
"He handled the trip very good by the looks of it. He is very sharp coming into this race. It's going to be a tough race and we have to focus on them one at a time. We drew the four hole so we have a good starting position," Henriksen continued. "It's going to be a big experience for all of us. We're very excited."
A program for Sunday's race card is available to download by clicking here. Live streaming video of the race card is available here.