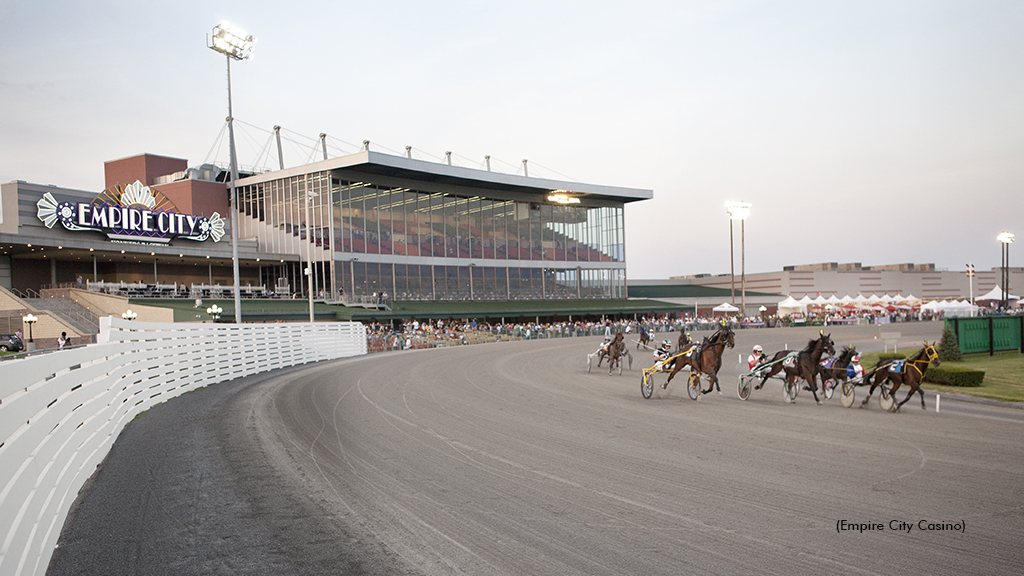 Published:
October 11, 2022 02:14 pm EDT
Post positions were drawn on Tuesday afternoon for the $1 million Yonkers International Trot, which will be contested this Saturday, Oct. 15 at Yonkers Raceway.
Bred by Wade Peconi and Windemere Farms in P.E.I., the five-year-old Muscle Mass gelding Lovedbythemasses is representing Canada in the race. The Ontario Sires Stakes graduate now races for U.S. owners Pollack Racing and trainer Jeffrey Cullipher.
Millionaire trotter Its Academic, owned by Brad Grant of Milton, Ont., and Maple Leaf Trot champion Back Of The Neck are representing the U.S.
The star-studded field includes 2022 Elitlopp winner Etonnant (France), who is the 5-2 morning-line favourite from post seven, and reigning International Trot champion Zacon Gio (Italy).
A son of the stallion Timoko, who finished second in the 2015 International Trot, Etonnant will have Anthony Barrier in the sulky for owner/trainer Richard Westerink. He has won 20 of 81 races and earned more than $2 million. Most recently, Etonnant won at Vincennes on Sept. 10 at the 2,700-meter distance and has finished no worse than second in his previous five starts.
"I feel good," said Westerink. "The horse is good. We'll see if he can take the turns over here. We'll see in a couple of days. It's a little track for him.
"He's a very tough horse with a lot of speed. He is very strong. I think we can be maybe three-wide and that's not a problem."
The Ake Svanstedt-trained duo of Ecurie D (Denmark) and Back Of The Neck are 3-1 and 7-2 on the morning line and will start side-by-side in posts five and six, respectively.
"[The draw] could be better, but it could be worse also, so I'm happy," said Svanstedt, who won the 2016 International Trot with Resolve. "I think we have two good horses. Of course, it comes down to position and you must have a little luck also. You always need a little luck in the big races to win. But I like both of my horses and their post positions."
The complete field is listed below in post position order, with ] denoting a second-tier starter. For more information on the starters, click here.
$1 million Yonkers International Trot
Post - Horse (Country Represented) - Driver - Trainer - Morning Line
1. Tycoon Conway Hall (Denmark) - Kasper Foget - Flemming Jensen - 4-1
2. Lovedbythemasses (Canada) - Todd McCarthy - Jeff Cullipher - 10-1 
3. Cokstile (Norway) - Vincenzo Dell'Annunziata - Mattia Orlando - 5-1
4. Stoletheshow (Norway) - Frode Hamre - Frode Hamre - 8-1
5. Ecurie D (Denmark) - Ake Svanstedt - Ake Svanstedt - 3-1 
6. Back Of The Neck (USA) - Tim Tetrick - Ake Svanstedt - 7-2
7. Etonnant (France) - Anthony Barrier - Richard Westerink - 5-2
8. Its Academic (USA) - David Miller - Ron Burke - 12-1
9.] Kennedy (Sweden) - Jason Bartlett - Erik Bondo - 8-1
10.] Zacon Gio (Italy) - Roberto Vecchione - Holger Ehlert - 9-2
Post time for Saturday's card is 12:30 p.m. (EDT). The $1 million Yonkers International Trot, run at a distance of 1-1/4 miles, is scheduled as Race 7 with an approximate post time of 2:30 p.m. (EDT).
Saturday's undercard includes a pair of $250,000 Invitationals, the Robert Miecuna Trot and Aria Pace, as Races 8 and 10. Both events will be raced over 1-1/4 miles. Those fields are listed below is post position order.
$250,000 Robert Miecuna Invitational Trot
Post - Horse - Driver - Trainer - Morning Line
1. Lean Hanover - Jim Marohn Jr. - Linda Toscano - 10-1
2. Smoking Jet - George Brennan - Ron Burke - 3-1
3. Hillexotic - Yannick Gingras - Ron Burke - 9-1
4. When Dovescry - David Miller - Brett Pelling - 5-1
5. Amigo Volo - Todd McCarthy - R. Nifty Norman - 6-1
6. Herculisa - Jason Bartlett - Virgil Morgan Jr. - 7-1
7. Stormy Kromer - Daniel Dube - Paul Stafford - 20-1
8. Take All Comers - Jordan Stratton - Jim Campbell - 20-1
9.] Bella Bellini - Dexter Dunn - R. Nifty Norman - 9-2
10.] Incommunicado - Ake Svanstedt - Ake Svanstedt - 12-1
AE: Nows The Moment - Kevin Switzer Jr. - Mr. Allison MacDonald
$250,000 Aria Invitational Pace
Post - Horse - Trainer - Morning Line
1. This Is The Plan - Yannick Gingras - Ron Burke - 5-2
2. American Courage - Matt Kakaley - Travis Alexander - 4-1
3. None Bettor A - Dexter Dunn - Travis Alexander - 5-1
4. Charlie May - Brett Miller - Steve Carter - 2-1
5. Ignatius A - Andrew McCarthy - Noel Daley - 20-1
6. Poseidon Seelster - George Brennan - Nik Drennan - 20-1
7. Funatthebeach N - Jordan Stratton - Jeff Gillis - 20-1
8. Leonidas A - Austin Seigelman - Steven Finkelstein - 20-1
9.] Semi Tough - Joe Bongiorno - Ron Burke - 20-1
10.] Nandolo N - Jason Bartlett - Shane Tritton - 12-1
(With files from USTA)