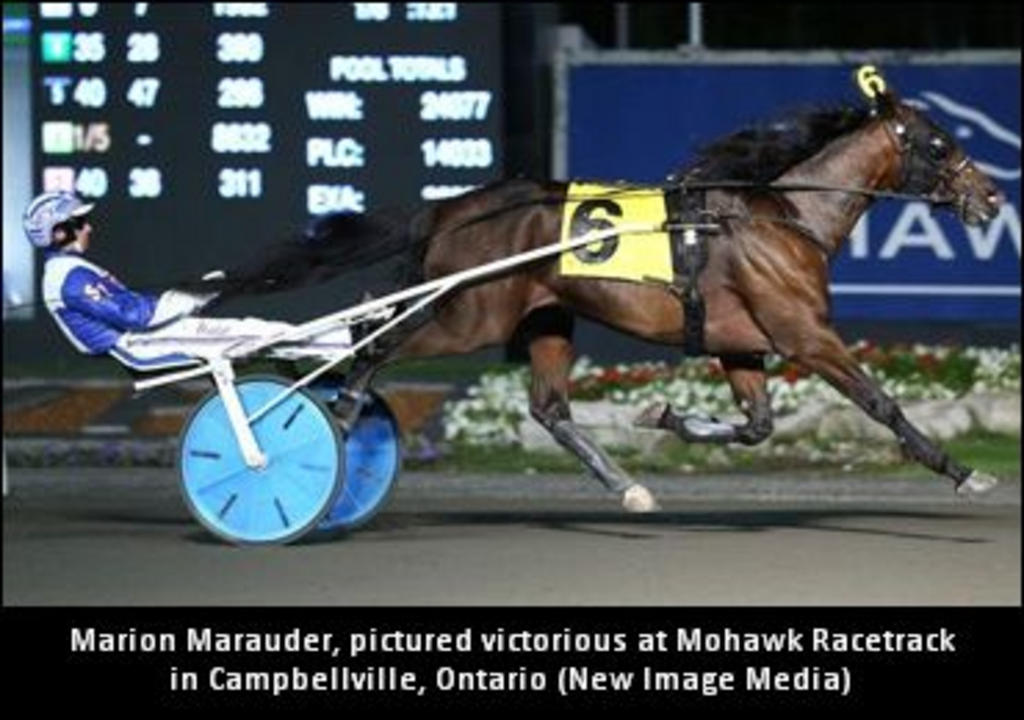 Published:
October 10, 2017 12:48 pm EDT
On Tuesday (October 10), the post position draw for Saturday's (October 14) $1 million Yonkers International Trot at Yonkers Raceway took place. The draw and press conference were held at Manhattan's 21 Club.
The 39th International Trot features a field of 10, with horses representing the U.S., Canada, Denmark, Finland, France, Italy, and Sweden.
Canada's Marion Marauder, the 2016 Trotting Triple Crown winner and Dan Patch Award Trotter of the Year, drew Post 1 and is 5-1 for driver Scott Zeron and the wife-and-husband training team of Paula Wellwood and Mike Keeling.
"I looked over at Scott and he said anything but the one (post) was going to be a disappointment, so he's happy," Keeling said. "We're pleased. Our nose is on the gate and that's the most important part."
Marion Marauder, owned by Devin Keeling and Jean Wellwood, won this year's Hambletonian Maturity at the distance of one and one-eighth-miles at the Meadowlands. The four-year-old horse has won 14 of 35 lifetime races and earned $2.22 million. Last year he won his elimination and final of the Yonkers Trot in his only career starts at Yonkers Raceway.
He heads to the International Trot off a 1:53.4 win in a qualifier October 3 at Mohawk Racetrack. His most recent race was September 8, when he was eighth in his elimination for the Maple Leaf Trot.
"He's healthy now," Keeling said. "He's trained great and he qualified great. We're just hoping for some good weather and a good day."
Defending champion Resolve drew Post 6 and was made the 3-1 morning-line favourite. The six-year-old horse will be driven by trainer Ake Svanstedt.
Resolve, owned by Hans Enggren and one of two U.S. representatives, has won four of 10 races this year and earned $485,149. Two of his wins this season have come at distances greater than one mile; the Cutler Memorial and Cashman Memorial, both at one and one-eighth-miles at the Meadowlands Racetrack.
Resolve faced international competition in Sweden's Elitloppet, where he finished third.
For his career, Resolve has won 18 of 62 races and earned $2.61 million.
"I would rather have seen him draw from (post) one through four, but you could have four other bad numbers, too," said Sarah Svanstedt, the wife of Ake Svanstedt, who missed the draw because of driving commitments elsewhere. "He's in the middle. He's a versatile horse, so it's not too big of a problem."
The International Trot was contested from 1959 through 1995 before being resurrected three years ago by Yonkers President and CEO Tim Rooney. Resolve will attempt to join Roquepine (1967-68), Delmonica Hanover (1973-74), Ideal Du Gazeau (1981-83) and Lutin D Isigny (1984-85) as horses to win the event in consecutive years.
Resolve enters the International Trot off a seventh-place finish in his elimination for the Maple Leaf Trot on September 8 at Mohawk Racetrack. He was found to be sick, possibly from a tick bite.
"We trained him and everything looks normal," Svanstedt said. "He looks happy and fresh. He will do his best to defend it. He's a fighter. I'm looking forward to Saturday."
In Secret, the remaining U.S. representative, drew Post 8 and is 6-1 on the morning line. George Brennan will drive the Ron Burke trainee, who has won six of his past seven starts, all at Yonkers. The five-year-old gelding has won 21 of 75 career races and earned $358,385. He is owned by Burke Racing, the partnership of Mark Weaver and Mike Bruscemi, J&T Silva Stables, and Larry Karr.
"He gets around (Yonkers) really good," Brennan said. "It's unfortunate he's got the eight hole. That puts us up against it. I think he fits in real good, if he drew good.
"But it's still a horse race. It doesn't matter where you draw, it matters where you finish."
Italy's Twister Bi, who won this year's Oslo Grand Prix and is trained by New England native Jerry Riordan, drew Post 4 and is 4-1. France's Dreammoko, a son of 2015 International Trot runner-up and 2017 Elitloppet winner Timoko, will start from Post 3 and is 6-1.
Oasis Bi, another representative of Italy, drew Post 2 and is 5-1. Oasis Bi finished second in last year's International Trot and is joined by Sweden's On Track Piraten as a three-time participant in the event. On Track Piraten, who finished fourth last year, will start this year from Post 10 and is 8-1.
Midnight Hour, a Diesel Don-sired six-year-old gelding with two Group 1 wins under his belt this year, drew Post 7 and is 10-1. He is one of two horses representing Finland in the race. The other, Shadow Woodland, will have Tim Tetrick in the sulky and will start from Post 5 at 12-1 on the morning line.
Denmark's Tripolini VP drew Post 9 and is 15-1.
The International Trot is part of a New York harness-record $3.3 million card at Yonkers on Saturday. Racing will begin at 1 p.m. and includes eight New York Sire Stakes championships plus two $250,000 invitationals, the Dan Rooney Pace and Harry Harvey Trot.
Following is the field in post-position order for the International Trot with drivers, trainers and morning line odds.
PP-Horse-Driver-Trainer-Line
1. Marion Marauder-Scott Zeron-Paula Wellwood-5/1
2. Oasis Bi-Kim Eriksson-Stefan Pettersson-5/1
3. Dreammoko-Gabriele Gelormini-Richard Westerink-6/1
4. Twister Bi-Christoffer Eriksson-Jerry Riordan-4/1
5. Shadow Woodland-Tim Tetrick-Reijo Liljendahl-12/1
6. Resolve-Ake Svanstedt-Ake Svanstedt-3/1
7. Midnight Hour-Iikka Nurmonen-Ossi Nurmonen-10/1
8. In Secret-George Brennan-Ron Burke-6/1
9. Tripolini VP-Jeppe Juel-Jeppe Juel-15/1
10. On Track Piraten-Johnny Takter-Hans Stromberg-8/1
Note: Tripolini VP and On Track Piraten start from the second tier.
For more information, visit internationaltrot.com.
---
With files from Harness Racing Communications, a division of the U.S. Trotting Association. For more information, visit www.ustrotting.com.