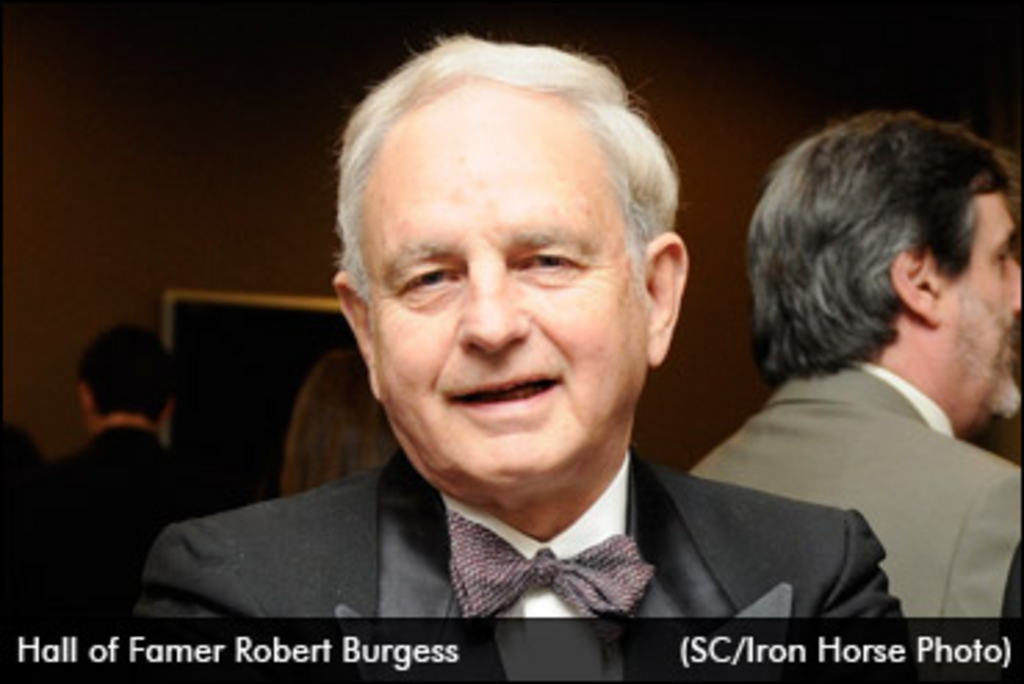 Published:
January 9, 2013 10:19 am EST
"I recently visited Delta Bingo to inspect the imitation slot machines now in operation there. The Delta Bingo staff, when asked about the availability of slot machines proudly directed me right to these imitation machines."
In a letter directed to the Liberal Leadership candidates, prominent horse owner Robert Burgess makes his case for why the new leader of Liberal party should extend the slots-at-racetracks agreement past the March 31, 2013 date and commission a "new and impartial study." Burgess' letter appears in its entirety below as well as in PDF format.
---
Update on the Slots At Racetracks Program to be delivered to each of the seven candidates for the Liberal leadership
Please be advised that we are finally entering the homestretch in our epic eight month battle with a self dealing OLG determined at all costs to completely destroy Ontario racing as we have known it.
Important changes in our relationship with Government may be occurring. At this time one can seriously take the position that a recovery for Ontario racing is still possible. This recovery is still possible despite the well- intentioned but totally unsuccessful efforts of the three man Government Panel appointed to fix something that was never broken in the first place.
However, many signs now point to the survival and continuation of the widely respected Ontario Slots At Racetracks Program---an equitable and very fair revenue-sharing program that has served both Ontario taxpayers and the Ontario racing industry so well and faithfully since 1998.
To most knowledgeable observers it is inconceivable that an honourable and fair new Liberal Leader, once elected by the Party, would walk away from revenues exceeding one billion dollars in 2013 alone that Godfrey and the OLG cannot replicate and cannot replace.
The new Leader can immediately extend the Slots At Racetracks revenue-sharing agreement and commission a new and impartial study. This extension by the new Leader will also, at the same time, save Ontario's horse breeding farms from an absolute and totally undeserved ruination.
Less urgent than the immediate actions of the new Liberal Leader but nevertheless important are several other positive signs of a possible recovery for Ontario's beleaguered horsemen and breeders. I have set out below several important statements supporting the Ontario horse industry, as follows:
1. On December 11, 2012 Sue Leslie of OHRIA announced "that OHRIA supports the Ontario Progressive Conservative party's push to incorporate the provincial horse racing and breeding sector in any future gaming plans." Her official statement goes on to say " It is encouraging to see the PC's taking positive steps towards creating an inclusive and integrated gaming industry in Ontario, one that includes Racing. The horse racing and breeding industry is part of the very fabric of gaming in the Province, and the Government needs to understand its economic and cultural value. OHRIA is asking the Provincial Government to defer the OLG's current modernization strategy until consultations that involve all sectors of Ontario's gaming: industry, including horse racing, can be integrated into OLG's modernization plans and extend the Slots At Racetracks Program from March 31,2013 to allow the 2013 racing season to get underway while negotiations continue."
2. We understand that Ms. Leslie on behalf of OHRIA has received a substantially similar commitment from Andrea Horwath, the leader of the Ontario NDP party to incorporate the provincial horse racing and breeding sector into any future gaming plans.
With respect to the frantic rush into 29 new casinos Ms. Horwath was very candid on Ottawa Citizen Live stating "Stop the current OLG program, allow municipalities to have referenda if they want and tie to next city election. 2014? "What's the hurry?"
Then in the Brantford Expositor on November 11, 2012 when questioned on the privatization of casinos Ms. Horwath stated "I've not been impressed with the way the OLG has rolled out the modernization. I'm astounded the Government washed its hands and allowed the OLG to put the squeeze on municipalities. Municipalities with casinos are being dictated to with no opportunity to negotiate. It bothers me that the OLG has a stated goal of modernization to get new, younger customers. For me, that's a difficult thing. I have a son who is 20. They're after my son. We don't need young people to become the prey of (casino) modernization. It would bring money to the province but at what cost?"
3. Tim Hudak, the leader of the PC party has argued correctly that the OLG vision of 29 new casinos is NOT A PANACEA to cure overspending and waste by the current Government or by any future Government.
Save for the possible exception for downtown Toronto in several years time, new casino locations (other than those to be approved now at current racetracks) are clearly NOT available anywhere in Ontario at any significant location at this time. New casino locations are even more unlikely to be available in the future when, in addition, approval by REFERENDUM will presumably be required. This failure by the OLG to even find sites exemplifies the complete and abject failure of the OLG's gaming modernization plan and exposes the Government's heavy financial spending on it.
Mr. Hudak also wants the OLG out of the business of operating slot parlours at racetracks and wants the racetrack owners to own and operate these facilities on an individual basis and not on a group basis. As a corollary of this policy it goes without saying that to be profitable and competitive with Pennsylvania, New York and Ohio for the standardbreds (and with Florida, New York and California for the thoroughbreds) these facilities will be required to retain the 10% purse levy for horsemen and be so mandated by Government in order to keep purse levels competitive and to maintain horse supply.
4. Messrs. McGuinty and Duncan have resigned. Mr. Godfrey and Mr. Phillips are widely reported to be on thin ice as most rural Liberal backbenchers (through no fault of their own) face very tough uphill battles to retain their seats at Queen's Park. This situation was created because of the precipitate and grossly unfair treatment meted out by Mr. Godfrey to local horsemen and to their
local rural electors and friends. In December most of the security staff at Mohawk Racetrack in Campbellville were terminated due to the closure of the backstretch. This is insignificant when compared with the firings scheduled to take place on March 31, 2013 if Mr. Godfrey and Mr. Phillips are allowed to continue to indulge their unreasonable fantasies.
Race horses and breeding stock likewise are no longer wanted under "gaming modernization" as 150 to 200 hapless animals are slaughtered every week at Kitchener supposedly to satisfy the tough conditions imposed on the OLG by American casino owners and investors (i.e. that they would not investigate Ontario and/or make major casino investments here if horse racing were allowed to compete with them for the wagering dollar).
5. The 2011 Annual Report of the OLG is an absolute disgrace and an example of civil service profligacy, reportedly with over 300 employees each earning over $100,000. yearly. As of the date of this Annual Report Mr. Godfrey still continues as Chairman with other developers such as Mr. Anthony Melman, a retired Vice - President of Onex Corp. (ONEX is rumoured to be one of the bidders for a Markham casino) and Mr. Dale Lastman, (counsel for both Mr. Godfrey and Mr. Larry Tanenbaum of Delta Bingo fame in downtown Peterborough) as directors. Despite the fact that the Slots At Racetracks program contributes a return of over a billion dollars yearly to the Ontario Government there is not a single representative or friend of racing on the OLG board.
Incidentally, I recently visited Delta Bingo to inspect the imitation slot machines now in operation there. The Delta Bingo staff, when asked about the availability of slot machines proudly directed me right to these imitation machines. This is an example of the circumvention of the spirit of the law by Delta Bingo and its owners.
With Mr. Godfrey's OLG gaming modernization plan in shambles and with this serious conflict of interest involving the slots at bingo initiative (bringing a lot of unwanted media attention to Mr. Tanenbaum and to the OLG) Mr. Godfrey should resign his OLG chairmanship. Incidentally, Mr. Tanenbaum earns a 47% return on his various bingo investments in Ontario, as mandated by the OLG.
For copious details of this conflict of interest I would direct you to a carefully researched article written by Mr. Darryl Kaplan, the editor of Trot Magazine titled "Exclusive: The Ugly Truth Behind The OLG Bingo Expansion" appearing on the Standardbred Canada website on January 3, 2013.
I have reproduced this article in its entirety as an appendix to my brief. This demonstrates that all of the Government money currently being spent/wasted by the OLG on its extremely expensive and pervasive advertising campaign in Metro Toronto to justify its gaming modernization boondoggle will not succeed.
6. Mr. Hudak and Ms. Horwath, by their public pronouncements, have consistently and with some passion supported racing and its preservation in Ontario as we know it. Similarly, almost all of the Liberal leadership candidates are calling for a review of Mr. Godfrey's policies and a meaningful extension of the Slots At Racetracks program. That means that after any subsequent provincial election where the Liberals do not win an absolute majority the racing industry will have the necessary votes at Queen's Park to be able to stop the train and get a meaningful extension of the March 31, 2013 date and a proper review of the Slots At Racetracks revenue sharing agreement.
7. There is now ample precedent for very successful revenue sharing agreements between racing and slots in neighbouring competing jurisdictions. For example, in New York State nine racinos (slots with racing) are presently operating successfully between Buffalo on the west and New York City to the east. In the first six months of 2012 the nine racinos earned and contributed almost six hundred million dollars to the State of New York and local governments.
Incidentally it is rumoured that Delaware North, which operates the racino at Buffalo Raceway, is a possible bidder in Ontario. It is indeed difficult to comprehend why the OLG is fighting the racino model here in Ontario with such unexplainable vigour.
Accordingly the OLG should be ordered by Government to include in its current Request For Proposals details requiring applicants wishing to operate or purchase any of Ontario's slot operations (only those where racing facilities now exist) to demonstrate how they will operate and continue to fund the racing operation under their management during the term of the contract they are proposing to win. This is absolutely necessary for racings' survival.
8. Since 1998 the racino model in Ontario has been extremely successful with over a billion dollars to Government being earned in 2012 by the Ontario Government from its revenue-sharing agreement with up to seventeen racetracks.
In contrast, the OLG's five stand-alone slots and casinos that the OLG itself operates have returned virtually nothing to Government year after year and represent a burden to taxpayers.
An explanation for this anomaly may be that there is a stigma about going to play the slots, even though many racetrack attendees may go over to the slot side of a joint facility and play the slots too. Certainly, most players obviously prefer to say that they are "going to the races". Actually going to a race or to a sports event must be more socially acceptable than going to the slots.
Perhaps the OLG should consider building racetracks at their slots-only facilities so that they can become revenue producers for the Ontario taxpayer like the little village of Elora with Grand River Raceway that contributed over $44,000,000 to the Ontario Government in 2012!
9. All strong business models everywhere thrive on constant growth and expansion. This is Business 101. As soon as things start to go the other way the business model always fails. Ontario's racing industry was the envy of the World until the OLG interfered with it.
If, as recommended by the three man Government Panel both our annual racing days and the number of tracks permitted to race were artificially reduced by fifty per cent (50%) in 2013 it would lead to a slow and absolutely certain death for Ontario racing. This recommendation, although well-intentioned, is a total economic miscalculation.
Ontario's racing's future has already been imperilled by the OLG's gaming modernization plan which completely decimated the 2012 Ontario breeding season and now threatens the 2013 breeding season which starts on February 15, 2013. With our horse supply ruined and our breeders in serious financial danger racing cannot survive.
CONCLUSION
In my opinion, for what it is worth, the only way to SUBDUE THE OLG MONSTER is for all horsemen, all breeders, all racetracks, all affected municipalities, all owners and all trades people to STAND TOGETHER AND FIGHT TOGETHER TO THE BITTER END as we approach January 26 and March 31, 2013. There is no step or action (however unpleasant) available to the racing industry in this desperate fight which, if necessary, we should not take.
As I said at the beginning of this brief, it is inconceivable that an Honourable and fair new Liberal Government Leader would walk away from revenues exceeding one billion dollars in 2013 alone that Godfrey cannot replicate or replace. The new leader can just as easily extend the Slots At Racetracks revenue - sharing agreement and commission a new and impartial study.
To do otherwise would be fiscally irresponsible.
Robert B. Burgess Q.C.