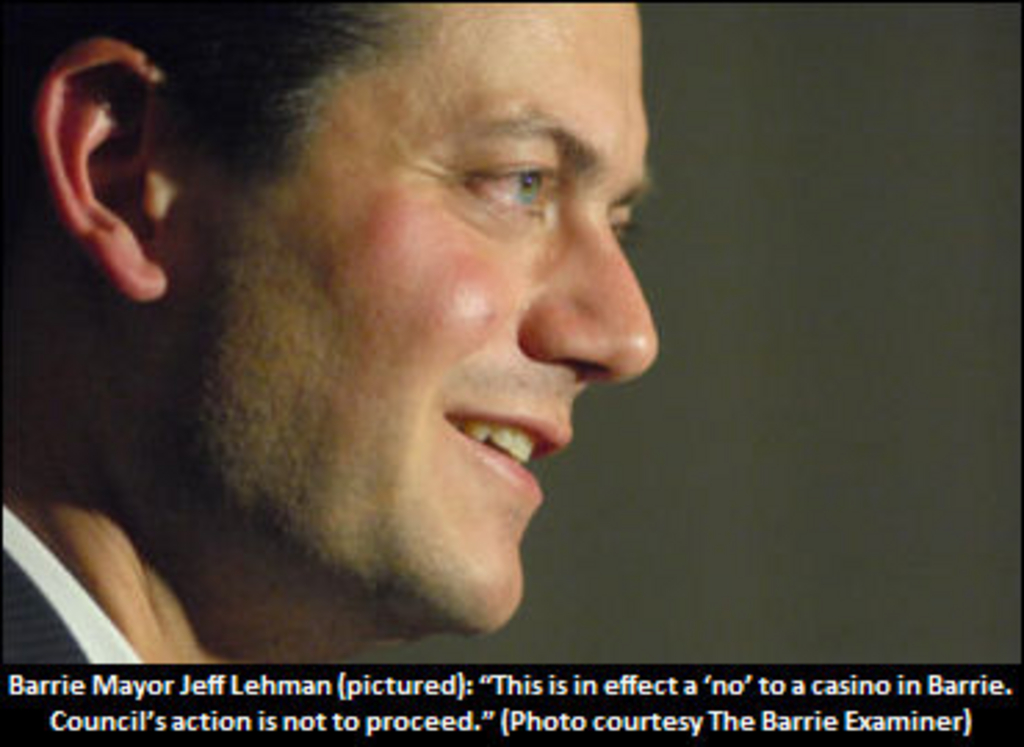 Published:
January 8, 2013 04:37 pm EST
According to a report, if public feedback in Barrie is respected by City Council, the Ontario Lottery and Gaming Corp. will not be given approval to move forward with any plans for a casino in the city's 'downtown' area.
The news comes courtesy of an article by The Barrie Examiner, which explains that a council staff report received on Monday, January 8 states that residents do not approve of the idea to bring casino gaming to Barrie's downtown core.
The report explains that council has yet to take action on the results of the feedback, but the piece did quote Barrie Mayor Jeff Lehman as saying, "This is in effect a 'no' to a casino in Barrie," adding that, "Council's action is not to proceed."
The article states that 52 per cent of respondents reached via telephone were against the expansion, while 83 per cent of mail and email respondents are also against the idea. The report goes on to explain that 59 per cent of respondents that let their feelings be known online were against the idea, while a whopping 92 per cent of those that filled out feedback forms during a public information meeting last month were against the idea.
"A casino would be competition for dollars currently being spent in existing bars, hotels and restaurants, and would cause the failure of some of the existing businesses," Barrie Downtown Neighbourhood Association Co-Chairman Ben Strudwick was quoted as saying.
The report states that council will discuss the matter further in a meeting scheduled for next Monday (January 14).
In addition to The Barrie Examiner report, an article by yorkregion.com has explained that the City of Vaughan will be reviewing the now-controversial Ernst & Young casino study which was commissioned by the City of Toronto.
The report explains that Vaughan has decided to analyze Toronto's Ernst & Young study instead of spending what has been estimated to be between $25,000 and $30,000 to do its own study on the contentious issue.
Although, as it was unearthed last weekend, the Ernst & Young study had projected that casino expansion in downtown Toronto could net the city close to $168 million annually, although officials from the Ontario Lottery and Gaming Corp. are now saying that the city would only net between $50 million to $100 million per year.
In regard to the Ernst & Young study, the yorkregion.com article states, 'The study has also been criticized for relying on unaudited statistical data from sources including OLG, which fervently backs casinos, and other big-time casino operators.'
(With files from The Barrie Examiner and yorkregion.com)