Published:
January 5, 2012 01:12 pm EST
Equibase has released the U.S. thoroughbred wagering numbers from December 2011. Those numbers have revealed that wagering for the month was up from the same time in 2010. The positive wagering number marks the first year-over-year increase since November of 2009
.
The numbers --- which include worldwide commingled wagering --- state that $679,180,778 was wagered on U.S. thoroughbred racing in December of 2010. That number rose to $800,597,776 in December of 2011, an increase of almost 18 per cent. U.S. thoroughbred tracks hosted 348 live race dates in December of 2011 in comparison to 314 in December of 2010.
Also, the Equibase figures for the fourth quarter of 2011 surpassed those for the fourth quarter of 2010 --- with wagering up 1.37 per cent, race days up 4.40 per cent and purses up 10 per cent. The last quarter to show an increase for wagering occurred during the third quarter of 2007 (17 quarters ago), when wagering was up 0.68 per cent when compared to the third quarter of 2006.
The Equibase numbers are promising, but they did also state that overall wagering on U.S. thoroughbred racing in 2011 was down more than five per cent from 2010 ($10,770,426,313 in 2011 compared to $11,415,381,587 in 2010).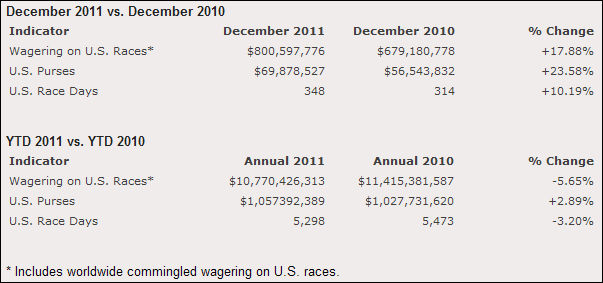 (With files from Equibase)
Related Stories
• Bucking Trends, Canadian Handle Is Up
• WEG Standardbred Handle Up