Published:
January 4, 2012 02:45 pm EST
In an effort to take advantage of the upcoming season of HBO's new horse-racing drama, 'Luck,' Santa Anita Park is proactively making moves to groom potential new customers
.
In an article by LA Daily News, the track's director of community service and special projects, Pete Siberell, has said that the picturesque raceway is not sitting on its hands and letting the opportunity pass it by.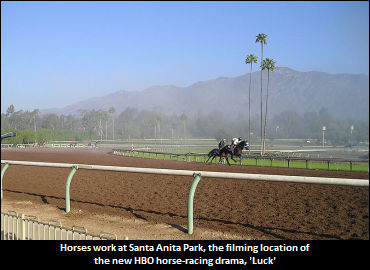 "We're hoping we'll see new people (at the racetrack) interested in seeing where the show was shot," Siberell said.
The report also explains that construction on the track's new 'Luck Lounge' has begun. The lounge is scheduled to open January 28, while the pilot episode of Luck will air January 29.
"We're hoping it (Luck) will get people interested in the game, the beauty of horse racing and also want to see Santa Anita for themselves," said Siberell, who explained that other HBO shows (The Sopranos, Deadwood) have led to increased tourism to the areas in which they were filmed. "We're hoping it will attract a whole new audience."
The article also states that Santa Anita officials are hoping that the series gets picked up for a second season, and that several horses are currently being trained for the possibility of being used going forward.
The first season of the star-laden show will be comprised of nine episodes.
(With files from LA Daily News)
Related Stories
• Horse Racing Makes Great Drama