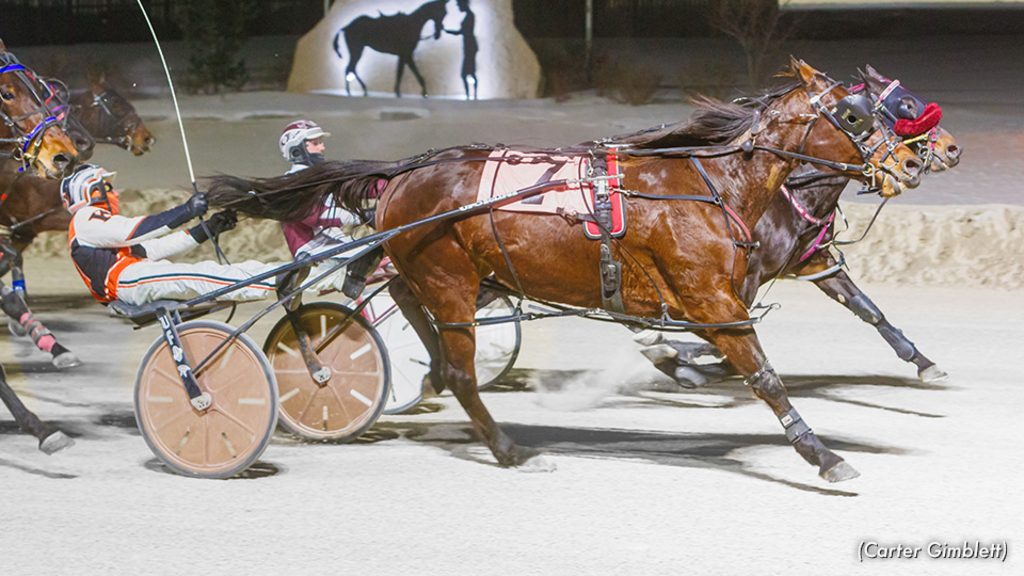 Published:
January 26, 2022 10:26 pm EST
Saulsbrook Jessie ($4.80) and So Frisky ($3.10) shared this week's top distaff honours in the Forest City, battling to a 1:59 dead heat in Wednesday's (Jan. 26) $12,000 Preferred 2 Handicap for pacing mares at The Raceway at the Western Fair District.
While they hit the winning post in lockstep, the paths they took there couldn't have been any different. Saulsbrook Jessie commenced a first-over bid from third nearing a 1:00.1 half rated by early pacesetter Millies Million before steadily turning up the pressure on the backstretch. And as Saulsbrook Jessie did most of the heavy lifting on the second circuit, 8-5 favourite So Frisky was perched directly behind live cover, stalking duelling leaders before fanning three-wide off the home turn.
So Frisky cascaded to an upper-stretch lead as Mllies Million gave way, but Saulsbrook Jessie dug gamely between mares to salvage a tie with her outside foe. Laila Blue finished third, 1-1/4 lengths behind.
Brett MacDonald drove 20-time winner Saulsbrook Jessie for owner Edward Gorc and trainer Ron MacDonald, while Colin Kelly steered 24-time winner So Frisky for trainer Anita Ouellette and Luc Ouellette Inc.
To view Wednesday's complete results, click the following link: Wednesday Results – The Raceway at the Western Fair District.