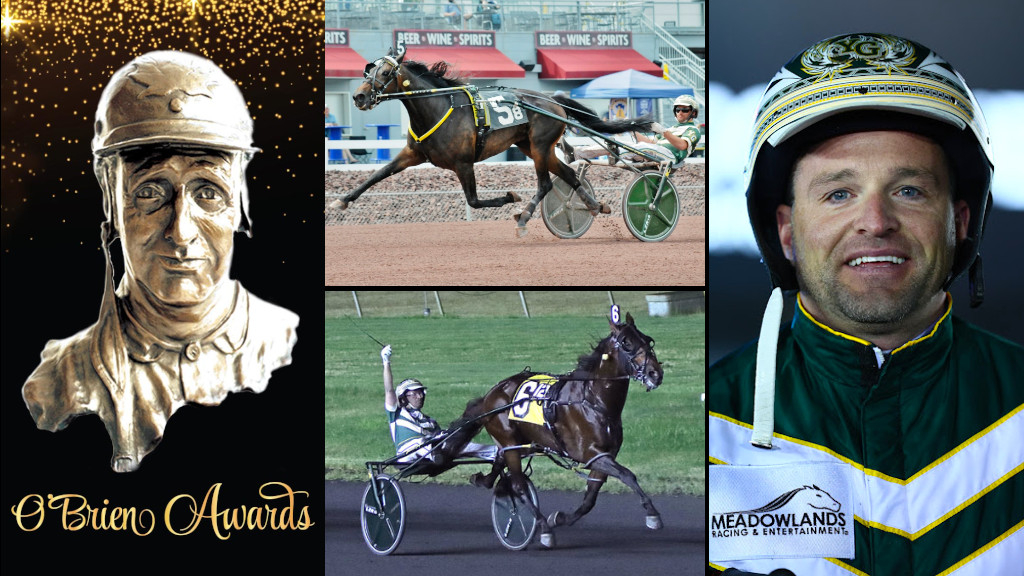 Published:
January 24, 2023 11:30 pm EST
Over the course of his Hall of Fame driving career, Canadian expat Yannick Gingras has sat behind some of the sport's most talented horses. As he says goodbye to one champion, he eagerly looks forward to what another has in store for the upcoming season.
Currently fourth in harness racing history with more than $215 million in earnings, Gingras guided a pair of O'Brien Award finalists in 2022 that added significantly to that total — older trotting mare Atlanta and three-year pacing colt Beach Glass.
"That was a nice surprise," Gingras recently told Trot Insider. "I did not expect to be driving him but when I got the call from Brent [MacGrath] in the spring I was obviously really happy. Everybody had their eyes on him last year, right? You don't know how they're going to come back the following year, but he looked pretty good and pretty impressive at The Meadowlands in the couple of starts he had in Canada [in 2021 as a two-year-old].
"I didn't have a three-year-old, really. So that was actually really easy to go for...when Brent mentioned it, I was all in."
The duo clicked instantly, with Beach Glass and Gingras going on a run of nine straight top-two finishes including wins in the Meadowlands Pace, Cane Pace, Max C. Hempt Memorial and Simcoe Stakes for MacGrath and Schooner II Stable. An uncharacteristic fourth-place finish in Lexington prompted throat surgery for the son of Somebeachsomewhere - Im With Her, and the colt responded with an impressive late season return to capture the Progress Pace over divisional rival and fellow O'Brien Award finalist Pebble Beach.
According to Gingras, there's a chance Beach Glass had issues with the displaced palate that required the throat surgery in previous starts but the speedy sophomore was performing well enough that an issue wasn't revealed.
"I think it was here and there throughout the year," stated Gingras. "I think there were a couple of times, looking back at it, where he might have flipped this palate...more than once, and then that's why I think it came to the problem we had in Lexington. The one that comes to mind is the Cane Pace, which he won, but I don't think he was quite as strong. He was pretty grabby early on and then he kind of let me go and then he really never grabbed on again...and he was good but not as great as we know he can be."
Gingras thought Beach Glass was "tremendous" in his Progress Pace performances, a 1:50 elim score and 1:48.4 scorcher in the final to conclude his sophomore season with a 9-3-0 summary from 13 starts and more than $1.15 million in purses.
"He was really aggressive when I let Todd [McCarthy and Pebble Beach] go up right in front of the grandstand at Dover and at the half he kind of finally let me go and at that point, I honestly wasn't sure whether he choked or, you know, if he was just finally relaxed for me. Then Timmy was coming first up and chirping at his horse [Mad Max Hanover] to go and as soon as he heard him chirp, he latched right back onto the bit — and in the right way, just letting you know he's still there. At that point, I felt really confident. He finished the mile really strong, ears right up at the wire.
"I think the surgery definitely helped, now it's going to be our job to make sure he doesn't flip it throughout the year and we keep on top of it."
When Beach Glass returns to the track as a four-year-old in 2023, he'll look to continue the trend of recent divisional standouts in the older pacing ranks that successfully make that jump from three to four. Not all horses do, mind you, but the string of horses just over the last three seasons includes award winners Century Farroh, Bettors Wish, Allywag Hanover and Bulldog Hanover. 
Gingras recognizes the four-year-old season isn't going to be easy for Beach Glass but sees no reason why the millionaire won't be able to make the transition to the free-for-all ranks.
"I think he'll fit really well in there, honestly," stated Gingras candidly. "It's not going to be easy competition, there's going to be some quality horses in there...he's likely going to have three or four starts against his own age [in the Graduate Series] before he makes the jump and, ability wise, I think he can do it. I am super confident that he can do it. But, you know, like anything else he's going to have to come onto the racetrack and show it."
One X-factor to consider with Beach Glass in comparison to the likely rivals he'll be facing in the older pacing ranks is his relatively small number of lifetime starts — 18. Bulldog Hanover made 16 starts in just 2022 alone. The year prior, Allywag Hanover had 19. Whether the difference in racing depth is a positive or a negative for Beach Glass remains to be seen. Gingras feels it's in the horse's favour.
"What I like, and I'm sure if you ask people that follow horses, is that he hasn't been overraced at two, you know, only has a few starts and he even had a break — an unfortunate break — there in the fall. So he's not an overraced horse that had everything taken out of him at two and three. Sometimes that means nothing also, but it's positive, I think. He's going to have a great chance and I hope that history repeats itself and that a four-year-old is the best one again next year."
Gingras might also be hopeful that a four-year-old is the best in the older trotting mare division in 2023. His mainstay in that division for the past four seasons has been Atlanta, but her connections have pulled the shoes on triple millionaire to begin her broodmare career in earnest.
"It was time. She's had a great career, no doubt, but you could tell the consistency wasn't there at the end. She had great starts and so-so ones in between. And for no rhyme or reason. It was harder and harder to keep her sharp, and that's normal. She's older, and it was amazing that she could still do it here and there at the highest levels and beat the Bella Bellinis and When Dovescrys.
"It just goes to show you how great she was, at that age, to go with them. But it was time to go to the next chapter and she was able to go out on her own terms."
With a mark of 1:49, Atlanta is the co-fastest female trotter and and the fourth-richest female trotter of all time with earnings of $3.8 million. In 2018, she became the first filly in 22 years to beat the boys in the Hambletonian and was named the Dan Patch Award Trotter of the Year. She added a Dan Patch Award plus an O'Brien Award the following year as the top trotting mare in the U.S. and Canada.
The daughter of Chapter Seven - Hemi Blue Chip won 37 of 78 career races and hit the board a total of 64 times. In 2022, she won six races in 15 starts and amassed $493,721, with stakes wins that included the Armbro Flight and the Miss Versatility Final. Gingras acknowledged the phenomenal job that fellow Hall of Famer Ron Burke and his team did with the world champion trotting mare during her older campaigns.
"They've done a great job with her, and she's not the only one. I think they they've showed that, time and time and time again. You can go back as far back as the Won The Wests or Foiled Again, This Is The Plan, Buck I St Pat...they have a greater operation that can keep horses year after year and they keep coming back and it goes to show you that they have a great way of dealing with horses.
"I think Ronnie was a huge reason why she is what she is and I was just thankful to be a part of it."
Atlanta is a 2022 O'Brien Award finalist along with HP Mama B, and Gingras would like to see the mare that's provided him with a number of memorable moments go out a champion.
"That would be a nice ending for her, no doubt about that."
Gingras will be one of the many fans of harness racing tuning in as Standardbred Canada presents the 34th edition of the O'Brien Awards on Saturday, Feb. 4, 2023 at the Hilton Mississauga / Meadowvale Hotel. Details on the event live stream will be announced later this week.