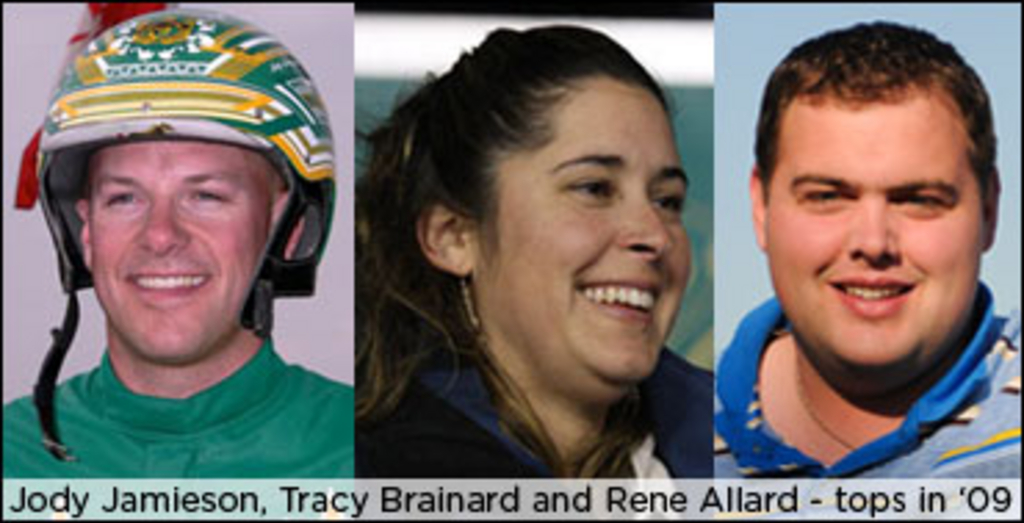 Published:
January 2, 2010 09:22 am EST
With the 2009 season of harness racing now in the history books, Trot Insider has compiled a list of Canada's top drivers and trainers from racetracks across the country in recognition of all their hard work this past year
.
With his much talked about race for the Canadian single season record, driver Jody Jamieson cemented his place at the top of the list on the driving side with 787 wins and $11,083,616 in earnings. Jamieson also became the first Canadian-based driver to take the North America dash-winning title since 1979 with 796 victories. Rene Allard earned the nation's training title for wins having sent 290 winners postward in 2009 while Tracy Brainard captured the money title grossing $5,899,748 in purses in Canada.
In the East, Ken Arsenault was the top money earning driver at Charlottetown Driving Park, Summerside Raceway and Truro Raceway while Keith Clark continued his dominance in the West by topping the training and driving charts at Grande Prairie and Northlands Park.
Follow the race for the 2010 track titles by clicking on the "Top Drivers at Canadian Tracks" or "Top Trainers at Canadian Tracks" links on Standardbred Canada's stats page.
*All statistics are Canadian stats from January 1, 2009 to December 31, 2009.
Charlottetown Driving Park
Top Driver (Money) - Ken Arsenault ($253,883)
Top Driver (Wins) - Ken Arsenault (113)
Top Trainer (Money) - Allan Earl Smith ($99,857)
Top Trainer (Wins) – Ken Arsenault (50)
Clinton Raceway
Top Driver (Money) – Trevor Henry ($217,080)
Top Driver (Wins) – Trevor Henry (37)
Top Trainer (Money) – Paul Taylor ($76,200)
Top Trainer (Wins) – Paul Taylor (15)
Dresden Raceway
Top Driver (Money) – Kevin Wallis ($179,494)
Top Driver (Wins) – Kevin Wallis (45)
Top Trainer (Money) – William Kirkpatrick ($42,410)
Top Trainer (Wins) - Linda Wallis (7)
Exhibition Park Raceway
Top Driver (Money) – Gilles Barrieau ($75,075)
Top Driver (Wins) - Gilles Barrieau (75)
Top Trainer (Money) – Earl Fram ($22,634)
Top Trainer (Wins) – Earl Fram (25)
Fredericton Raceway
Top Driver (Money) – Gilles Barrieau ($61,320)
Top Driver (Wins) - Gilles Barrieau (32)
Top Trainer (Money) – Earl Smith ($21,943)
Top Trainer (Wins) – Stacy Gay (9)
Flamboro Downs
Top Driver (Money) – Paul MacKenzie ($1,432,398)
Top Driver (Wins) – Paul MacKenzie (269)
Top Trainer (Money) – Rene Allard ($455,350)
Top Trainer (Wins) - Rene Allard (90)
Fraser Downs
Top Driver (Money) – Jim Marino ($662,367)
Top Driver (Wins) – Jim Marino (95)
Top Trainer (Money) – Dave Hudon ($379,414)
Top Trainer (Wins) - Wayne Isbister (66)
Georgian Downs
Top Driver (Money) – Jody Jamieson ($901,960)
Top Driver (Wins) – Jody Jamieson (130)
Top Trainer (Money) – Rene Allard ($581,300)
Top Trainer (Wins) - Rene Allard (80)
Grand Prairie
Top Driver (Money) – Keith Clark ($504,882)
Top Driver (Wins) – Keith Clark (75)
Top Trainer (Money) – Keith Clark ($387,107)
Top Trainer (Wins) - Keith Clark (50)
Grand River Raceway
Top Driver (Money) – Paul MacKenzie ($572,804)
Top Driver (Wins) – Paul MacKenzie (80)
Top Trainer (Money) – Gregg McNair ($191,077)
Top Trainer (Wins) - Rene Allard (26)
Hanover Raceway
Top Driver (Money) – Trevor Henry ($258,176)
Top Driver (Wins) – Bruce Richardson (46)
Top Trainer (Money) – Paul Taylor ($93,800)
Top Trainer (Wins) - Paul Taylor (19)
Hiawatha Horse Park
Top Driver (Money) – Brad Forward ($423,931)
Top Driver (Wins) – Brad Forward (83)
Top Trainer (Money) – Joe Cirasuola ($81,366)
Top Trainer (Wins) - Joe Cirasuola (22)
Kawartha Downs
Top Driver (Money) – Gord Brown ($915,253)
Top Driver (Wins) – Gord Brown (218)
Top Trainer (Money) – Mark Winacott ($374,612)
Top Trainer (Wins) - Mark Winacott (84)
Inverness Raceway
Top Driver (Money) – Redmond Doucet ($29,885)
Top Driver (Wins) – Redmond Doucet (44)
Top Trainer (Money) – Clare MacDonald ($16,703)
Top Trainer (Wins) – James Copley (23)
Mohawk Racetrack
Top Driver (Money) – Jody Jamieson ($4,042,902)
Top Driver (Wins) – Jody Jamieson (138)
Top Trainer (Money) – Tracy Brainard ($2,307,726)
Top Trainer (Wins) - Tracy Brainard (48)
Northlands Park
Top Driver (Money) – Keith Clark ($570,678)
Top Driver (Wins) – Keith Clark (56)
Top Trainer (Money) – Keith Clark ($706,506)
Top Trainer (Wins) - Keith Clark (55)
Northside Downs
Top Driver (Money) – Joe Campbell ($23,636)
Top Driver (Wins) – Greg Bailey (36)
Top Trainer (Money) – Edgar Jacobs ($14,516)
Top Trainer (Wins) – Kevin Bailey (20)
Rideau Carleton Raceway
Top Driver (Money) – John MacDonald ($1,790,674)
Top Driver (Wins) – John MacDonald (380)
Top Trainer (Money) – John MacMillan ($604,841)
Top Trainer (Wins) - John MacMillan (133)
St. John's Racing & Entertainment Centre
Top Driver (Money) – Shane Forward ($14,146)
Top Driver (Wins) – Shane Forward (32)
Top Trainer (Money) – Scott Forward ($18,393)
Top Trainer (Wins) - Scott Forward (35)
Sudbury Downs
Top Driver (Money) – David Dowling ($539,947)
Top Driver (Wins) – David Dowling (112)
Top Trainer (Money) – France MacLean ($469,394)
Top Trainer (Wins) - France MacLean (73)
Sulky Quebec
Top Driver (Money) – Pascal Berube ($153,602)
Top Driver (Wins) – Pascal Berube (69)
Top Trainer (Money) – Clayton Miller ($82,161)
Top Trainer (Wins) - Isabelle Binet (33)
Summerside Raceway
Top Driver (Money) – Ken Arsenault ($85,806)
Top Driver (Wins) – Gary Chappell (38)
Top Trainer (Money) – Earl Smith ($31,514)
Top Trainer (Wins) – Stacy Lund (16)
Truro Raceway
Top Driver (Money) – Ken Arsenault ($74,709)
Top Driver (Wins) – Darren Crowe & Todd Trites (60)
Top Trainer (Money) – Blair Laffin ($47,203)
Top Trainer (Wins) - Blair Laffin (48)
Western Fair Raceway
Top Driver (Money) – Brad Forward ($1,366,585)
Top Driver (Wins) – Doug McNair (223)
Top Trainer (Money) – Casie Coleman ($273,208)
Top Trainer (Wins) - Paul Taylor (55)
Windsor Raceway
Top Driver (Money) – Donnie Rankin, Jr. ($584,328)
Top Driver (Wins) – Donnie Rankin, Jr. (116)
Top Trainer (Money) – Gordon McDonnell ($191,001)
Top Trainer (Wins) – Gordon McDonnell (48)
Woodbine Racetrack
Top Driver (Money) – Jody Jamieson ($3,623,594)
Top Driver (Wins) – Jody Jamieson (168)
Top Trainer (Money) – Tracy Brainard ($2,360,946)
Top Trainer (Wins) – Ben Baillargeon (71)
Woodstock Raceway
Top Driver (Money) – Brad Forward ($402,952)
Top Driver (Wins) – Brad Forward (56)
Top Trainer (Money) – Robert McIntosh ($74,220)
Top Trainer (Wins) – Chris Haskell (13)
Yorkton Exhibition
Top Driver (Money) – Tyler Redwood ($28,678)
Top Driver (Wins) – Tyler Redwood (23)
Top Trainer (Money) – Ronald McLeod ($26,060)
Top Trainer (Wins) – Tyler Redwood (18)