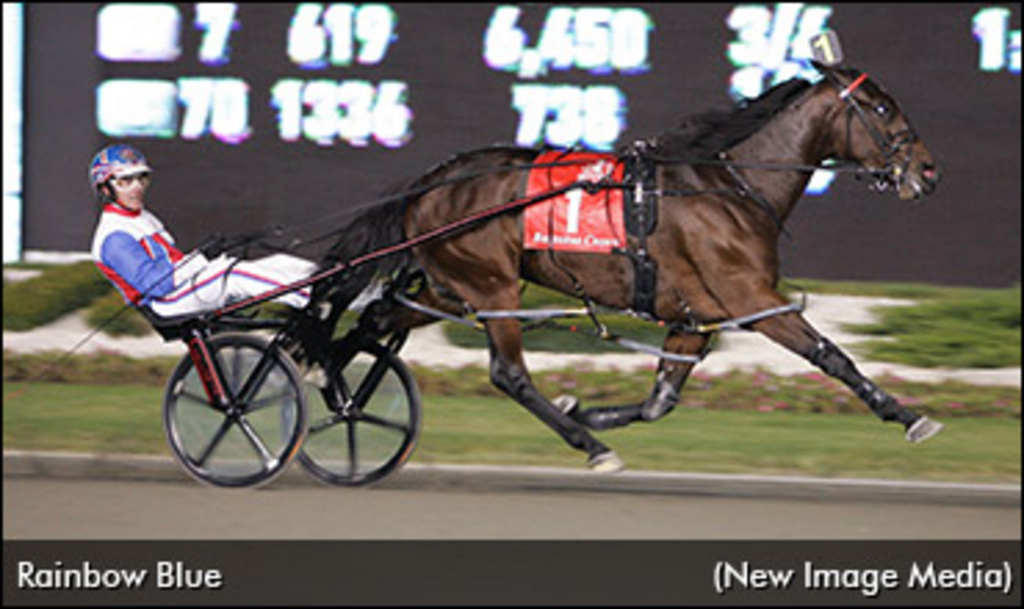 Published:
January 12, 2014 11:08 am EST

For the past 25 years, a select group of Canada's top horses and people have been honoured with the sport's most prestigious award – the O'Brien. This year, we pay tribute to the winners who have stood boldly at the top of the podium, and reveal your picks for the O'Brien Dream Team.
Over the next few weeks, Trot Insider will feature one of the Dream Team selections as well as a race from that horse's illustrious career.
The first horse profiled is Three-Year-Old Pacing Filly Rainbow Blue. Rainbow Blue was named Horse of the Year in both Canada and the United States in 2004 after a season in which she won 20 of 21 races and earned -- at the time -- a single-season record $1,355,888 for a three-year-old pacing filly.
In 2004, Rainbow Blue twice won races in a World-Record-equalling 1:49.2 and became the first three-year-old pacing filly to win two miles in less than 1:50. Her average margin of victory that season was two and three-quarter lengths. Never was a horse nearer than a half-length at the finish and only twice was a horse closer than one length.
"I can remember every race she raced like it was yesterday," said trainer George Teague in reflecting on Rainbow Blue's career. "From beginning to end, one race to another, it was memorable. She was something different than anyone had seen, or I'd ever trained, before. She was way different from a lot of horses I've seen race; her build, her way of racing and her out-and-out ability to dominate.
"She was built like a stud horse. She was so unusual in so many different ways. She was just a special horse. She not only dominated, she looked dominating. She had a really intimidating way about her because she was way more mature looking than the horses she raced against."
Dream Team Voting - Three-Year-Old Pacing Filly
1. Rainbow Blue - 39.1 %
2. Odies Fame - 10.9 %
3. Town Pro - 8.1 %
Be sure to check out the full O'Brien Dream Team in the January issue of Trot Magazine.
---
Rainbow Blue Equals World Record
August 22, 2004
Sophomore sensation Rainbow Blue was simply brilliant last night at Woodbine, pacing to a two-length victory in the fastest of three Fan Hanover eliminations. And she did it in World Record equaling fashion.
In rein to Ron Pierce, the daughter of Artiscape went right to the top before letting Shes My Belle take over the lead on the way to the half, which was reached in a sizzling 54.2. Pierce pulled Rainbow Blue back to the outside just after the three-quarter pole and she cruised from there. The filly held off Ontario star Invitro for the victory in a World Record equaling 1:49.2. Serious Comfort was six lengths back in third.
The mark tied the 1:49.2 mile paced by Incredible Tillie in 2000 at Springfield Raceway in Illinois. Owned by K and R Racing LLC and Teague Inc. of Houston, De., Rainbow Blue has been nearly flawless this season. Her only loss in 14 starts came two weeks ago, when she broke stride in the $310,000 final of the Mistletoe Shalee at the Meadowlands, snapping a 16-race winning streak. The George Teague trainee has already made more than $335,000 this year, boosting her lifetime bankroll to $439,869.
---
(Video courtesy WEG)