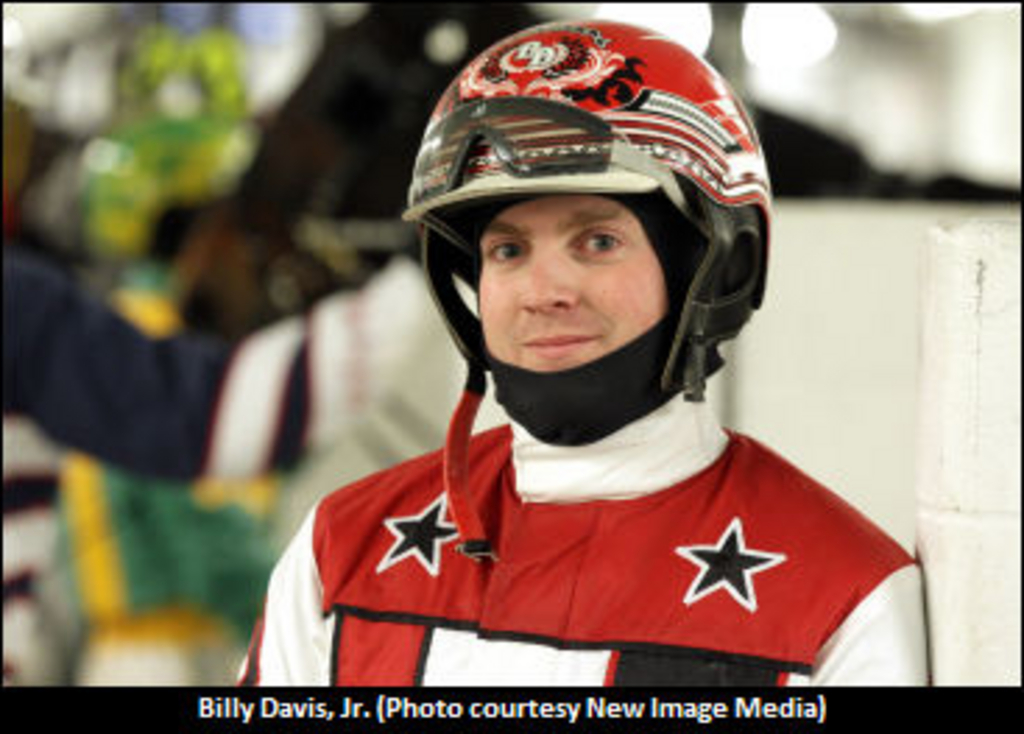 Published:
January 10, 2012 01:33 pm EST
Standardbred driver Billy Davis Jr. was taught it is important to be different and the driving suit he wears is a testament to that.
Davis Jr., who idolized veteran driver Luc Ouellette while growing up, dons his chosen colours, red, black and white, but has his father's design with the two bars and three stars on the back.
The son of O'Brien Award-winning horseman Bill Davis, who was a dominant force on the west coast, said it wasn't an easy task designing his driving suit.
"I was sitting there thinking, 'I want to try and be like my dad, but I also want to be like Luc,'" he recalled.
So, Davis Jr. put it to a poll. He asked all his friends and family what his suit should look like, his father's or Luc's. It came down to a tie. The last person he asked to break the dead heat was his father.
"He told me you are better off being your own person," said Davis Jr., a resident of Guelph, Ont.
Davis Jr. lives by those wise words he heard at 16.
Now 25, he is breaking out from under dad's shadow and is starting to make a serious name for himself.
Crushing all the goals he set for himself in 2011, Davis Jr. fashioned 404 wins, which ranked him fifth in Canada, 347 seconds and 295 third-place finishes in 2,585 outings while steering his mounts to $2,750,344 in purse earnings. From 233 starts on the Woodbine Entertainment Group circuit, his record is 25-21-31, good for $418,506 in purse earnings.
He finished 2011 off with a bang, as he recorded 10 wins on December 29 between two tracks, six victories at Flamboro Downs followed by four wins at Woodbine Racetrack.
"I just see him going places, because he has his head screwed on right," Ouellette said about the rising star. "I see that he is really focused. His focus is a big advantage at a young age. I think that will take him far.
"In a few years from now I'll be known as Luc, Billy's friend," he added, with a chuckle.
Last year was a career season for the up-and-coming driver, and his father, who originally didn't want his son to follow in his footsteps, wanting a more stable career for his son, is quite proud.
"He's worked for it," said Davis Sr. "Going to the races all the time, doing double cards, he's paid his dues.
"He basically learned everything the hard way. He probably picked up a few things from me and other people, but usually anything that I have tried to teach him, he never really listened," he laughed. "He always wanted to do it on his own."
But the road to the top is always filled with a few bumps.
Davis Jr. called Langley, British Columbia home until May 2009. Racing in the province had taken a nose dive as race dates and purses were being cut, and Davis Jr. felt he had only one choice. If he wanted to make a living as a horseman, then he would have pack up all his things and move to Ontario.
As soon as he shut his truck door he had doubts.
"I was very nervous and scared," Davis Jr. admitted. "I didn't know what I was going to do. The first few months out here were very difficult."
The reinsman didn't get his first drive in Ontario until his father relocated a month later. He didn't know if he was going to make it or if he should just pack it in and head back home. But, he just kept telling himself that there was nothing for him back home.
"I didn't know anybody when I came out here, so no one knew who I was or would even give me shot," he said.
Davis Jr., a.k.a. @BillyDavisRacin on Twitter, is one of the many horsepeople that have taken to social media to help promote themselves and the sport. He has admitted that Facebook played a role in helping him make connections.
Davis Jr. became friends with trainer Jason McGinnis on the social networking site and the conditioner let him drive the majority of his horses when he first got to Ontario. It gave Davis Jr. the break he was hoping for.
And the better he did, the more drives he got, which resulted in more wins and ultimately more opportunities. Fast forward to the present day and it is evident that Davis Jr.'s hard work, coupled with seized opportunities, have helped to create his banner year.
His fifth year in the race bike was filled with highlights, but August 5, 2011 was a standout day.
"That day was very exciting," Davis Jr. recalled. "It was my 500th win, I got it at Mohawk and it was a track record-equalling performance (1:49.1) with Sweet Hedge, a horse that I used to train out west. It was kind of like a storybook ending, like it was meant to be."
It would be a dream come true if one day Davis Jr. could become a regular driver on the WEG scene, but for now he will keep trying, driving wherever he is needed, even if it means driving at three tracks in one day.
"I try to keep everybody happy," he explained. "I drive for a lot of big stables and I try to keep most of them happy because that's where I get most of my drives."
Davis Jr., who is even training one of his own horses to keep him busy in the mornings, says he is exhausted some days to the point were he says there was one night he could have pulled over to the side of the highway to snooze after racing at Georgian Downs in Innisfil.
What is it that keeps him going?
Davis Jr. recalls an incident when he was about eight years old when the second horse he ever jogged took off on him in a dead gallop and ran around the farm as fast as he could go.
It's the same thing that made the petrified young boy get back in the jog cart the very next day.
"The love of the sport," he stated. "I just like being out there. I have the greatest job in the world and I couldn't ask for anything more."
(WEG)