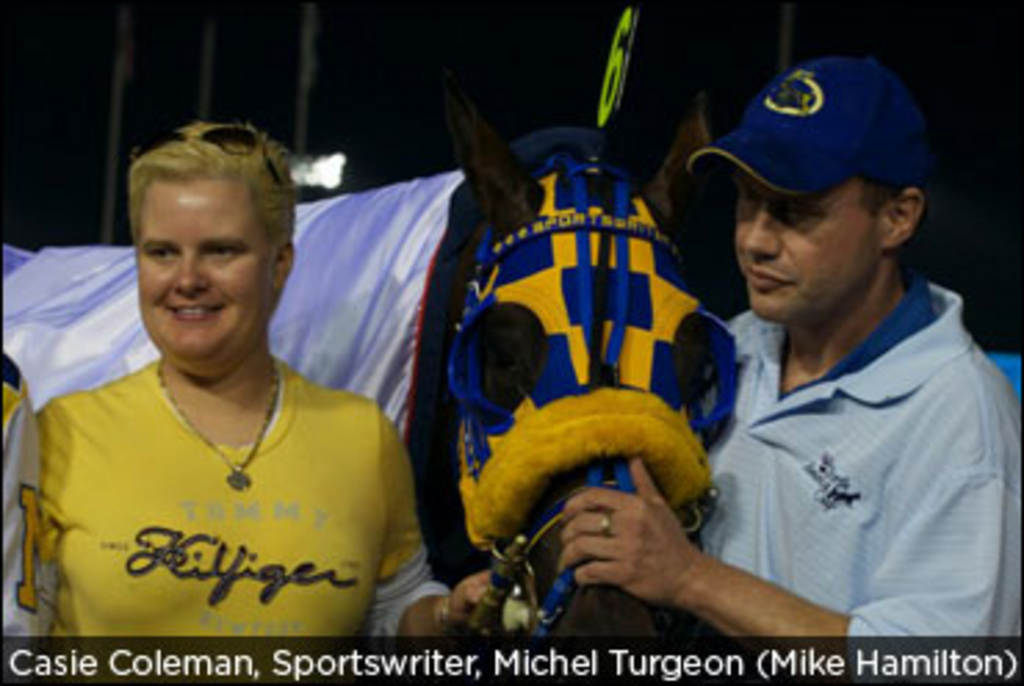 Published:
June 30, 2010 06:55 am EDT

With a flawless victory in last Saturday's $1.5-million Pepsi North America Cup now in the books, it's time for Casie Coleman's prized pacer, Sportswriter, to focus on his next assignment – the $1 million Meadowlands Pace
in New Jersey.
Coleman, a three-time O'Brien Award winner as Canada's Trainer of the Year, spoke with Trot Insider on Tuesday and gave us an update on her star student and his stablemate, Western Silk, following their respective wins in the finals of the Pepsi North America Cup and Fan Hanover Stakes.
"Both of them came out of it great, actually," said Coleman. "I pulled both their bloods on Monday, and they're both as good as you could want them. I couldn't be any happier with the way they came out of it. Sportswriter, as everybody knew, was coming out of his races sore. He was sore coming out of his first start and then the Burlington, but he came out of the NA Cup completely sound. His feet are actually in very good shape, and I'm actually getting the wires taken out of his feet on Sunday. His feet are completely grown out and he's sound as a dollar.
2010 NA Cup - Sportswriter - 1:48.3
"As for Western Silk, she's sharp as a tack. She is supposed to have a Gold event coming up at Georgian Downs on Saturday, but then she has the Canadian Breeders right after that at Mohawk and then another Gold event at Mohawk," added Coleman. "As everyone knew, she was sick into the elims of the Fan Hanover and we did a lot of work to get her healthy for the final and she won. I haven't completely decided yet, but I'm pretty sure I'm going to skip the Gold at Georgian and get her ready for the Canadian Breeders in two weeks time at Mohawk and then we'll go to the next Gold at Mohawk."
2010 Fan Hanover Stakes - Western Silk - 1:50.1
While Western Silk will stay close to home for the majority of the season, Sportswriter is in the process of packing his bags as he gets set to head out on the road.
"He'll be shipping to New Jersey on Monday to get ready for the Meadowlands Pace eliminations and hopefully the final," Coleman added. "From there he has the Adios eliminations and hopefully the final at The Meadows. He's eligible to the Oliver Wendell Holmes, but if I go to the Adios I'll probably skip the Oliver Wendell Holmes because it's just too many races in a row. Then he has the Battle Of Brandywine at Chester and then he comes back home for the Simcoe and then we'll get ready for the Jug."
With a victory in Canada's richest harness race now on her resume, Coleman was asked if there was any race in particular she'd like to win above any other. She was torn between two of the most prestigious events in harness racing.
"I'd love to win the Meadowlands Pace, but if I had another choice to win one of them I'd pick the Jug. I'd absolutely kill just to be in the Jug let alone have a shot to win it. The Meadowlands Pace would be something else to win, too. All of them are big races, and it's an honour and privilege to just be in them."
Sportswriter, an eight-time winner in 12 career tries, is owned by Steve Calhoun and the West Wins Stable [Casie Coleman, Zoltan Kovacs and Ross Warriner] of Ontario along with Southwind Farm of New Jersey. The colt has stashed away more than $1.6 million to date.
"Mark MacDonald will drive him in the Pace," added Coleman.
Sportswriter bids to become the ninth North America Cup winner to capture the $1 million Meadowlands Pace, while Coleman aims to be the first woman to harness a winner in the track's signature event. The Saturday, July 10 eliminations will determine the 10 finalists to compete in Meadowlands Pace Final on Saturday, July 17. Coleman will be the featured guest In The Sulky on Meadowlands Racetrack's July 8 pre-card broadcast.