One of Kathy and John Cecchin's first dates took place in the backstretch kitchen at Mohawk - it was love at first sight.
Now, many years later, the lifelong horsepeople, still as much in love as ever, reached the pinnacle of the sport together, surrounded by their loving family. By Rachel Oenema.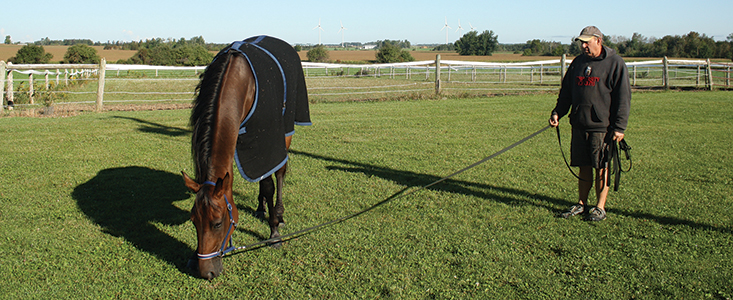 Perhaps the proper title for this story would be 'The Horse Of A Lifetime' or 'Team Cecchin's Slick Ride', or maybe to get straight to the point 'Desperate Man Upsets In The 2021 North America Cup'.
While all those titles would be true-to-size and rather fitting, this story actually begins in 1990 in Las Vegas, Nevada, where John and Kathy Cecchin got married… in a matter of just a couple of minutes. It was puppy love from day one for the husband and wife duo behind this year's North America Cup Champion, and it still is today.
The saying that opposites attract couldn't be more true for John and Kathy Cecchin, and as Kathy says with a laugh, "John is the sane one of the two of us. Our story begins with love at first sight, one of our first dates was actually in the Mohawk track kitchen. My husband John is my whole entire world, he is my rock, my everything. I wouldn't be able to do this all without him."
Kathy's adoration for her husband John doesn't come without accolades of horsemanship either, as throughout the years John Cecchin has conditioned many remarkable performers.
"John has had many nice horses throughout his career, we had Suspicious Image , Whiteland Image for a handful of starts, and Jailhouse Rock who is the dam of Jailhouse Jesse ."
One of the horses John holds closest to him is a now 23-year-old Ambro Agile gelding named Emmit, who lives lovingly and carefree in the front pasture of the Cecchin residence.
"Emmit was a $5,000 yearling, John made $288,244 with him, about a hundred thousand of that was made in stakes races, which for back in the day was exceptional. John is an amazing horseman. Me, I'm just a girl from a very small town in Saskatchewan. John doesn't like the spotlight as he is a man of few words, but he is the brains behind it all... I'm a dog breeder and a glorified groom," she laughs. "The horses I've trained don't compare to the horses John has. John lost his stable in the barn fire at Mohawk in 1992, he rebuilt from it however and I just can't say it enough times how proud I am to be his partner, I say it over and over again - he's my rock."
Though she speaks modestly of her own training career, Kathy joyfully tells the story of one of her past pupils that changed their lives in a way, Thinga Me Bob N.
"He was just a horse that John and I raced, and Paul Davies drove up our driveway one day and asked me if he could drive my horse - he was just getting his driver's license at the time. I couldn't get over how gentlemanly-like that was of him. I gave him the opportunity and Paul ended up getting his first ever driving win with him," says Kathy. "Today he is married to our daughter Nikki! They got married in Las Vegas as well."
Now, fast forward to the 2019 Lexington Selected Yearling Sale, as a bay Shadow Play colt out of Dreamlands Latte enters the ring as Hip #623. The hammer drops at a modest price of $20,000 to the ownership of Kathy and John Cecchin, Nikki and Paul Davies - beginning the next chapter of the story. The story behind Desperate Man.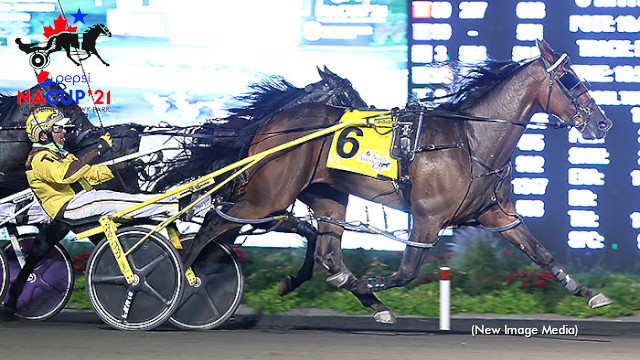 Desperate Man, affectionately (and at first, sarcastically) known as 'Slick' caught the attention of his connections because his dam is a full-sister to Grand Slam Woman - the dam of Outlawgrabbingears, a winner of $330,855 and a multiple Alberta Sire Stakes Champion who is trained and primarily driven by Paul Davies, and is co-owned by Nikki and Deborah Pinel.
"He got his nickname because starting out he was really anything but slick," laughs Kathy. "He was clumsy and he stumbled a lot… he barely picked his feet up off the ground when he jogged. He was always full of personality though. My kids, Brittany, Jay and Nikki, probably think of him as their little brother because I treat him like one of my own children… He is spoiled, to say the least.
"Paul and Nikki were going to buy their share of him but we gave them their share as a wedding gift - it was a late wedding gift but we asked them if they'd rather have help with a downpayment on a house, or half-ownership of the horse, and since they already owned a house out west before they moved back here, they went with the horse. They still wanted to give us money but we insisted."
Training down as a two-year-old, Desperate Man showed his connections the potential to be a nice, handy racehorse, and while every two-year-old trainer dreams of their horse racing in the North America Cup, Slick's connections just held the dream in their back pocket.
"We really liked him, but of course we didn't think he would turn out to be the horse that he turned out to be," says Kathy.
On June 20, 2020 Desperate Man made his two-year-old qualifying debut a winning one in 1:57.2, with a closing quarter in :26 - on an off track. That was followed by a five-length qualifying victory, once again in 1:57.2, with a :26.3 kicker- showing his connections he deserved a shot at the OSS Gold level.
He made his pari-mutuel debut on July 3 in a $104,800 Gold event and he romped in 1:51.4 - that was followed by another Gold win two weeks later. He would round out his 2020 season with a record of 6-3-1-1, racing all of his starts in OSS Gold divisions and the Super Final (where he finished 4th) and $218,672 made for his family connections.
He also ended the season with a P1 fracture (fractured pastern) and had to stand in the stall for a good chunk of the winter so it could heal. John and Kathy didn't want to risk a surgical procedure where screws would be inserted so they successfully chose the route of stall rest instead.
Desperate Man's three-year-old season started off the same way his freshman year did, with two winning qualifiers, and while he didn't kick off his sophomore season the way he did his rookie year, with winning efforts, Kathy explains that there was no disappointment, but rather gratitude, for the horse's handling, by his driver Trevor Henry.
"Trevor is such a huge part of this horse... I cannot say that enough times. From day one Trevor has taken care of Slick, on the track, every single time he has stepped foot on one. He has never hurt him, he has never overdriven him, he has never used him too hard. John and Trevor are the best of friends - they've known each other for years - and have had horses together as well. They're kind of like the same person," Kathy laughs. "They have the same gruff sense of humour... they'll laugh at things that others might be offended by. Trevor and his wife Shannon have their horses stabled at our farm so that makes it even more special for us all, that we have gotten to experience this all together."
But it doesn't take long for Kathy to quickly credit the only other person to have driven Slick behind the gate.
"Phil Hudon qualified him both times as a three-year-old. Trevor was driving in the States at the time because of everything surrounding COVID-19 here, and we entrusted Phil with him... he did an amazing job taking care of him. You know, people had asked us if we would list a Grand Circuit driver for the big race and to us, that would be so inappropriate. It's not about that to us, and we aren't those kind of people, and I say 'we' and not 'I' because this horse is made up of a team. To be quite honest if there was some reason at all Trevor wouldn't have been able to drive him, it would have been Phil Hudon that would have driven him... you take care of the people that take care of you, and that's the bottom line."
"I made John give Phil an envelope for qualifying Slick for us, and Phil thanked John. John replied 'it's not from me, it's from Kathy.' To which Phil replied 'I figured,' Kathy says with a laugh. "It's probably not hard for people to figure out that John walks with his wallet deep in his back pocket," she says with a smile.
Even though he had been racing well however, there came a point in time during Desperate Man's three-year-old season where it was time to put up or shut up - and Slick showed that he had no problem in putting up.
"The three-year-old colt division is so tough and so competitive, it's dog-eat-dog out there. Slick had been racing great but it came to the point where we had to prove we could still race against the Gold horses. Trevor said to me when we were at Georgian Downs for his [OSS] Gold, 'No more playing nice guy.'"
Desperate Man scored his first win of the season that night, in 1:49.4, defeating 2021 Meadowlands Pace winner Lawless Shadow and 2020 OSS Super Final winner Bulldog Hanover. The season's first victory paved the way for a second place finish in another OSS Gold and a second place finish in the Somebeachsomewhere Stakes, where Slick blasted home in :25.4, showing he was ready to dance in the big dance - The North America Cup.
In his elimination to get into that dance Desperate Man punched his ticket into the Cup final with a second place finish to Bulldog Hanover, and this time he didn't just spring a final quarter in :25.4, but also a third quarter in the same. A back-half of :51.3 showed the entire racing world that Slick was more than just a local sires stake horse, but a true contender at the Grand Circuit level.
"I'm not cut out for this," Kathy shared in the days leading up to the $1 million final. "I'm not good at all this publicity, it's overwhelming!" she laughed. "We honestly didn't even know that we had to go to retention for the elimination, that's how smalltown we are."
And speaking of the retention barn, Kathy spent the entire night, both prior to the elimination and the final, sleeping in her van in the Mohawk retention area parking lot.
"He likes to roll and sometimes he gets cast in his stall. If anything did happen to him it would take us an hour or so to get there so I just slept outside in the back of my van just in case."
Now if that's not dedication then what is?
On Saturday, September 11 in the $1 million final of the Pepsi North America Cup, Desperate Man and Trevor Henry were able to situate themselves mid-pack, closer than they usually get away off the wings. A second-over trip behind Perfect Sting gave Slick the perfect opportunity he needed to pace into the history books, and he blasted off cover and captured the 2021 North America Cup in 1:49.3 - to the roar of an adoring crowd at Woodbine Mohawk Park.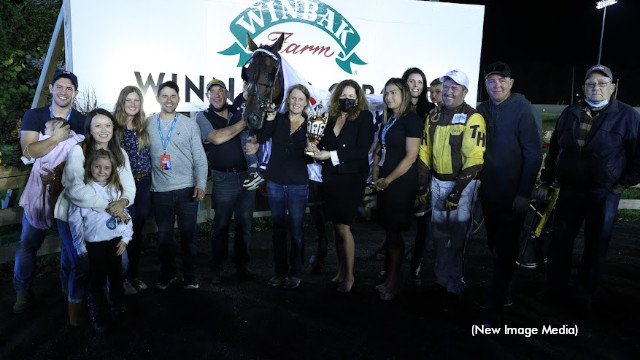 "There isn't much to say about the trip Trevor gave him because it was perfect. It was absolutely perfect. We couldn't have asked for a nicer trip.
Nikki led him out with me and said to me, 'We have the quietest horse here, and we have two people leading him out.' But it wasn't about that, it was about the fact that we were all there together. We led him onto the track together and got to meet him in the winners circle together," an emotional Kathy shared a few days after the race.
"I grabbed Slick on the way to the winner's circle and unchecked him, and held my face against his and I said to him, 'This is all for you. This is all for you. You did it, you really just did it. I told him how much I loved him, because I do. I love this horse and have loved him since the beginning. He consumes my whole day. We thought he was heading in the direction to put on his best performance, every week he was coming his back-half faster. And that's all accredited to the team behind him. But in the end it's about Slick, he is an awfully nice horse. He's brave, he tries... he's just Slick."
The serenity of the moment leading to the winner's circle however, was quickly broken by the screaming and cheering, including that by yours truly, who was there to give Kathy a huge hug. Alongside a large number of friends and fans, another group of over 40 people from the small town of Arthur, orchestrated by Shannon Henry, also met the connections in the winner's circle, crying, screaming, chanting, smiling - all the main components of a well deserved celebration.
"I can't thank Shannon enough for everything she did to organize everyone being there. I would have never been able to come up with anything like that. She is the ultimate planner and we're so lucky to have her in our circle," says Kathy.
Perhaps what makes it so special as well, is the family aspect to this whole story. While the winners circle was filled with friends and fans, at the head of Desperate Man was Kathy, her husband John, holding grandson Deacon, Paul and Nikki, son Jay and his wife Steph, their newborn daughter Margot, daughter Brittany and her husband Todd, with their kids Lilah and Braxton.
And perhaps what made it even more special is how Desperate Man took in every second of the attention.
"He just stood there like it was nothing. Took it all in and was cool about it all. He is such a good boy and so patient. I was trying not to pass out. I'm not sure if it was the excitement or the fact that I didn't really eat for two days," Kathy laughs. "I had a Pepsi in the paddock so I guess that counts for something, I probably looked hypoglycemic. But, I was concerned about him, and afterwards I wanted to get him to the test barn right away to give him a bath and a drink."
Putting their horse first as always, John and Kathy took their superstar to the paddock to care for him as they would after any race.
"We didn't stick around for any partying after. I would never leave him in the paddock alone - ever. We left Mohawk and got home pretty late, and then when we get home I have to baby him. I try my best not to bug him but I have to watch him and make sure he's okay. He's my baby - literally.
"We did have the champagne [and beer] going pretty early the next morning though," laughs Kathy.
When asked if it has it all sunk in yet, Kathy takes a deep breath and replies, "It's starting to." Then she digresses to how thankful she is for everyone that has been a part of the experience.
"I have a list actually," she laughs. "There are a lot of people that I want to know how thankful we are. Our vet Dr. John Hennessy has been there for this horse any time I have asked him to be, and I've bothered John a lot. Anyone who is in their right mind would have probably blocked my phone number but John answers every time and is there for everything Slick has needed."
"Laverne Turnbull does Slick's teeth and has taken care of them since day one. Slick was a late foal which changed how his teeth were, and Laverne took care of any issues and maintenance.
"Our blacksmith Eli Weber and Kevin Kleinpaste, who came to the rescue and shod him before his elimination, when we were stuck.
"Nicole and Shelley Henry for introducing us to the Bemer blanket treatment. We tried theirs on Slick and after he won the Gold at Georgian we bought our own through them and have used it on him ever since.
"Our neighbours run a pharmacy in Arthur and they're going to display the North America Cup trophy, the cooler and the photo for people to see. We're sharing this experience with everyone and we're going to use this experience to introduce new people to the business."
But the thing Kathy Cecchin is the most thankful for is her family.
"I can't thank my family enough for everything. My kids and their families are my world. Sharing something like this with your family is just an incredible experience. John didn't cry after the race, he's not a man of a lot of emotion, but I will tell you that when our son Jay, his wife Steph and their three-month-old daughter Margot came by on Monday and saved us by bringing us some actual food, John teared up when he saw the baby. John is so quiet but I think a part of John had a lot of faith in Slick. The horse had a home for life before this race anyway, but we have this habit of keeping horses forever and he'll be one of them. He's saucy, so someone will have to be the brave one to jump on his back someday. No one has volunteered yet so we joke about that all the time.
"On a personal level, the last thing any of us want to do is talk about ourselves, although it seems like lately that's all we do. When you go to the track you obviously want to win, racing is a competition. No one really goes to the track to finish second, but having the respect and compassion, and to care about your competitors is what I think horse racing is supposed to be about. Horse racing is a big family, we care about each other. If our local friends, the McNairs, had won, I would have been crying and screaming and cheering just the same as they were for us. That's where the story is.
"You know, John likes to say Slick is 'my' horse. When I send him out to train, he will ask me 'How fast do you want me to go?' I'll say to him I think we should do this or that... I'll say, 'Just go in :58' or something. Then when he comes off the track and I say to him 'How was he?' John will smirk and say, 'He was good, I went in :58.' I am 100% sure he's completely lying to me and he just does whatever he wants," Kathy laughs. "I don't question him. Maybe that's what makes us, us. When I met John, I thought he was the bee's knees, and I still think he is today. I'm lucky to have John. You know I'll always be thankful for those two minutes in Vegas, if it wasn't for that we wouldn't be here with Slick today.
Although winning a race like the North America Cup is life-changing to anyone that has earned the honour, Kathy and John Cecchin won't be changing their ways anytime soon. When asked how they managed to unwind when they finally got into the house that night after getting their champion put away, Kathy laughed. "We were starving, so I said to John 'What do people eat after they win the North America Cup?' He shrugged his shoulders and replied, 'Tomato sandwiches?' So that's what we had."