The daughter of trainer/driver Greg Dustin, Kristy Dustin has been around the racing game her entire life, and 14 years ago when her mother Doreen was diagnosed with breast cancer it was the racing industry that Kristy turned to, to help support her mom through the creation of 'Harness The Hope'.
In the years that followed, Harness The Hope has helped countless women, and raised more than $130,000 for cancer research, but then in the summer of 2018, sadly, it was Kristy who received some bad news from her doctor. By Melissa Keith.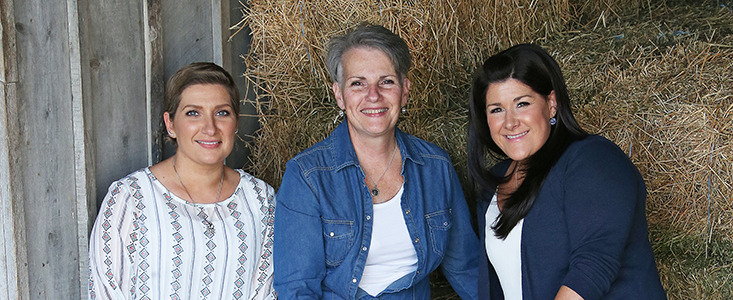 Kristy Dustin specializes in helping people look and feel their best. "I work at a day spa in London," she explains, while on her way to a spa industry trade show in Las Vegas. Dustin's caring for others is more than skin-deep, however: The mother of two young daughters leads a unique fight against breast cancer.
"Originally I had multiple hats or positions within the harness racing industry, growing up with it, obviously: My Dad [Greg Dustin] has co-owned and drove and trained since before I was born," said Kristy. "My Mom [Doreen] worked in the industry as well. So I actually spent a six or seven-year stint at Western Fair, worked in the race office for a couple of years for [former Racing and Gaming Manager] Ian Fleming, and then that turned into a position as Marketing Manager of The Raceway for five years as well."
It was while working at the London half-miler that Dustin turned a family crisis into a public battle against a common enemy, which as recently as 2017 accounted for a quarter of all new cancers diagnosed in Canadian women.
"At the time that I was Marketing Manager at The Raceway - that would have been exactly 14 years ago this October - that was when my Mom was first diagnosed," said Kristy. When she received the disturbing news, Dustin turned to her own promotional abilities, the infrastructure of the racetrack, and the generosity of the Standardbred racing community. She knew these resources could be harnessed to help her Mom and others battling breast cancer.
Forget about the politely-restrained language and imagery which long ago characterized cancer awareness campaigns - Kristy said that was never part of Harness the Hope's rebellious approach. "Coming from an event-planning background and a marketing background, I just knew that we could make something fun out of it, but at the same time donate funds that are very much needed."
Kristy said she doesn't recall the exact origins of Harness the Hope, but she does remember the conversation that brought the idea to life. "At the very beginning, I just remember going to Ian [Fleming] and saying, 'Hey Ian, I have this idea to do a fundraiser and raise some funds for breast cancer research. What do you think?' And he said, 'Sure.'"
The Raceway at Western Fair welcomed the inaugural Harness the Hope night in 2005. "The first year, we had a very small penny auction, we did some sponsored races, we had a silent auction," recalled Dustin. "There was a Mildred Williams Driving Series at the time, so in our first two years, we coupled with the women's driving series."
The popular North American series, named for pioneering female harness driver Mildred Williams, increased the visibility of the new fundraiser. "A lot of the Ontario racetracks hosted Harness the Hope events, and the women drivers would have the series at the same time during our event," said Kristy. "We kind of started out doing it that way. When Mom got sick, I just felt that we needed to do something, and there were more and more women within the industry, unfortunately, who were having to go through the same thing."
Every year since Doreen Dustin was first diagnosed with breast cancer, Harness the Hope has raised spirits, funds, and the shared dream of a cancer-free future. It generated in excess of $14,000 for the Canadian Breast Cancer Foundation in its initial two years at The Raceway at Western Fair. In 2008, Doreen, Kristy, her sister Brandi Dustin, and horsewoman/supporter Ann Curran were named "exemplary volunteers" at the Foundation's first banquet.
Since then, "we've expanded to just a ton of more stuff," Kristy told TROT. "We've always had loyal volunteers and sponsors who have supported us since the beginning, and we couldn't do this without them." Harness the Hope has raised over $130,000 for breast cancer research, support, and awareness initiatives.
The live racing atmosphere gets a special boost during their signature events. "It's a sea of pink! We like to take over. If you don't like pink, that's too bad," said a cheerful-sounding Kristy. And if someone did not know that the event planner was currently undergoing breast cancer treatments herself, her upbeat drive would never give away her diagnosis. Her commitment to Harness the Hope only intensified after the 35-year-old was diagnosed in summer 2018. "I get monthly injections to suppress my ovaries so that I don't have estrogen left in my body," said Kristy, adding that while side effects are a universal struggle shared among those battling the disease: "It's not just the chemo and radiation… there are a lot of other issues at play."
Western Fair-based driver Natasha Day and trainer Shannon Henry were moved by Kristy's ironically personal battle with breast cancer. Motivated to fundraise on her behalf, they collected more than $15,000 in donations after learning of their friend's diagnosis. The Raceway at Western Fair and Woodbine Mohawk Park both participated in the November 19, 2018 event supporting Dustin during treatment.
When Harness the Hope returns to Western Fair the evening of October 25, the 2019 edition will raise money for the Breast Cancer Society of Canada and the lesser-known Pink Pearl Foundation. Kristy noted that the Pink Pearl Foundation, established by 31-year-old ovarian cancer survivor Elise Gasbarrino, serves the distinct needs of younger women (aged 18-40). "They [Pink Pearl] put on local social events in different areas within Ontario, as well as weekend retreats for young women that are facing a cancer diagnosis," explained Dustin, who has first-hand knowledge of the Foundation's work.
"This year is the first year that we've taken on Pink Pearl as a recipient. I was lucky to apply to one of their retreats back in March, when I was still going through chemo, and it was a life-changing experience for me. Obviously your oncologist has, first and foremost, your health as the priority, but there's a lot of things that happen during treatment that they don't ask you about or don't focus on, which are hard enough to get through as a young woman."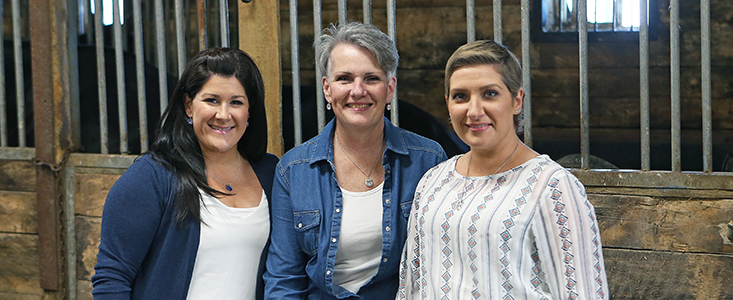 Confronting the demographically-specific reality of cancer is the Pink Pearl Foundation's mandate, added Kristy: "How to keep relation-ships strong; how to parent during a cancer diagnosis and when going through treatment; how to keep things as normal as possible for your children; fertility issues, which thank God I didn't have to go through, but I've met a ton of girls where that's at the forefront of their things to deal with. I couldn't imagine being my age and having to freeze eggs because you can otherwise no longer bear children."
The mother of ten-year-old Abbigael and four-year-old Kamryn also stressed the importance of research into the heritability and prevention of cancers. "I was diagnosed last August, and then I automatically made a quick decision, based on family history," noted Kristy. She opted for a double mastectomy, a decision later validated by medical tests. "It turns out that we [Doreen and Kristy] are positive to a genetic mutation that is linked to breast cancer. That testing wasn't available ten years ago, so I'm thankful that its available now and I know for myself and I know for my Mom."
While the resilient Kristy hasn't allowed her own fight against cancer to sideline Harness the Hope, the illness is never far from her thoughts these days. "This is my first bout of cancer, but my Mom is currently dealing with her second. She just had her third chemo treatment today [September 11], actually," she noted. "My Mom is my role model - she's a rockstar. I remember sitting in an office with her the first time she was diagnosed, [and then] the second time we found out. She just sat right up and said, 'Tell me what I've gotta do, and I'll do it.' There was no moment of hesitation - you can't, with this. You have no choice but to try and move forward and to stay positive and deal with it, day by day."
And so the plans for the 14th annual Harness the Hope at its original track keep progressing, almost as if its founders were not currently affected by cancer. "It takes months and months of preparation," advised Kristy. "It's all on the same night. I was saying to my Mom just the other day, it's amazing what we do. I don't think that [the public] realize what we do [to prepare for] a four-and-a half-hour time period" during which Harness the Hope unfolds at a host track.
There is no shortage of ways that supporters can contribute to Harness the Hope at The Raceway. "We open up race sponsorships, which are always the first to go. It's a fun night out for families, groups, or businesses to come out and do a race presentation. We sell race presentation packages for that," explained Dustin. "We also introduced level sponsorships this year, which are cash sponsorship packages that include dinner at the Top of the Fair the night of, [and] advertising in the race program, on the simulcast feed, on the social media online."
Those who feel lucky, and at the same time, want to improve the odds of medical research beating breast cancer, can participate in on-site fundraising contests and auctions: "We have a silent auction, penny auction, and the winning key contest, where you buy a key. We actually have six grand prizes this year, which are all valued at right around $800-$1,200 apiece. If your key unlocks the treasure chest, you win that prize."
No one would consider a cancer diagnosis a gift, but Kristy said she has been able to reframe adversity through Harness the Hope. "In my mind, I've seen a lot of blessings come my way in the last year, in the sense of friendships and support that has been given, even to my family. You have to have a positive attitude towards it, because those things would have never happened if this [cancer] didn't happen." She and her mother have a sense of purpose that comes from their shared struggles: "We're pretty proud of what we've accomplished. It's something that almost feels therapeutic."
Cancer doesn't discriminate: The saying is commonly cited to summarize the disease's pervasiveness, even among groups who downplay their personal vulnerability. "The risks increase as you age. My Mom, the first time, was 46. She's 60 now," observed Kristy. "I knew that it could happen [to me], but at the same time, you think you're young and healthy, and kind of invincible. That's not so much the case some-times." She added that even with current research advances, her daughters inherited a frustrating "50/50" chance of developing the same cancer: "We know that we carry this mutation, but we still don't know what turns it on and what turns it off."
The message is resonating across the harness racing industry, thanks not only to Harness the Hope, but also efforts like horse owner Lou Sorella's Team To The Moon - another breast cancer awareness campaign based out of Western Fair. Lou's wife, Marie, is a breast cancer survivor. "We're not directly tied to them, but I think what they're doing is absolutely outstanding," remarked Kristy. "There's no competition when it comes to this stuff."
On Friday, October 25, a reunion-like ambiance will pervade The Raceway once again. "I never really felt any hesitation from anyone," said Dustin. "Our industry is one that supports one another, and that's basically all that we did since the beginning."
Ontario racetracks were quick to adopt the cause and fundraiser in its early years, and on July 27, 2019, Harness the Hope held its first-ever event in another province. "It launched out in Charlottetown this year," noted the proud event co-founder, who attended the special night at the flagship Red Shores racino, where they raised an amazing $43,068 for the Canadian Cancer Society of PEI in support of breast cancer research. "It was an absolutely amazing experience. We're incredibly proud of what they've accomplished out there."
Other tracks which have indicated interest in hosting future Harness the Hope events include Truro Raceway and Clinton Raceway.
Another means of raising money for breast cancer research and programs is set to launch at this fall's Black Book Yearling Sale in Harrisburg, Pennsylvania. Kristy shares that Twinbrook Farms of Embro, Ontario reached out to Harness the Hope with a philanthropic plan for a well-named colt. "They offered to donate a portion [4%] of the sale price of Twin B Fighter. That right there is an indication of what people are willing to support in the industry."
The Bettors Delight colt is Hip #13 in the opening day session of the yearling portion of the sale on November 4. He's a half-brother to Twin B Tuffenuff (p,2,1:51.1; 4,1:49.4f; $268,716), being out of 'In The Pink', a Dragon Again half-sister to the 2010 O'Brien and Dan Patch Two-Year-Old Pacing Colt of the Year, Big Jim (p,2,1:49.1; $1,541,924).
Harnessing hope comes in many forms. "Mom and I have spoken with women within the industry who just needed someone to talk to, just simple stuff like that," said Kristy. She, mother Doreen, and sister Brandi, who shares in much of the work behind-the-scenes, are all "open books" when it comes to helping connect women to resources and practical information about life with (and after) breast cancer. Burnout can't keep pace with inspiration in the match race against breast cancer, even when the illness momentarily takes the lead. "I'm not gonna lie - it can be taxing and it can be stressful at times, but we have the big picture as our finish line and we don't do it alone," Kristy pointed out. "We do it with a ton of help. At this point, it's not really an option for us to not do it."
---
Donations of penny/silent auction items to the Harness the Hope night at The Raceway at Western Fair are welcomed up to October 15. Donors, volunteers, and anyone seeking help after a breast cancer diagnosis is invited to contact Kristy, Brandi and/or Doreen via their Harness the Hope Facebook page (@harnessthehope); search "Harness the Hope Ontario". They can also be reached by email: [email protected].