I own parts of some racehorses. I have a horse that won an open pace, another that won an open trot, a horse that won a PASS race, an OSS Grassroots race, and even a horse that won The Gold Cup & Saucer. For many that read this, you will think 'So What?' - no big deal. Well for me it is, and for those that wonder why, this is my story, and it's a true one.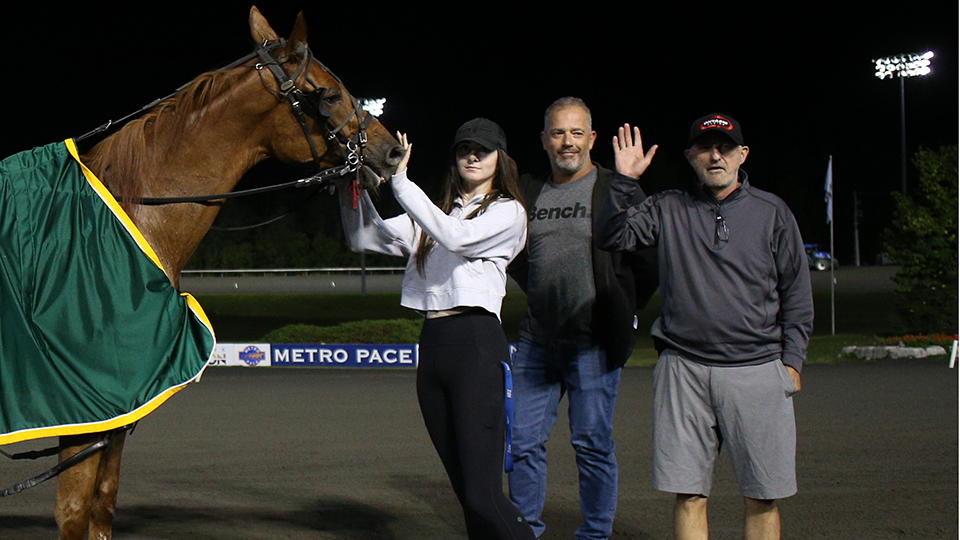 Tom Hebert (second from right) with Resolute Bay at Mohawk (New Image Media)
I don't have any family or relatives that have been in horse racing in any way - not even a cousin twice removed. My family have been gamblers in the racing industry though. My grandfather, father and uncles love Standardbred racing, with very little interest in Thoroughbred racing. We'd go to Windsor Raceway, probably attending 80% of live race cards, venture to Hazel Park in Detroit and on occasion Raceway Park in Toledo. We would even go to Windsor to bet on Woodbine/Mohawk simulcasting before the HPI days. I would sneak around the track and visit trainers in the back paddock. I recall a smaller horse named JW Barbara and another was Keystone Journal - I think they belonged to local trainer Bob McIntosh. I would cheer on my favourite driver Bill Gale - the best first-over driver ever - and I would hop in pictures of races he won. If you know Bill Gale I was in a lot of pics as he won a lot. I used to have books of race lines, charts of my horses, with breeding lines, trainers, and drivers - of course that was usually Bill Gale. I approached the track announcer once to hear or see the call of a race. He was amazing and showed me how and where they charted horses, and where the judges sat. It was the new Hall of Famer, Frank Salive. I would harass him so much for information… we became good friends. I went to the Breeders Crown in 1993 when he worked at Mohawk. It was a 5/8th mile track still. It was an amazing experience watching one of the best all-time head-to-head battles with Shady Daisy and Swing Back duking it out in the stretch, Staying Together mowing down the field, and Frank getting emotional over Lifetime Dream's 'Lifetime Dream' win.
Our family dream was to own a racehorse, but I really thought it would be just a dream. We could never afford to buy a horse, which is a challenge on its own, and without really knowing or being set up with a trainer to help you or guide you through the process. Even licensing, as a small example, was difficult. So it would be left up to blind luck, and to lose on that one investment you would be out of the business just like that. As a gambler we knew the odds, let's say. I more than remember the talks about what a bad drive a guy gave, or if the #4 horse got out he would have won, etc. My dad loved racing more than all of us. He loved lots of the big races, like the Breeders Crown, North America Cup, the Meadowlands Pace and the Hambletonian of course, but he loved the Gold Cup & Saucer and the Little Brown Jug the most (He went to Delaware for the Jug once). I would hear how amazing it would be to be part of winning the Gold Cup or even just being there. He would say it over again and I would laugh and say 'The Gold Cup isn't The Pace you know'... not remotely understanding what I know today.
So as time went on, my grandfather passed away, and five years ago my father passed away at just 59-years-old. Racing took a hit, let's say, for me for about a year or two. Working away, chasing jobs to earn extra money here and there, I began going back to races as time progressed. I soon heard about fractional ownership, did some more research and I realized I can actually do this. I can now buy part of a horse, not incur the total cost, just maintain a percentage and pay that share of the bills as such. The winnings wouldn't be great but the losses also wouldn't be great, and I would be a part of something I love. So I found thestable.ca website. I looked through the list and that particular day there were not many options to buy. So I bought five shares in a horse for $1,959.46, I just wanted in, from there on I'd figure it out. I read the owner information, got my login, and the information overload began. Every piece of information a newbie could want was there - how to get licenses, order pictures, when horses are entered, and then there are the videos… Anthony MacDonald talking about each and every horse, what they're doing, how they are training, if something is wrong, and if there is, the background on it to gain understanding - I loved it! There was a sale coming up in New Jersey with a list of horses he was looking at, and he was seeking out those who had interest in potentially purchasing shares. The sale happened and I emailed asking about Kings County. He was my first horse that I did homework on, watched his races, and then bought shares. I really felt a part of it. Now I was hooked. I probably asked Anthony about 500 questions the first two months, and he took the time with someone that just spent $2,000 not $50,000 - and at no point did I feel like I was annoying him. I go to the barn on the regular and always feel welcome. I see the horses, the staff ask who I own, and time-permitting many give you a run down of how the horse is doing. They treat me like I own all of the horse and not the percentage that I do. In fact, my very first experience was one of the best ones. I walked in the barn and did a pause, just taking it in. A man walked over and asked if I was ok. I said yes, that it had just been in a while since I had been in a barn and I'd forgotten how much I missed it. The man was Harry Poulton, and I'm thinking to myself that he trained Matts Scooter and On The Road again - how amazing.
As this year progressed and I got more involved, I got in on more horses. Even if I would ask silly or stupid questions, each would be answered way sooner than I ever expected. It did not matter if I owned 3% or 20% of the horse, the response would be the same - even If I asked or commented on horses I didn't own. Anthony, to his credit, has made me feel like I'm Bradley Grant, a real, big-time owner.
I carry my dad's memory of wishing we could own a horse in each thing I do with TheStable. I very much recall how we thought it could never be a thing for us.
The summation of sorts really came in August and September of last year. I had shares, as it so happened, in two horses that were in the final of the Gold Cup & Saucer. One was Patrikthepiranha, still probably my favorite as I prefer pacers and he's an open pacer. The other was Sintra, a savvy champion we had just gotten a month or so before. I decided I better go to this event because my dad would have been dragging me onto the plane to go if he was alive. Well all I can say is that other than the pure dollar value of it, there is no way that any big races can compare to the Gold Cup & Saucer. They call it Old Home Week and all of the events lead up to this one big race. The amazing people of PEI host this event with such pride. My dad knew it, but I just didn't see it at the time. The race was incredible. The only horse that could have beaten Sintra that night was Patrik, but the long post parade prior to the race made him too hot to handle. I was very excited for Anthony, who showed more emotion than I'm sure he expected, as an Islander winning his first Gold Cup & Saucer. When the trophy was presented, Anthony was looking for me, and gave it to me immediately. I do not know why, maybe he doesn't either, but It was a great moment that I'll always remember and appreciate. There were probably 150 people around the winner's circle, and there I was, a person that didn't even know anyone that had horses in the industry before I found TheStable, holding the Gold Cup & Saucer in one hand and Sintra, the winning horse, with the other - in the middle of the winning picture of a race that my dad just dreamed of attending.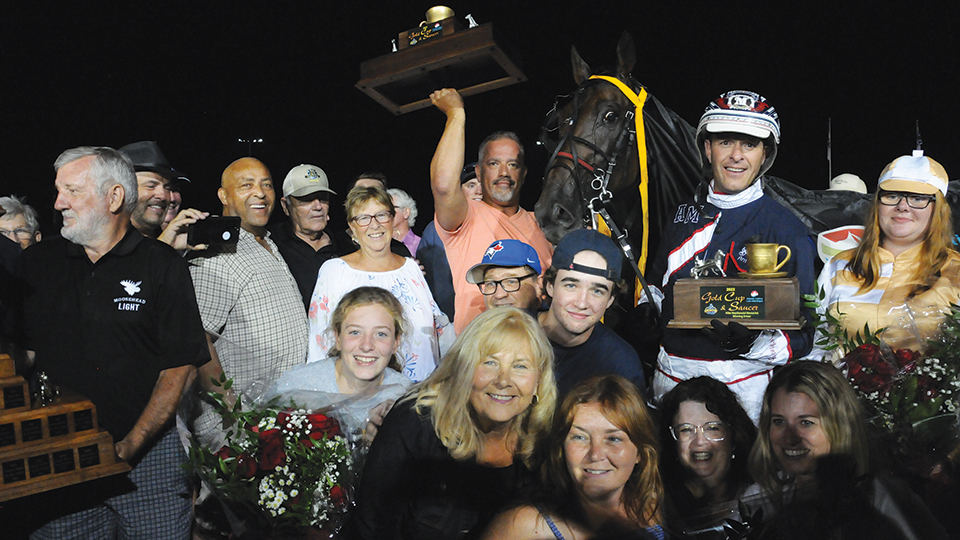 Tom Hebert (peach shirt) hoists the GC&S trophy high (Gail MacDonald Photo)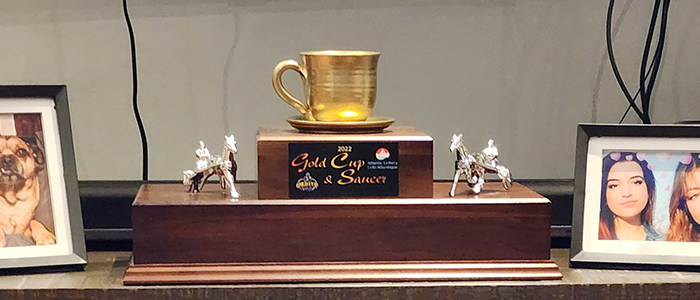 2022 GC&S Trophy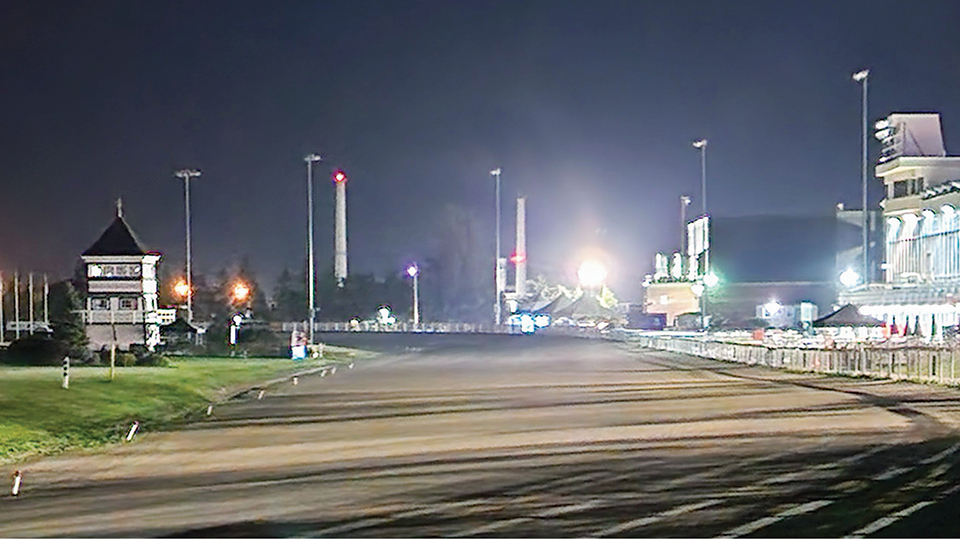 A photo taken by Tom while walking the track with the trophy at 3am
There are better stories out there I'm sure, and I'm not professing my story to be special to anyone else other than me, but I guarantee that my story is not a story without TheStable, and for that I am beyond grateful.
There are probably thousands of stories like mine out there in-waiting. People looking for the knowledge and ability to truly be part of something like the harness racing industry. The industry needs to push and endorse fractional ownership, and hear the voices of the Anthony MacDonalds out there, because the legendary owners like Bradley Grant are few and far between, but there are lots of potential owners like me.