On the racetrack, Illusionist was a once in a lifetime performer, with a never give-up attitude. But nobody could have prepared for the battle she'd face as a broodmare – fighting for her life, and the survival of her brave foal.
Story by Keith McCalmont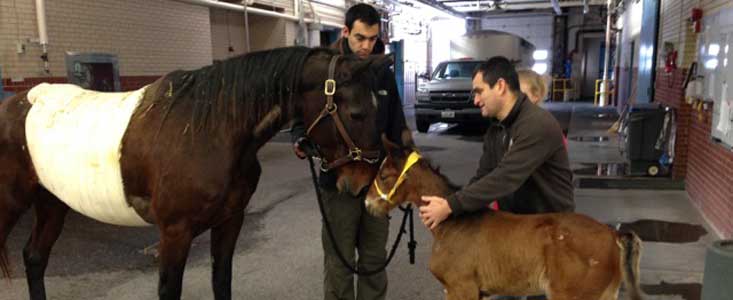 Albert, a stubborn and struggling Mach Three colt, was pulled from his mother by Caesarean section on a Wednesday afternoon and hurried into intensive care as his mother, the millionaire pacing mare Illusionist, fought bravely for her life on the operating table of Dr. Michael Archer.
Born two weeks premature, Albert, weighing in at 130 pounds was unknowingly killing his mother from the inside out, the sheer heft of his unborn body pressing on Illusionist's abdomen wall and threatening to rupture her prepubic tendon.
Staggered from the anaesthesia pumped through his mother's body, Albert was carried to a stall and pumped full of oxygen and fluids to keep him alive.
Only then did he start to deteriorate.
"We inserted a tube into his abdomen to start feeding him and he was doing fairly well at the beginning," offered Dr. Luis Arroyo, a veteran presence of Ontario Veterinary College's reproductive unit. "Albert was born at two in the afternoon on a Wednesday but he started to regress by early Saturday morning."
Albert struggled for each and every breath of air, not knowing a surgery of his own was soon to come, while Illusionist, settled into recovery from a difficult and invasive surgery, continued to fight the pain and threat of infection as a team of physicians and technicians, many of them volunteering their time, worked around the clock to provide what little comfort they could.
It's a story that simply shouldn't have a happy ending.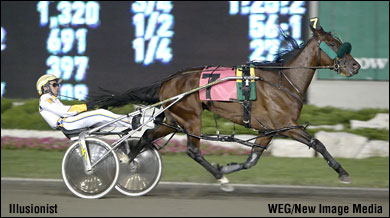 Illusionist, p,1:50s ($1,008,307), or 'Lusi' to those that know and love her, was something special on the racetrack.
With 43 wins from 140 starts, the Camluck bay was as fast as she was durable.
When she retired, on January 1, 2009, she was the owner of the aged pacing mare track record at Clinton, Flamboro and Woodstock. In addition, Lusi also held the three-year-old pacing filly marks at Hanover and Hiawatha Horse Park.
Dave Lumsden, her owner, looks back fondly on her time at the track.
"I had her with a partner when she was a three-year-old and from four-year-old on I owned her one hundred percent," says Lumsden. "She was tough on the track. As a three-year-old, she was third in a Gold Final and won the Grassroots Championship that year. Not many of them race in both but that was the year Invitro was in there. When we moved her to the Grassroots, that was a little bit easier."
Not that Illusionist needed the bar lowered to be competitive.
"She won 43 races and set seven track records in her career," says Lumsden. "She went in :52 at Flamboro way back when she was four which was pretty much unheard of on a half-mile track."
Well-travelled and well-respected, Illusionist, a winner at 12 different racetracks, would capture the Masters Series at Georgian in her seven-year-old season, before retiring on January 1, 2009 with a second-place effort at Flamboro Downs.
"We had so much fun with her and she's been good for us," Lumsden laughs.
Little did Lumsden know at the time, he would soon step up to pay her back.
Retired to the picturesque landscape of Hillsborough Farms in Millgrove, Ontario, a mere ten minute drive from Flamboro Downs, Illusionist settled quickly into life as a broodmare under the watchful eye of Darlene Hayes.
Bred to the incomparable Somebeachsomewhere, Lusi produced a lanky filly named Lido Magic who didn't make it to the races but is a promising broodmare now in foal to Sportswriter.
Two years later came a Mach Three filly by the name of Mach Magic, who is currently training down for her two-year-old season.
"Lusi has big babies," says Hayes, a veteran horsewoman with more than 25 years experience foaling out the equine stars of the sport. "Her first two foals were fillies and both were 125 pound fillies. On average, 100 to 110 pounds is normal for a pacing mare.
"Although the first babies came the right way, they weren't easy pulls. My husband Derek and I had to work to get those babies out."
Bred back to Mach Three in February of 2013, Illusionist seemed well on her way to full term enjoying her life as the boss of the barn.
"She's the most stoic and toughest mare I've ever come across," says Hayes. "She'll kick the wall for no reason other than to let the other horses in the barn know she's there. She'll run her teeth along the boards to let them know she's there. She takes no shit from other horses.
"She was a tough racehorse and she was known to be a bit of bitch when she was racing, and she's taken that with her into motherhood. She doesn't intentionally go out and pick on everybody but she definitely holds her own."
Perhaps worried she's making a monster out of the mare she loves, Hayes is quick to point out that Lusi, "…loves people and she's an incredible mother and very protective of her foal. It's just that Lusi knows she's a good horse."
Capable of announcing her presence in the barn and on the track, the stoic Lusi, in the weeks approaching her foaling date, was doing her best to hide her pain from Hayes watchful eye.
"I noticed that she was a little off on the camera monitors watching her through the night," recalls Hayes. "I went out to do chores one night and she was munching on hay but she had a dull look in her eye and I knew something was off.
"The next morning she ate up but still had this dull look. She was showing no sign of pain other than when I went to turn her out... she wouldn't move. She planted herself in her stall. Her flank area started to tremble and when I checked her heart rate, it was really elevated into the high 60s."
Something was terribly wrong and the stoic Illusionist, determined not to give away any sign of weakness, was fortunate to have Hayes looking over her.
"Any normal horse with a high 60s heart rate would be pawing and rolling and showing definite signs of colic but this mare was not," states Hayes. "She's just that tough. You have to know her to know that she's off."
Hayes called in her local veterinarian, Dr. Keith Colquhoun who confirmed not only the continued presence of a live foal, but also Hayes' fears that Lusi was in need of vital medical attention.
"Within an hour of Dr. Colquhoun checking her we were at [the Ontario Veterinary College]," says Hayes.
At the time, just two weeks away from her foaling date, it seemed unlikely Lusi would ever return home.
Just when you think you've seen everything, Mother Nature has a way of reminding you who is boss.
Such was the case for Dr. Arroyo, approaching his fourteenth year at the Ontario Veterinary College, and very much enjoying his day until presented with the bulging belly of Lumsden's millionaire mare on Monday, January 6.
"In this particular case, it was like going to Hawaii and seeing a new volcano being formed," he recalls. "Our reproduction team assessed her and we had suspicions about a rupture of her prepubic tendon and by Wednesday, there was a bulging occurring and that's when we had to make a quick decision to take her into surgery and perform a C-section."
While a C-section is common enough if a mare is already in the process of foaling, the decision to make the cut prematurely was an unusual one.
"An emergency C-section in very uncommon and, for me, the first one," said Dr. Arroyo. "But, this was an extreme case. It's fatal. If the mare goes to full term she will have to be euthanized."
Dr. Arroyo found himself in the awkward predicament of advising Lumsden that he might be able to save the mare or the foal, but not likely both, and neither outcomes are guaranteed.
"You have two columns and one is the column for the mare and the other is for the foal. In order to give the mare, who is very valuable and very special to Mr. Lumsden, a chance for survival you will have to take all the weight off the abdomen wall to give her a chance. This means the chance for the mare is high and the chance for the foal is slim, but this is the drill we had to go through," he recalls.
The odds didn't phase Lumsden.
"It was expensive but she's one of God's creatures and deserves a chance to live. She made a million dollars and we have to do everything we can for her. She was so good for us," says Lumsden.
Time was of the essence and experience in such cases is limited so Arroyo immediately began consulting with as many experts as he could.
"I reached out to many colleagues. This was a huge team approach between the reproduction department, the surgeons and medicine department here [at the Ontario Veterinary College]," says Dr. Arroyo. "I also spoke to some colleagues in Kentucky who had experience in these types of cases as to what potential outcomes are possible to save Lusi and it confirmed we needed to take her to surgery.
"I spoke to one of the senior surgeons at Rood and Riddle in Kentucky and asked for his advice, and we spoke about the priority of the case and with Lusi being the priority, he agreed we were required to take that weight off her abdomen."
Knowing that Albert was in for a fight, Dr. Arroyo did what he could to give the unborn colt a leg up.
"We had a chance to give the mare a couple injections of dexamethasone which would speed up the maturation of the baby a little bit in order to do the C-section," recalls Dr. Arroyo.
On January 8, Dr. Archer performed the C-Section and attended to the tangled and torn mess of Lusi's insides as Dr. Arroyo and team watched on.
The surgery lasted nearly three hours.
"He was able to open the mare up and get to the baby quickly," says Dr. Arroyo. "It was stressful to see the tear on the mare's abdominal wall and Dr. Archer did the best he could to repair the damage, but there was very little he could do to fix it as it was too large. We just had to close it up and hope that she would heal on her own."
A veritable fleet of the Ontario Veterinary College's employees then busied themselves tending to the 24-hour care that mother and son would need for even the slimmest chance of survival.
"Albert needed to be fed every hour and at the beginning it was a feeding tube from the nostril to the stomach. Eventually, he was taught to feed from a bottle," explains Dr. Arroyo.
Still in a critical stage, just hours old, Albert began to struggle with breathing unable to expel carbon dioxide. His lungs were failing.
"At that point the options are very limited – either he is ventilated or he has to be euthanized," says Dr. Arroyo.
In the midst of clinical explanations, it is endearing to hear Dr. Arroyo use the type of slang he most likely hears at home from his three children, to describe his patient.
"It was hard for everybody. You don't want to have your hopes too high but once you see the foal come out, you immediately change your mind. He's such a cutie and you want him to survive."
It was personal for Dr. Arroyo and fortunately for young Albert, Lumsden was determined to see the treatment through.
"Mr. Lumsden decided he wanted to take the chance. He saw the foal that morning and really liked him and it is a credit to Mr. Lumsden that if this foal had a small chance he wanted to give it that opportunity," says Dr. Arroyo.
The great expense incurred to put Albert onto a ventilator by no means guaranteed good health.
"Of the cases we take there, most of them don't come out alive," states Dr. Arroyo matter-of-factly. "We took this foal to the ventilator and kept him on there for 60 hours until Tuesday. He did really well on it and when we weaned him off the ventilator he did well."
Albert in the first week of his life, yet to enjoy all but the groggiest of introductions to his own mother, was proving to be a fighter.
While Albert fought for air, Lusi fought the pain of her recovery.
She stood in ice buckets to reduce temperature caused by fever and endured bandaging and medications to battle infection and certainly struggled the confusion of a painful birth with no foal to care for.
But all that was about to change.
Albert, off the ventilator and learning to walk, was stalled some ten metres from Lusi, and though it's uncertain whether they could sense each other's essence through the clinical scent of an equine hospital, a chance meeting turned out to be love at first sight.
"When we walked him in front of her stall, the mare was very interested in him," recalls Dr. Arroyo.
In almost all cases, when a mare and foal are separated after birth the mare will reject her foal at next introduction – but not Lusi.
Meeting for the first time in a hospital hallway, Lusi and her young foal touched noses and motherhood, if it had ever stopped, began.
"The mare really liked the foal and she was happy. It's very unusual for a mare that has been away from a foal for so long to show affection. When we took her away from him she was very upset so we decided the next day, with more staff on, to put them together and they've been together ever since," grins Dr. Arroyo.
Unable to nurse her young foal, Lusi wanted only to be in Albert's presence.
"They are super attached and wherever he goes, she wants to go," laughs Dr. Arroyo.
Three weeks into their stay at the Ontario Veterinary College, and it's worth noting that Dr. Arroyo was there each and every day, Albert developed an abscess near his bladder.
Poked and prodded with tubes and needles for much of his young life, Albert, ringing up more vet bills than a team of racehorses, was forced to endure one more indignity by going under the knife to remove the abscess.
And yet, somehow, he flourished.
"The baby improved every day. He showed something new each day. A will to get up and to nurse and to do something, and I think that's what kept Mr. Lumsden going," says Dr. Arroyo. "The foal showed determination. The last complication was the surgery to get rid of the abscess and despite that he was still fighting. Once we removed the abscess he showed significant improvement very quickly."
On February 4, nearly a month after being admitted to hospital, Lusi and Albert were finally going home.
The exhausted and exhilarated staff of Ontario Veterinary College turned out in full force to say their goodbyes and offer well wishes to the animals they cared for 24 hours a day, seven days a week for nearly 30 days.
A cautious Dr. Arroyo is in near disbelief at the prospect that both mare and foal have survived.
"This is the first foal I've seen come off the ventilator and go home," says Dr. Arroyo. "Two weeks after the surgery I spoke to Darlene at the farm to make sure all is going well. I'm still nervous and worry about them. They still have their bandages but the mare is doing fantastic. She'll need six to eight weeks to recover from this surgery so I'll be nervous yet for some time."
Not only did Lusi and Albert's recovery provide the Ontario Veterinary College team with a reason to celebrate, they also left behind a valuable precedent for dealing with reproductive emergencies.
"The whole process from a medical perspective to a communication perspective was a huge learning curve and I'm happy to have been a part of it," says Dr. Arroyo. "Someone very smart once said, 'I will quit my job when I stop learning'. I hope that I continue to learn with every case.
"In the beginning we wanted to save the mare but in the end to have saved the baby as well was a very nice outcome. The team came together."
Lumsden, ever appreciative of the staff for their attentive care can only laugh as he recalls the celebration, "There were at least 50 people there and it was like a rock star was leaving …all the girls were crying!"
As the tears flowed at the Ontario Veterinary College, Lusi and Albert arrived home, together at last, at Hillsborough Farm.
Though she's been through hell and back, it was the same old Lusi that returned.
"The first thing she did was go back into her stall and take a big old roll, which worried me with the stomach issues and the bandages on," recalls Hayes. "And then she literally walked over to the wall and kicked it to let everyone in the barn know she was back. It brought tears to my eyes."
Sadly, Lusi's life as a broodmare has come to an end.
"We could use her eggs down the road, in vitro, but I think she's done enough," says Lumsden. "We're hoping that this little guy will step up and carry on her name. When the little guy was on the ventilator, he looked like some kind of rag doll and now he's chasing Darlene Hayes around the barn up at Hillsborough. It's incredible."
Illusionist, stubborn on the track and on the operating table, has earned her retirement.
"We'll leave her with Darlene and let her be a mare and enjoy her life. She's 13 now and she deserves it," says Lumsden. "We'll always own her she can live at Hillsborough for all her days. It's a beautiful place to bounce around and eat her grass and kick all the other mares in the 'you know what'... she's the toughest of the bunch!"