For much of the past century, fashion and horse racing have been closely linked. But has harness racing been left behind? Ashley Mayotte looks at the connection, and asks if it's time for the standardbred game to adopt a new look.
Story by Ashley Mayotte / Photographed by Fashion and Farm Country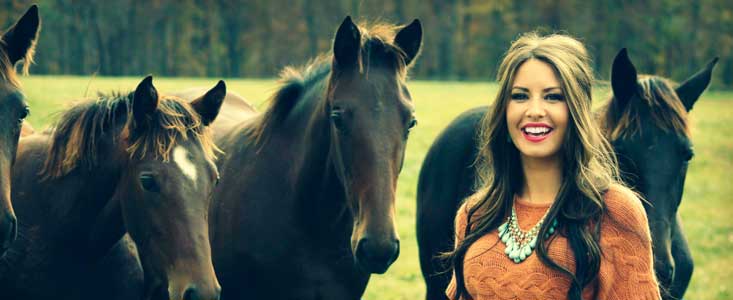 If you search "Kentucky Derby," "Royal Ascot" or "Melbourne Cup" in Google Images, what kind of photos do you think predominantly appear?
If you guessed race shots of some of the world's best thoroughbreds crossing the wire or thundering down the stretch, sorry to say you're incorrect.
Those photos do appear, but images showcasing beautiful women in sundresses, donning elegant or elaborate hats and fascinators dominate the search results.
Since the conception of the Kentucky Derby in 1875, Colonel M. Lewis Clark Jr., the founding father of the Run for the Roses, envisioned creating a luxurious and comfortable event that was influenced by European horse racing.
Fashion was one way to make his vision a reality.
In 1901, a journalist from the Louisville Courier-Journal best described Derby day: "The seats in the grandstand were filled with gaily dressed women and men. The mass of green, pink, red, yellow, blue, all the colors of the rainbow, blending into one harmonious whole was as beautiful a sight as His Eminence in the lead."
In 2014, it will be the 140th running of the Kentucky Derby at Churchill Downs and the fashion is still just as important as the four-legged athletes.
It is undeniable that fashion is deeply-rooted into the rich history of horse racing.
On-track events where fans are encouraged to dress their best for a day or night out and walk a red carpet have become staples in the closets of thoroughbred racetracks. They are one of the ways to market and promote the sport's major stakes races and attract new fans and a younger generation.
And who better to have facilitating fashion-based events and promotions at the races than international supermodels
Sports Illustrated Swimsuit model Kate Upton was a spokesperson and ambassador for this year's Breeders' Cup World Championships at Santa Anita Park, while New Zealand Thoroughbred Racing (NZTR) named blonde bombshell Kylie Bax Poros its ambassador for their 2013/2014 meet.
"We have a lot to gain by keeping the youth excited about such a traditional sport in our country," said Bax Poros, who has graced covers of ELLE, Harper's Bazaar, Marie Claire, Maxim, Sports Illustrated, Vanity Fair and Vogue.
The New Zealand-born model and actress has been involved in the thoroughbred industry since she was a child and has since loved the sport and the ambiance of racing. As part of Bax Poros' new role, she attends NZTR's major stakes events emphasizing the fashion and that thrilling ambiance.
"New Zealand has its own unique fashion and style and we strive to keep our culture as well as bringing in international flavor," she said. "We have many initiatives that are taking hold in New Zealand racing that incorporates fashion, beauty and many things trending in the moment. Our culture is important and part of our culture is a day at the races."
Bax Poros, who has walked the catwalk for many major designers, stresses that fashion and racing are a dynamic duo.
"Fashion and racing have gone hand-in-hand for many years all over the world," she said. "It is the glamour of the ladies and beauty of the horses that epitomizes the industry."
Briana Mott, CEO of Fashion at the Races, a company promoting its namesake, echoes that sentiment.
"Fashion applies to every person in this world," said the Kentucky resident. "It's not a small niche like racing is. When you have a small niche to market, you need to align it with something that everyone can relate to and your niche can have a much bigger reach."
Fashion at the Races was created to raise the bar on the fashion worn to the races as well as attract a new fan base to tracks and put racing back on the map as a must-attend sporting event.
"In the world today there are so many choices for people to spend their time and money," explained Mott. "Racing has fallen to the bottom of the list on people's first choice for entertainment. I think in part that is due to the lack of marketing, but also its perception of just being a place of gambling. Rather than showing racing as a man in cutoff jeans and a Hawaiian shirt with a racing form, why not show a man in a suit with a winning ticket?"
Plus if you entice more ladies to the track, she says, the gents will follow.
"Where there is one girl, there are two guys chasing after her," said Mott. "So putting 100 plus well-dressed ladies on track will eventually have a substantial increase in attendance just doing that math alone."
It's no surprise that fashion and fancy hats have always been part of the 154-year history and tradition of North America's oldest continuously run horse race, the Queen's Plate.
In 2012, Woodbine Entertainment Group (WEG) introduced the Hats & Horseshoes Party, a red carpet event, to the Queen's Plate roster to encourage a new generation to enjoy and participate in horse racing.
It's a winning concept.
"By teaming up with local fashion bloggers and influencers in 2013, WEG was able to spread the word that the Queen's Plate is a must-attend fashion event of the summer and invite all guests to dress up, get creative and walk the red carpet in style," said Laura Steacy, Marketing and Events Representative for WEG.
"The event proved to be highly successful with over 35,000 attendees, most of which showed up dressed to impress, achieving exactly what WEG had planned in terms of introducing a new audience to the sport of horse racing," she added. "Roughly 30 per cent of Hats & Horseshoes attendees had never been to Woodbine before."
The numbers cannot lie. If fashion focused events are bringing so many new people to the track, then why isn't harness racing following more in the hoofsteps of the thoroughbreds?
North America's leading trainer Ron Burke believes that more standardbred tracks should give it a try.
"Anything we can do to get more people in," said Burke, who is known for being well-dressed at the track. "I think we do have to get rid of the idea that we are the hick cousin to the thoroughbred game.
"I went to the Breeders' Cup and it just was one person dressed nicer than the next person," he continued. "I think we should maybe make our game more like that, make it seem special. If it is special, people will maybe come out more, enjoy it more, to make it a destination. I think that is what The Meadowlands is going to try to do."
Fashion may be less apparent in harness racing today, but that doesn't mean it didn't exist in the past, doesn't exist now or shouldn't exist at all.
"I am old enough to remember it used to be a much more formal thing than it is now," said 44-year-old Burke. "I don't know if I would go back that far, but I do think we need to make it back to where it seems like a special place to go. I am one of the people that actually likes dressing up so it's not a problem for me. I like it."
Jennifer Rose Byrne, editor-in-chief of the new Fashion & Farm Country magazine, is on a mission to bring fashion back to harness racing's major stakes events and ultimately create new fans of the sport.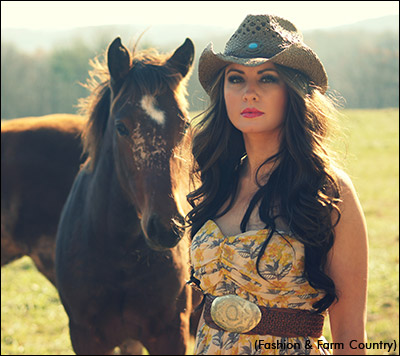 "I think it is so great to integrate the two because while not only do people have a reason to dress up, but they are getting exposed to an incredible sport and industry that they could really end up following in love with," said the 25-year-old granddaughter of Fashion Farms' Jules Siegel. "I am hoping that the magazine will help give harness racing a lot of exposure to people who have never seen it, especially people in the younger generation. And it has started to."
The Fashion & Farm Country magazine launch tour encouraged fans to come out and strut their style at some the year's biggest events, including the Hambletonian, Little Brown Jug, The Red Mile's Grand Circuit meet, Breeders Crown and grand opening of The Meadowlands' new grandstand.
At each track the set up was the same, Byrne would have a booth with their merchandise and magazine, and a red carpet with a 'Step and Repeat' where attendees could get their pictures taken with the Fashion & Farm Country girls.
"This is a reason to remind people that we can dress up in standardbred racing, too," said Byrne. "We can do this. It's a racetrack, it's racehorses; they are incredible. We can all get dressed up, too. So why not?!"
Byrne, who does the majority of the photography for the magazine, believes that the excitement of harness racing is even captured in a still image, which makes for a stunning backdrop for her fashion photo shoots.
Harper's Bazaar recognized that beauty and used Meadowlands Racetrack as a setting for an nine-page fashion spread for the September 2012 issue, seemingly making a statement that harness racing is fashionable.
Fashion does not stop with the spectators. Like in many other sports, the professionals also dress up pre- and post-game. It is what professional athletes do. Hockey players, for example, have been required to wear ties for games since pee-wee level.
Not all standardbred trainers can, but there are trainers that have large enough operations who will change from their training suit to a regular suit or sports jacket.
Burke is one of them.
But it took one unflattering photo to put the importance of a professional image into perspective.
"The one time I won a Breeders Crown and I had flown in from the beach, I had a t-shirt and shorts on and it looked horrible," recalled Burke. "One of my older owners said, 'That looks bad. It looks like you're going to the beach, not the Breeders Crown.' And I thought, 'You know, he's right. That does look bad.' And ever since then I've made an effort, especially on big nights, to dress better. It's a big night and important to the industry. We should all try to make it more important."
Many tracks all over the world are successfully using fashion-centered events as a draw to attract new fans to a sport that needs new blood. Maybe one day when searching the "North America Cup" or the "Hambletonian" on Google Images, a similar result to its thoroughbred counterparts will appear, because in the end, if the concept works, it shouldn't matter the breed of horse that hits the racetrack.
"Harness racing is the same passionate sport," stated Bax Poros. "It has an elegance about it. I believe glamour and fashion in the harness industry would also elevate it, just like thoroughbred racing. Fashion is social, just like thoroughbred or harness racing. When both combine, it's magic."