An Indigenous Canadian who was born in Saskatchewan and is registered to the Cowessess Reserve there, Tyler Redwood has known that Standardbreds were his true calling since the age of eight.
Redwood, who has battled demons such as alcohol, drugs and racism for most of his life, eventually hit rock bottom and tried to end it all on more than one occasion, before a simple question from his young daughter helped him to see the light. Now sober for an extended period, it's the connection with his horses and the peace he gets from his native heritage that has him on the right track - in both life and racing. By Melissa Keith.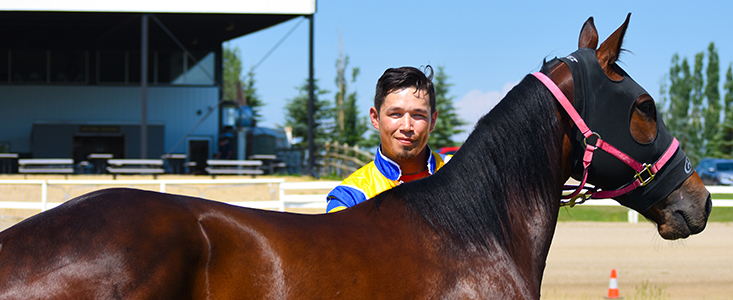 An Indigenous Canadian who is registered to the Cowessess Reserve - where recently it was announced that upwards of 751 unmarked graves were discovered near the site of the Marieval Indian Residential School - Tyler Redwood fell in love with horse racing as a youngster in his native Saskatchewan. It's his connection to his horses that helped Tyler beat his addiction to both drugs and alcohol, and it's the purpose and peace that he gets from working with them everyday that keeps him on the path to continued success as a horseman.
______________________________________________________________________________________
The redwood is the tallest tree on Earth, some standing over 90 meters high. These evergreens are survivors: At least one coastal redwood tree is known to be 2,200 years old and still standing. Redwoods have special characteristics that even allow them to endure forest fires that kill less-resilient species, to the degree that charred bark is often surrounded by bands of new growth.
Tyler Redwood didn't choose his last name, but it fits.
He's not the top trainer or driver at Century Downs, where he primarily races, but the 37-year-old is philosophical about his season so far. "You know, you get your ups and downs. Started off really good, really hot, with the right horses at the right time. Then everybody else seemed to get tighter. The last two days haven't been stellar, but I guess you're only as good as your last drive, right?
"I've been around for a few years here, but it's been so roller coaster, up-and-down, and then trying to break into that top five pack, it's really, really tough. You've got Brandon [Campbell], you've got Kelly [Hoerdt], Jamie Gray, Dave Kelly, Mike Hennessy… I pick up what I pick up. Try to make the best out of it now."
It's a long way from Saskatchewan, where he was three-time driver of the year (2009, 2011, 2012) and 2012 trainer of the year close to a decade ago. Only recently has he started rebuilding.
"I came back last year from a hiatus, and I came back never thinking I was gonna own one. I didn't want to own or train anything; just wanted to drive and shoe," says the farrier and horseman. "Next thing you know, it started spiralling: One horse to two horses, two horses now to six! Six is about the right number to do everything I want to do: Stay up on driving, stay up on training, and stay up on shoeing."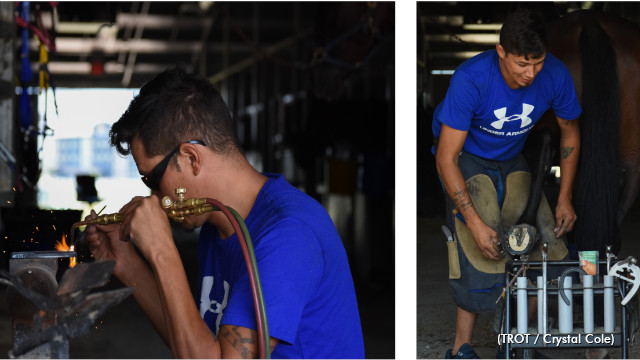 Redwood's shoeing skills are in demand, with a 60-70 Standardbred-strong equine customer base. He's also busy running his own racing stable. "I have those six in training right now, with just two racing. I have one two-year-old, and then I've got two aged horses that I hope will be qualifying this weekend," he tells TROT. "They're pretty decent cheque-getters. I had a pretty decent year with them last year. They got a little unhealthy on me during the COVID breaks. I was just taking time and bringing them back properly."
The thoughtful horseman is bringing back his career with similar care in Alberta, in no rush to chase down the titles he held in his home province. Redwood's goals are more personal than wins and purse money alone. "My very first day ever seeing a racehorse was at Queensbury Downs," he remembers. "I was in elementary school. Some people say they have their calling: They know when it is, what it is. When I think back now, of my first encounter with them [racehorses], I know now that this is what it was."
At eight-years-old, he had found his calling.
Born and raised in Regina, Redwood hadn't spent his earliest years around horses. His father, Kelvin Godlien, introduced him to the sport at the local racetrack. "When I was able to see my first horse and touch my first horse there was something there that I was missing," he recalls. "I always kept asking, 'Can I go back?' Right after baseball, I'd get to the track. After school, I'd get to the track. I just wanted to hang around and be in touch with the animals."
He didn't have one backstretch mentor; he had all the mentors. "I was a little social bird then. I wanted to go to everybody's barn," he recalls with a chuckle. "I loved it. I learned from a lot of them." Redwood recalls "the likes of Laverne Turnbull, Robert Baxter, Porter Hill and the Schedloskys" showing him the tools of his future trade. "A lot of great people were from that timeline. The age gap was so drastic between myself and the old-timers and there was no young generation coming, so I had to hang with those old guys and try to learn what I could from them. I'd never ask - I just learned through my eyes."
Tyler's dad was a late-comer to the sport, but they teamed up with one memorable mare who brought them a Yorkton Exhibition win streak in 2012. "I didn't get along with her so I gave her to my father," says Redwood. "Her name was Judges Discretion . I just said, 'Here Dad, you have her, you keep her.' She won 13 races in a row and then I wished I would've kept her! I didn't have her rigged up properly, I would say."
On the surface, the Regina horseman was a homegrown Saskatchewan success. Reflecting on his years in his home province, they seem like they happened a very long time ago. "I had a very big stable for a few years there. We raced one day a week, we raced eight races, and some days I'd race 20 head, so I definitely had the numbers and had the stock to be in that number one spot," he modestly acknowledges. "I give a lot of the credit to my father for everything that had happened in Saskatchewan at that time because I wasn't the best person. I drank a lot."
Substance abuse isn't a topic many drivers want to discuss, even as rumours swirl and careers suffer. Redwood says his recovery depends on honesty about setbacks, and doesn't hold back. "I had some traumatic things that helped mould me back into a better person, right?" he asks, rhetorically, as he drives home one day after finishing barn chores. "If telling my story can help anyone else out there it's all worth it. Mental health issues, depression and substance abuse are reality to so many, and I just want people to know it's ok to ask for help," Tyler states emphatically.
At approximately one o'clock in the morning on September 24, 2012, an intoxicated Redwood was riding an all-terrain vehicle across a field, going to look for a fix, when he struck a tractor. He woke up in the hospital and subsequently required jaw reconstruction with steel plates and screws. "That was definitely a sobering moment," he admits. Alcohol has been a near-lifelong battle; the ATV accident was a personal call to action. "Since I got sober from alcohol after that accident I've had one slip-up. I had that relapse on August 11 [2018]. This August 11th will mark three years sober [from alcohol] after living six years sober [before that]."
Recovery is an ongoing commitment though. "For a while I was doing meetings. I had to get into a 12-step group and get to it," recalls Redwood. "But when alcohol was out of my life, it became drugs after that. I started hiding that, and it just spiralled out of control again. When I left racing for almost two years [2018 - 2020] it was because I couldn't manage the highs and the lows [of racing] without being high on something." His use of marijuana morphed into prescription drugs and cocaine. He hid the extent of his addictions from his family, until it was almost too late for a turnaround. "I didn't let them know until the mental depression side and three suicide [attempts] came from it. They didn't understand how bad it was. I punched my ticket three times, and He wouldn't let me in."
Tyler is now 19 months sober from drugs.
The father of three chokes up describing the words that motivated his ongoing sobriety. Living with his wife and children at the time, he was isolating himself. "My daughter asked me why I spent all my time out in the garage and not with them," he recalls. "That broke my heart. The next day, I went and got help. I've been on the path I'm on now because of that. I'm very grateful for my daughter. Those were dark days, right? She brought the dark out, and in shone the light."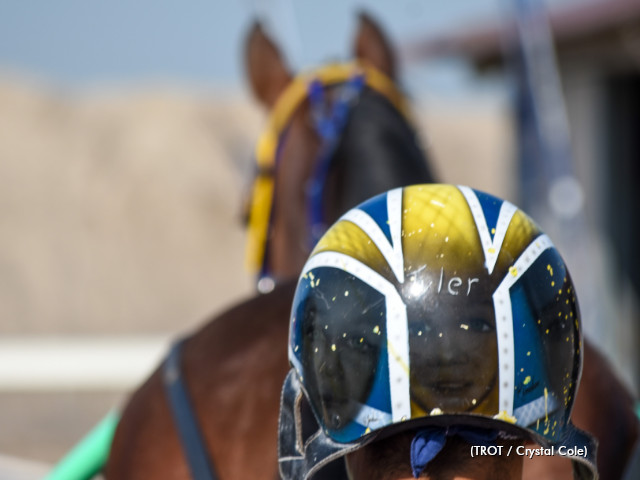 Parker is now 11-years-old. She lives with her mother and twin brothers not far from Redwood's home. Although his marriage was a casualty of his addictions, he has fortunately rebuilt a positive connection with his former wife. "We all live in the same town of Olds, Alberta," he explains. "My ex-partner lives five or six blocks away, not very far, so we still have a great relationship with each other and my children. We co-parent better than we were partners!"
Looking back, losing Saskatchewan's racetracks had amplified the career horseman's problems. Queensbury Downs permanently closed in 2002, when he was 18-years-old; Saskatoon's Marquis Downs ended harness racing in 2010; West Meadows Raceway sued the provincial liquor and gaming authority for diverting funding in 2014. A confidential out-of-court settlement was reached, but it didn't bring racing back to Saskatchewan.
"When horse racing was all you'd ever known..." Redwood searches for the right words to convey what it was like to lose his livelihood when in his prime. "I was granted permission to miss school to race horses," he explains. High school? No: "Elementary school. That's how much I wanted to do this.
"Then the government shuts our racing down, says there's going to be no more racing… What do we do? How do I continue feeding my family? That's why I had to make the venture and move away from home. Move my kids' mother away from her family to a new province and set up a new home for everybody."
Quitting harness racing was not an option. In fact, his sobriety and mental health have always been interconnected with horses. "It might have been something I wasn't getting at home, but those animals gave me what I needed at that time, and still do to this day. In my religion and my recovery I have to have something that I can give my thoughts, my words, everything inside of me that eats me, I have to be able to give it to someone, whether that be my Creator on the drive to the farm or to the track, or just by brushing my horses, giving them the attention. They take all that. They relieve all that bad energy because they need the love. They give you back what you've given to them."
Redwood shares the example of his mare, Star Flight. "I picked her up last year. She was finishing up the track, distanced all the time. She was not a very nice horse; a lot of drivers chose not to drive her anymore," he notes. He was also struggling, rebuilding his racing career after kicking substance abuse: "It was the first year back from my absence." Sitting behind Star Flight for the first time, June 14, 2020 at The Track on 2, Redwood says he recognized another troubled soul with potential. "I drove her and I just felt something in her. Even though she finished up the track, I told the owner, 'I believe there's something in here. I know there is.'
"We got talking for a few weeks and then nobody wanted her anymore. So we made a deal that I would lease her and then I would buy part of her. I just saw myself in this horse that was so broken down and beat down; the love was missing. She was just like I was when I was going to drinking and drugs. The love that was missing, I saw that in her. So I took all my love, my energy, my passion, and turned her into being an award nominee. That was last year."
Star Flight ended up a top-three finalist in the Claiming Filly/Mare of the Year category at the 2021 Alberta Standardbred Horse Association (ASHA) Awards. She finished third in her first race with Redwood as owner/trainer/driver last July 12 at The Track on 2, then on August 29 the mare took flight at Century Downs, wiring rivals by 6 ¼ lengths in a going-away 1:56.2 victory. Naturally, Redwood was in the sulky for her lifetime-best effort.
"I took her from being a distanced horse to winning six or seven races with her," says Star Flight's proud owner. "I put a new lifetime mark on her. Now, even to this day, the vet can't work with her, no one can work with her unless I'm around. We have that bond: 'I trust this man, he's given me everything.' That's how we are - a team." Now six-years-old, the mare is on a gradual road back to the races. "She has a lot of issues, and I work around them."
Redwood's approach might be at odds with operating a larger stable, where sheer numbers prevent excessive devotion to any individual horse, let alone an aged claiming mare with a past. But for Star Flight and others he handles, like last year's Alberta Sires Stakes Three-Year-Old Pacing Filly champion Miss Itunes, it works. "You can't fool them, right?" he asks, aware of the answer. "They feel your love. Even on the racetrack, they feel your energy. If you're having a rough day, a bad day, or you're angry, they're going to get angry right back at you."
There is healing in horses. Lately, they have become more important than ever in Redwood's life.
"I didn't grow up on the reserve but being born and raised in Regina I know a lot of my culture," he explains. His last name is from his mother's side of the family, '100 percent Native': "My ties are Saulteaux which is another part of the Ojibwa people."
Watching recent Canadian news headlines has been a depressing reminder of a not-so-distant past.
"This year is troubling times for a lot of us, right? When they found the unmarked graves of the 751 in Marieval, that reservation - Cowessess - is my reserve, where I'm registered to. So it was something that hit close to home," says Redwood.
Headstones were removed from the graves of Indigenous Canadians at the former Marieval, Saskatchewan Indian Residential School in the 1960s, making identification of the adults and children buried there difficult on many levels today. The school was closed in the late 1990s; families like Redwood's are now revisiting what may have happened to relatives who simply disappeared. As he puts it, "first, second, third generation families had to live through it and endure, and then reopen the wounds."
It's personal for Redwood. "I've got photos of one of my aunts that was attending the Marieval school. Once it all came about, I started doing some research to find numerous family members were there, and numerous family members probably that I didn't even know, who didn't make it home." He says his mother has not spoken much about the news. "We just try to take it in, deal with it little bits at a time. Hopefully it can all be healed and we don't have to live with that anymore. It's all in the open, and we don't have to wear that weight anymore."
No longer turning to substances to cope, the horseman finds purpose and peace in his horses, family, and spirituality. "I just believe in my Native American ways , my traditional ways," he notes. "I talk to my Father - my Creator. I pray. I cleanse my body. I do things like that to try to keep the negativity away. After learning that so many of my family members, that I never even got the chance to meet, went to that residential school, I lit my Sweetgrass [a ritual for healing and removing negativity] and I broke right down. Not everyday you're going to have a good day, but I can do the right things to make it dissipate.
"I think I had a great role model in my father. He had to provide for many, many children. There was like 11 of us. So his perseverance just ended up carrying on. Just because something stops or something ends, you've got to keep going forward. You've got to keep trying. Tomorrow will always be better."
The fact that harness racing is a sport with few non-white participants isn't lost on the trainer/driver. "I'm the only one here of distinct colour. There's been a time when it has mattered and things have arose from it," he shares. "When it used to bother me, I used to try and tell myself or tell anybody: I was born into this body. I used to hate myself… the skin I was born in. It's not like I had a choice though, right? But now I have a choice of accepting what I want. I don't have to accept the hate or the stigma that comes with it."
His easygoing ways have helped with Redwood's return. "This year, there were some fellow drivers who were injured through accidents and I was able to pick up a few drives," he tells TROT. "I was able to get my confidence back. People believe in me again. I believe in myself now. I can share that with the animal, I can try to shake things up."
Sea Sport is a perfect example. June 27, Redwood was listed to drive the three-year-old gelding at Century Downs. "I ask the trainer, 'What's this horse like?' I saw the charted lines on him; he doesn't look too stellar. I said, 'Do you mind if I shake him up a little bit, see if I can get him to leave?"
Sea Sport responded by sprinting off the gate, grabbing the lead and pulling away by four lengths for a 1:55 maiden victory. A winning attitude got the better of the tote board, which saw Sea Spray overlooked at odds of 40/1. "Just being confident in yourself, you can do confident things on the racetrack," advises Redwood.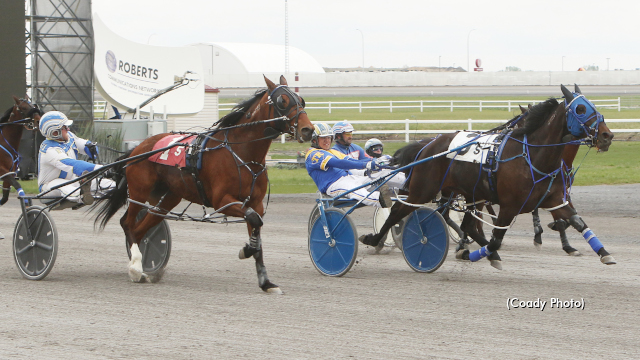 May 25, he and Miss Itunes pulled off a confident 28/1 shocker, winning with a well-timed three-wide move. "I drove her the first time: OK, maybe we got a little lucky. Then she showed me a few more things and I'm like, 'Geez, what a nice mare! Wow, this thing's got a motor in her - there's no end to her.'" She won her next two starts before encountering soreness, but he expects her to "come right back to her 'A' game" after a short break.
"I'm very glad to have people like Dave Lamont and Donna Wyse give me the opportunity they have over the years, and to accept me back this year as their driver," says Tyler, naming Miss Itunes' connections. It's a fresh start for the youthful horseman who looks forward to his kids being allowed back at Century Downs as pandemic protocols relax. He thinks the sport could be a good start in life for First Nations people in search of meaningful career paths, too.
"When I was younger, racing in Saskatchewan, having the success that I had, I wrote up a proposal to the government to find a way to get these kids out of the inner city, out of these troubled situations, and teach them life lessons, the value of a dollar, how things happen, and then it was shut down. I never got the opportunity to do it.
"If I got the opportunity to do it today, I would still love to do it. There's a lot of great teachings that we can do with these animals. Being from the Native culture, animals are everything to us. You can learn from them, make a living from them. I would love to be able to have four or five kids around everyday, to teach them. I believe there's more room for us in this industry. It just has to be brought forward."
Whenever his theme song (Tim McGraw's 'Indian Outlaw') accompanies another trip to the winners' circle, it's a playful reminder of this Redwood's roots. He can stand tall today, while still reaching higher.
"There's a lot of great horsemen that have come out of Saskatchewan," he reflects. "A lot. Hall of Famers and everything. Keith Clark's from Saskatchewan. Ray, Larry and Gord Remmen, The Lintons. There's lots that have come from there.
"Can I put my name there? Maybe not today, maybe not tomorrow, but every day that I have a chance to do this, I can get there."