The Ottawa Senators head coach is an aggressive perfectionist finding his place in the National Hockey League. He's also a racing fan whose passion and drive is rooted strongly in harness horses.
By Ronnie Shuker / Associated Press Photo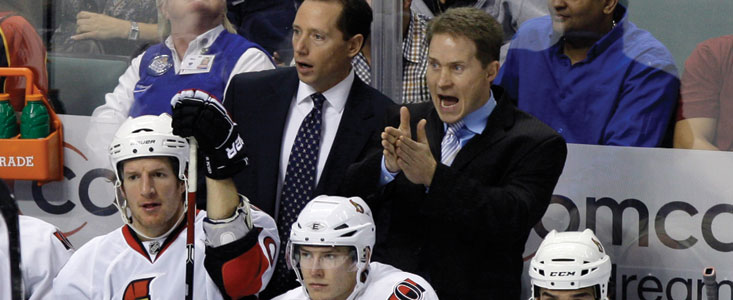 It's Wednesday, November 25, 1998, and Cory Clouston is coaching at the Canada Games Arena in Grande Prairie, Alberta. Though he's behind the bench for the Grande Prairie Storm of the Alberta Junior Hockey League in a game against the St. Albert Saints, across town he has a friend watching an important race for him on simulcast going on at the same time. His younger brother, Jason, is down in Edmonton getting ready to drive Flaming Princess in the Petticoat Final at Northlands Park. The heavy favourite is Nealies Magic, a big strong mare that dwarfs Jason's three-year-old filly and beat her handily a week earlier in the elimination. Flaming Princess had the lead heading into the final turn of that race, but she started to slip around the corner; Jason could only try and keep her together to prevent her from breaking stride instead of driving her home. Nealies Magic caught up to her, wheel to wheel, looked her in the eye and drove off for the easy win.
The brothers talked strategy before the final. Their father, a trainer for 20 years, suggested they make a shoeing change to help Flaming Princess take the turn better. Jason discussed the switch and some other tweaks for the race with his brother, and they both agreed that should make the difference in the final. "I would talk to Cory all the time," says Jason now of his time driving in the late 1990s. "We would strategize races together over the phone. He knew I was in a race coming up, who I was in against, the horses and their tendencies, and the drivers. He was great help for me that way. He's very knowledgeable. Not much gets past Cory. He's a professor of sport, whether it's harness racing or hockey."
Despite Flaming Princess leaving the gate a long shot, the brothers are confident she can win. She gets away third and takes the lead at the half. Nealies Magic tries to engage her again at the three-quarter pole, but Jason is able to drive Flaming Princess forward this time instead of just hanging on. He keeps his filly half a length in front of her rival, never letting her look his horse in the eye, and returns the favour from last week – heading home five lengths the best and paying $21.50 to win. The purse is $52,741.
When the race is over, Clouston's friend heads straight to the arena to share the results. "There he was in the middle of a game, and anyone who knows Cory knows you don't usually disturb him when he's coaching and in his zone," laughs Jason. "But as important as his career in hockey is, he definitely cared about how his little brother was doing. Cory was as excited that I'd won as he was about his team being ahead that night." Clouston's friend arrives as the teams are going to their dressing rooms between periods. "He won!" he shouts over the glass. "He won! He won!" When Clouston, known for his intensity and icy glare as a coach, hears the news, he cracks a smile and then some. The Storm goes on to win the game 6-5.
"The best times of racing were when my brother was driving, my dad was training, and I had some ownership," says Clouston today. "Those were the perfect days when my family was always involved. We've been involved in harness racing in all areas, from ownership to training to driving to running a newspaper that was 100 per cent geared toward the sport."
More than 12 years from that moment, Clouston, at 41, has reached the highest class in his profession as head coach of the Ottawa Senators in the National Hockey League. He was in his second season with the Binghamton Senators, Ottawa's American Hockey League affiliate, when Ottawa promoted him mid-season in 2009 after a poor start under its previous coach. He'd earned a reputation for his painstaking preparation and relentless work ethic, which caught the eye of Senators management, and also led local media to dub him "the baby-faced drill sergeant."
"I'm sure I drive my family nuts once in a while, because it's hard to turn that type of personality off," says Clouston. "You want things to be organized, you want things to be in order, you want things to be done properly. That carries over into all aspects of my life, not just hockey. To be successful – and it doesn't matter what you do, whether it be business, hockey or harness racing – the best trainers pay attention to detail. They go and study conformation of yearlings, and they do a lot of research on breeding lines, training and nutrition, and new veterinarian techniques. Those are the guys that are successful in racing. Obviously talent is a big part of it, but to me that only gets you so far. It doesn't matter if you're a player or a coach in hockey, or a trainer or a driver in harness racing; it's the attention to detail and the little things that separate the good athletes and good business people from the rest."
His players live lives of detail and discipline, especially when it comes to health and performance, and Clouston takes it upon himself to lead by example. He's a gym rat and a nutrition freak, and can't remember the last time he cheated and had a candy bar or some cake. "You want to try and be a bit of a role model," he says. "It's tough to preach nutrition and exercise to young players. If you're not doing that yourself, you can look like a hypocrite."
"I'm definitely not perfect. I know for a fact I've had some pizza here in the last little while, if you count that."
His whole life has been filled with hockey and harness racing. Clouston has watched the nutrition behind both sports develop from steak and potatoes in hockey and hay and oats in harness racing to the highly specialized science behind them today. "Your horse is like an engine – he's only as good as he is physically," he says. "With a hockey player, their body is their meal ticket, their engine that they have to go out and perform with. That's no different than a horse. You want it to be as healthy, strong and conditioned as possible… They're both very similar. So much is involved in the conditioning and the training of the horse, which is a lot different today than it was 30 years ago when we started. That's no different than with hockey players now. You're constantly looking for an edge or a way to improve the strength and conditioning of your players…. You have to manipulate everything for the horse, but with players you have to give them the information and they have to do a lot of it on their own. I do think there are a lot of similarities in the strength and conditioning aspects. In that sense they're both athletes."
Clouston's coaching career began with the Powell River Paper Kings of the British Columbia Junior Hockey League. He spent four seasons in Grande Prairie before moving up to the Western Hockey League to coach the Kootenay Ice, quickly garnering renown along the way for his intensity behind the bench. "Cory's a very competitive guy," says Don Moon, business manager with the Storm. "He's one of those guys who hates to lose more than he likes to win."
Clouston spent 13 seasons coaching through the junior ranks, winning coach of the year three times, before catching on in the pro leagues with the Senators in Binghamton and now in Ottawa. His parents, Wayne and Diann, couldn't be more proud, nor Clouston more thankful. They watch all his games on TV, and he calls home after each one. He credits his success to his mother and father, who worked hard to raise their young family through some tough times in Viking, Alberta. "We got by," says Clouston. "We didn't have a lot, but my parents always made sure we had hockey equipment."
When he was five years old, Clouston lived with Jason, his older brother Shaun, and their parents in a two-room shack, with no running water, and slept in the same room together. The family moved into an old farmhouse a year later. Wayne farmed there until 1979, when he went to work for his brother-in-law, Rod Hennessy, who raced standardbreds at Northlands Park in Edmonton and Stampede Park in Calgary. While working for Hennessy, Wayne claimed his first horse, Mutatis Mutandis (Latin for "the necessary changes having been made"), who went on to become the province's Claimer of the Year. From then on, life for the Cloustons had two main parts. "Between hockey and harness racing, that was our family life," says mother Diann, whose boys all played hockey growing up. "We raced horses and we trained horses, then we'd go to hockey games. I cheered for horses or I cheered for hockey players. That's what I did."
Diann worked for the local newspaper in Viking, The Weeky Review, and in 1982 she and the owner founded The Western Pace. The publication was dedicated to standardbred racing in Saskatchewan with some news on the industry in Alberta and British Columbia; it ran until 1995, when she sold it to other interests. During that time, Wayne continued to train horses for his brother-in-law before becoming farm manager at Savage Racing Stable just outside of Calgary in 1986. While he worked away from home, the family continued to live in Viking, and Wayne would make a trip or two back every week to see them. After hockey season was over, Diann and the boys would spend their weekends out at the track. In 1988, he co-founded his own stable, Pacer Park, just outside of Okotoks, Alberta, breaking and training 40 to 50 yearlings a year at its peak in the early 90s. And every summer, from the age of 11 through to his university years, Clouston went to work for his father, living in a camper with his brothers on site where their dad worked, cleaning stalls and harnessing, walking, and jogging horses. "You couldn't ask for a better summer job," says Clouston. "We lived right there. You could walk out of your house and right down to the barn."
His immediate family is no longer involved in harness racing – Wayne and Diann are retired, Jason is the operations manager of a construction company in Calgary and Shaun coaches the Medicine Hat Tigers of the Western Hockey League – but Clouston remains a student of the sport and regularly follows his uncle and his cousin, Mike Hennessy, who's a catch driver at Fraser Downs. Monday evenings, when he's not on the road with the Senators, Clouston and his 14-year-old soon-to-be stepson Marco (Clouston is engaged to his girlfriend of nine years, Bethan, who's expecting in May) sit down to watch the races together on The Score. He gets out to the races whenever he can, usually during the offseason when he returns to Saskatchewan. He was even able to squeeze in a trip to the track in Edmonton during a recent road trip with the Senators through Western Canada.
"I just really enjoy being around the track, the excitement of getting a horse ready and seeing them race," says Clouston. "It's the same idea as hockey. You prepare your horse, and you prepare your players. You put a lot of time into both. It's an exciting business - the harness racing industry."