Published:
September 9, 2020 03:23 pm EDT
Leamington track announcer Nathan Bain extended his lead on Ontario Racing handicapper Nicholas 'Ace' Barnsdale in the $500 Leamington Raceway Handicapping Challenge this past weekend.
There were two days of racing and Barnsdale closed the gap by five points on Sunday by clicking with seven top-pick winners on the 10-race card and his 'Best Bet.' Bain correctly forecasted five winners and a victorious Best Bet. It was Bain's big Monday that helped increase his lead, as he outscored his opponent 66 to 41 on the strength of clicking with six winners. Bain now holds a commanding 431 to 388 lead, but Barnsdale still has seven cards of racing to make his move on the leader.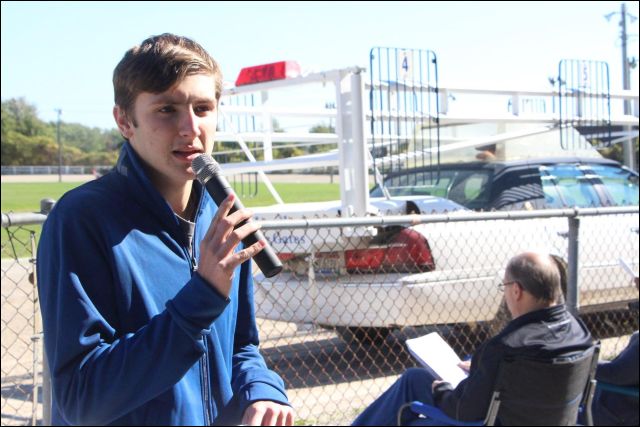 Nathan Bain, pictured at Leamington Raceway (Photo courtesy Nathan Bain)
The Handicapping Challenge is co-sponsored by the Canadian chapter of the United States Harness Writers Association (USHWA) and online Standardbred marketplace HoofBid. It is contested every week to the final day of the 2020 Leamington Raceway meet on October 25, with $300 awarded to the winner and $200 to the runner-up.
Check out Nick's selections at 'Picks from the Pros' at ontarioracing.com and Nathan's picks on the Leamington Raceway website (lakeshorehorseraceway.com). Leamington is now open to up to 100 spectators who contact the track ahead of time to reserve their spot. The live races can be viewed on the website, and online wagering is available via HorseplayerInteractive.com and TwinSpires.com.
(USHWA)