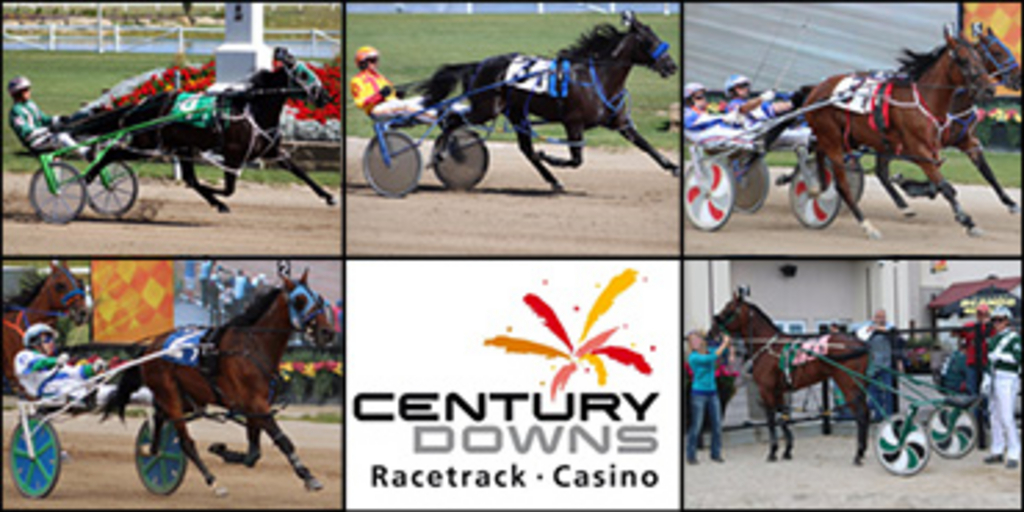 Published:
September 9, 2016 04:45 pm EDT
With the eliminations for the second Alberta Sires Stakes event of the season now in the books, the top three-year-old pacing fillies and colts are now set to do battle at Century Downs Racetrack and Casino on Saturday afternoon (September 10). The Alberta Diamond final for the gals will carry a purse of $56,900 while the Alberta Marksman for the boys will go for a $55,400 purse.
This final for the fillies has come up with some great talent. You may hit it the "All" button in this one at the windows. Divas Dragonfly, Outlawtriggerhappy and Apple Blossom Time all came out on top, winning their respective $5,000 Alberta Diamond eliminations. Parity existed amongst all three winners with a mere two-fifths of a second separating all three winning times set in the eliminations.
Meadowlark Farms' homebred filly Divas Dragonfly wired the field in her elimination by two lengths, setting fractions of :29, :58.4 and 1:27.2 before stopping the timer in a sharp 1:55.4 for trainer Carl Archibald and regular pilot Jamie Gray. She will garner lots of support at windows on Saturday.
With lots of talent in here the connections hope to discuss the race scenario and what fits best for this filly who was named the champion two-year-old Alberta sired filly for 2015.
"I am going to get together with our driver Jamie and hash out a game plan," commented owner/trainer Carl Archibald. "The start of the race will be crucial. She does relax and focuses on racing when she is in front. I jogged her couple of miles [Thursday] and she went very nice and easy to get her ready and in the mood for racing."
In the second filly elimination, Outlawtriggerhappy picked a good day to set a new lifetime mark for herself winning her race in 1:56.1. The Blue Burner-Gunslingin Gal filly must have been enjoying the scenario in front of her watching Glamorgal and Alberta Princess winner Outlawsurshotshark taking shots at each before driver Gerry Hudon made his move at the half to take the lead for good. Monstrous made a valiant try late in the lane settling for second.
Rod Starkewski trains and co-owns Outlawtriggerhappy with Clauzette Byckal.
Apple Blossom Time also had a career-best performance in her elimination. She came first up and eventually wore down pacesetter Ba Bye Ceia Later with a final time of 1:56.1. Brandon Campbell, who has been red-hot lately, drove the homebred Mystery Chase-R B Ethel Mertz filly for trainer Glenn Lutz and owners William and Dianne Neish. She could play a huge part.
Expect Ba Bye Ceia Later to be better in the final considering it was her first race in a couple of months due to some health issues and should be much tighter for the grudge match this Saturday.
The pace scenario may just favour Monstrous who always seems to come up huge when it's time for the big show. With all the talent to her inside with several speed types signed up for this contest, it just may result in an early slugfest which could see Monstrous coming late to pick up the pieces. Warren Fuller's homebred filly has been a gem of consistency never finishing worse than second in 2016 with a sparkling 11-5-6-0 record.
A daughter of Allamerican Navajo out of Hoosier Pam, Monstrous now has banked a total of $122,364 lifetime earnings making her the richest filly of this group. Veteran driver J.F. Gagne will again be in the bike to call the shots.
The connections feel with the right trip she can be tough. "She is a real nice filly. She came out of her elimination in great shape," said trainer Darryl Cutting.
As far as drawing the always tough outside post seven, that does not seem to be an issue.
"I am not all that worried about the post we drew. We will see what unfolds at race time and hope for a good trip."
Turning to the boys, the Alberta Marksman final looks loaded with talent and should be a great race for the fans to watch with several heavyweights set to duke it out for the lion's share of the $55,400 purse.
Fan favourite Outlaw Turn N Burn used a gutsy first-over trip for driver J.F. Gagne in the first colt elimination to wear down pacesetter Blue Star Maverick before having to fend off the pocket-pulling Keep Coming by three-quarters of a length. The Blue Burner-Penny Lace colt stopped the clock in 1:55.2 for trainer by Donna Sarin and owner 8113564 Canada Ltd. Outlaw Turn N Burn set a track record last year for rookie colts in a time of 1:56.3.
In the other elimination, fans of Wrangler Cash were handsomely rewarded having gone off at 7-1 odds while winning his elimination. He quickly got the two-hole from post seven and hunted down the favourite Blue Star Jet through panels of :28.1, :57.4 and 1:26 before popping out and blowing by Blue Star Jet in a sizzling in 1:55. Trainer-driver Kelly Hoerdt's barn has also been hot recently and co-owns the As Promised-W Jean colt with Blair Corbeil and breeder Dr. Maurice Stewart.
Which Blue Star Jet will show up on Saturday? With the use of Lasix for the first time, the 2015 Alberta Colt champ wired similar foes by seven lengths in a track record time for three-year-old geldings in 1:54 flat back on August 7 in the Brad Gunn Stake final. He repeated that effort wiring the field in 1:54.2 capturing the ASHA Colt stake by a short nose. Last week in his elimination, he tried to front end the opposition again only to succumb to the aforementioned Wrangler Cash who enjoyed a nice two-hole trip that day.
No need to wonder what this guy's game plan is.
"I would imagine we are going to the front as usual again. This race came up real tough. It looks like Wrangler Cash (Hoerdt) from the rail will get the trip. You have to be afraid of Outlaw Turn N Burn. He can motor home pretty good," said Rod Hennessy.
The connections still feel the addition of Lasix has helped immensely.
"Adding Lasix continues to help him relax. It will be an interesting race for sure."
Blue Star Jet is owned by trainer Rod Hennessy and Edmonton's Lorne Duffield. A two-time Sires Stakes winner at two, Blue Star Jet has recorded nine wins in 19 career starts for earnings just under $120,000.
Century Downs Racetrack and Casino will feature nine races this Friday with a special post time of 5:05 p.m. and 11 races set for Saturday with a first race post time of 1:10 p.m. Note that is there is no racing on Sunday, September 11 due to the ASHA Yearling Sale.
(A Trot Insider Exclusive by Frank Fontana. Photos courtesy Horse Racing Alberta)