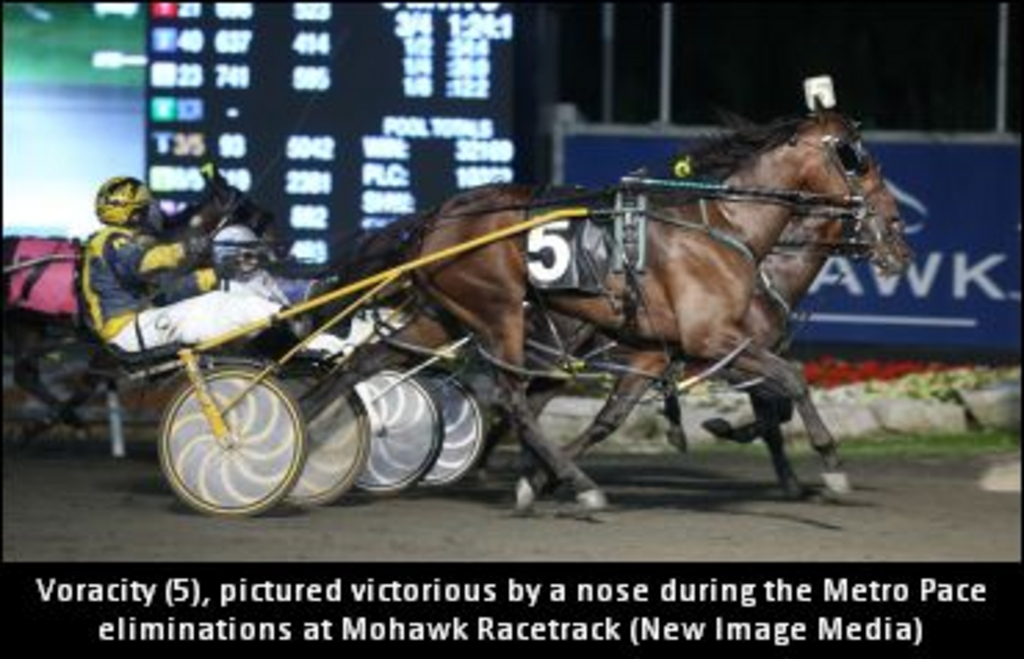 Published:
September 4, 2015 03:50 pm EDT
Each Labour Day weekend, the top two-year-old pacers from different states and provinces converge on Mohawk Racetrack for the Metro Pace, which is the richest race for freshmen. This year, the Ontario Sires Stakes (OSS) has a big chance to be home of the top rookie pacer in harness racing.
Over the years, the Metro Pace champion has quickly stamped himself as the top rookie pacer. A group of four OSS competitors will compete in the $685,000 Metro Pace, which will feature a field of 10 this Saturday night.
Voracity and Betting Line have both won multiple OSS Gold events this season and last Saturday both proved to be Grand Circuit contenders with victories in their respective Metro eliminations.
A son of Sportswriter, Voracity won divisions of the first two Gold events, before finishing second by a nose at Rideau. The Tony Alagna trainee rebounded with a victory in the Nassagaweya heading into his Metro elimination.
Through the first five starts of his career, Voracity has shown versatility that has impressed his conditioner.
"I think that's the true test of any great horse is that they have versatility where they can leave off the switch and they can come right back off the next week," said Alagna, following Voracity's Metro elimination. "These horses have to be versatile now a days because it's a speed game and they have to be able to start and stop at a second's notice."
Voracity is out of the second-crop of Sportswriter, who cleaned up last season in the OSS and appears to be on pace for another solid season thanks in large part to the Alagna trainee.
Voracity will be looking for his fifth win from six starts Saturday and he enters the Metro the highest earning two-year-old pacing colt in the sport with over $170,000 banked.
Casie Coleman trainee Betting Line also has two victories this season in Gold events. The son of Bettors Delight has four victories from six starts and will be meeting Voracity for the first time in the Metro Pace.
Coleman, who trained Sportswriter, is excited to see his offspring performing at the highest level, but she is confident in her son of Bettors Delight.
"(Voracity) is a Sportswriter colt and I was real excited to see a Sportswriter win a Metro elim and he was very impressive," said Coleman, last Saturday. "I've been real happy with everything (Betting Line's) done so far, he's a really talented colt."
Bettors Delight is currently in his first season in the OSS after many years as one of the top sires in New York. Betting Line's early-season success has made a major impact for Bettors Delight in the Ontario market.
Bettors Delight will also be represented by Jimmy Takter trainee Cruise Patrol in Saturday's contest.
Cruise Patrol has yet to win a race in seven starts, but Takter is no stranger to a Metro upset, having won the 2011 edition with Simply Business at 20/1.
Nvestment Bluechip, a son of Shadow Play, is the fourth and final OSS competitor in the field. The Dave Menary trainee won a division of the first Gold event this season and finished third by just half a length in his Metro elimination.
Nvestment Bluechip, who has a record of two wins from five starts, impressed his conditioner training down, convincing his connections to pay him up to the Metro and other Grand Circuit events.
"He was kind of my favourite colt all winter," said Menary. "His schedule he doesn't have to leave Canada, but it still gives him a little bit of opportunity to step up."
Although Nvestment Bluechip will face his toughest challenge this Saturday, Menary believes the tasks will be tough all season in the OSS.
"It is (a deep group). He's been lucky so far, but there are a lot of good colts and hopefully he can have a little more luck going to the end of the year."
Voracity and Betting Line have been installed as the second and third choice on the morning line for Saturday's final at 3-1 and 7-2, respectively.
Nvestment Bluechip and Cruise Patrol may be longshots on the morning line, but it was just a few years ago that the Ontario-sired colt Boomboom Ballykeel scored a 10-1 upset in the 2013 Metro.
The 2015 Metro Pace will go forward as Race 7 on Saturday evening at approximately 9:17 p.m.
The full field for the Metro Pace appears below.
1 – The Catamount Kid – Jody Jamieson
2 – Betting Line – Steve Condren
3 – Voracity – Sylvain Filion
4 – Control The Moment – Randy Waples
5 – Racing Hill – Doug McNair
6 – Nvestment Bluechip – James MacDonald
7 – Pretty Boy Hill – Matt Kakaley
8 – Ideal Rocky – John Campbell
9 – Cruise Patrol – Brett Miller
10 – American Passport – Scott Zeron
To view the harness racing entries for Saturday at Mohawk, click the following link: Saturday Entries – Mohawk Racetrack.
(WEG)