Published:
September 21, 2017 02:25 pm EDT
Kawartha Downs will host its only Racing Under Saddle race of the season this Saturday night where Kamikaze Lindy will attempt to record his third consecutive victory.
What makes this attempt unique is the fact that he has scored his most recent wins in different fashion. The first, at Mohawk on September 4, was in the traditional style of harness racing, with a driver and sulky behind him.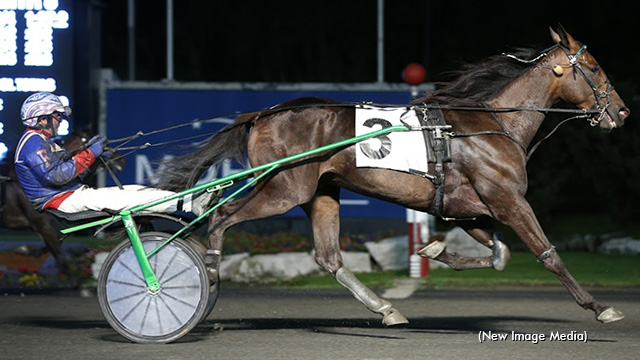 Kamikaze Lindy winning at Mohawk earlier this month. (New Image Media)
The second occurred two weeks ago at Hiawartha Horse Park when he won the RUS race there while being ridden.
The five-year-old trotter will attempt his second straight RUS win in Saturday's third race at Kawartha where he'll square off against four other rivals including stablemate Lets Leavem. Both horses are trained by Shane Arsenault who also owns Kamikaze Lindy who will be ridden by Heather Reese on Saturday. Lets Leavem will be ridden by his owner Sarah Town.
The five RUS riders, Sarah, Heather, Marielle Enberg, Maggie Jones and Natalie Elliott will be available to meet and greet with fans in the grandstand following race five.
Saturday's card is the second last program of racing at Kawartha for the 2017 season. First race post time is 7:00 p.m. For entries, click the following link: Saturday Entries - Kawartha Downs.
(with files from Kawartha)