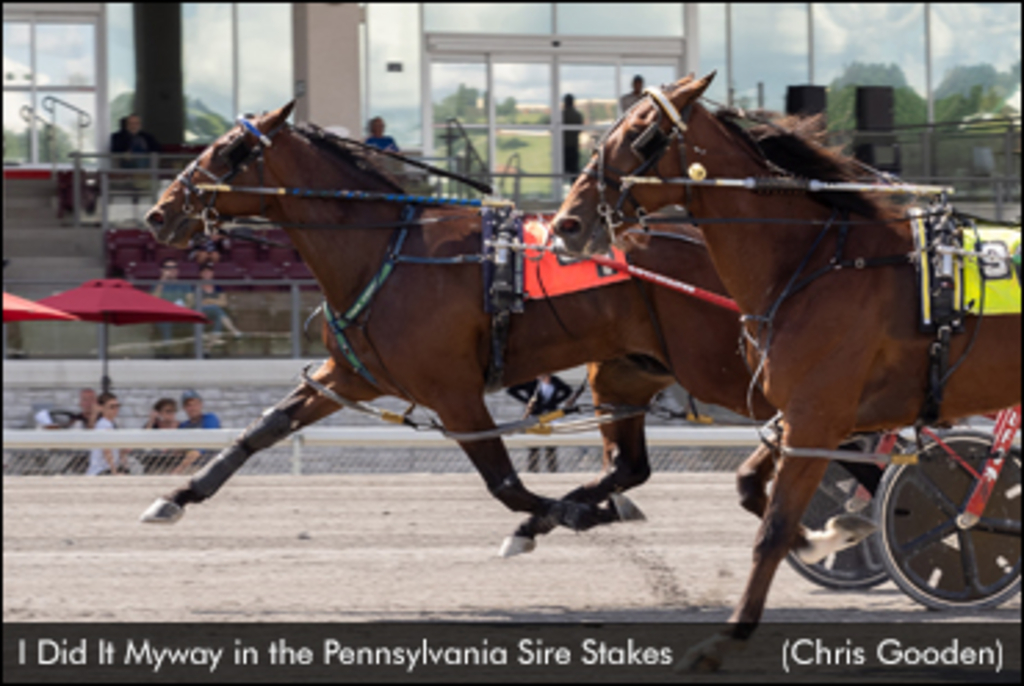 Published:
September 2, 2021 10:32 am EDT
Friday's Pennsylvania Sire Stakes championships for two-year-olds at The Meadows not only feature some of harness racing's finest freshmen, but they also anchor a rich card offering more than $1.26 million in purses.
Each of the four championships goes for $253,000, and each division also sports a $50,000 consolation. First post for the 13-race program is 12:45 p.m.
Here are some of the most intriguing horses and angles in each of the championships:
Colt & Gelding Pace (Race 11)
All else being equal, one might look no further than I Did It Myway in the two-year-old colt and gelding pacing division. He swept all three PASS legs that he contested and added victories in the Kentucky Championship Series and the Tompkins-Geers to launch his career with five straight wins for trainer Tony Alagna and owners Country Club Acres, Joe Sbrocco, Don Latore and Alagna And Fodera Racing.
But all else isn't equal as the son of Captaintreacherous-Flyme To The Moon and regular driver Todd McCarthy must leave from post nine. Who might benefit? Pay attention to True Blue Lindy, a star in Canada who made a terrific U.S. debut in last week's PASS leg at The Meadows when he triumphed in 1:51.3 for trainer Jeff Cullipher, who owns the Always B Miki-Think Pink gelding with Pollack Racing LLC.
Filly Trot (Race 8)
Speaking of perfect, consider A Perfect Helen who's been perfect — sort of — with five place finishes in as many starts. But the $60,000 yearling acquisition, a daughter of Father Patrick-Asixpakfromperfect, has banked more than $83,000, so she'll get no complaints from trainer Jeff Gregory, who's realistic about her chances Friday.
"Pennsylvania is a tough state; a lot of the better horses in the country come out of Pennsylvania," said Gregory. "I don't think anything is going terribly wrong. It's not like we're losing by a nose. She's getting beat by better horses. She'd need to have a couple of the better ones beat each other up so she can pick up the pieces. But she likes what she's doing, and she's trying all the time."
Gregory, who'll pilot the filly from the rail, owns her with Martin Garey, George Romanoff and William Richardson.
Colt & Gelding Trot (Race 10)
This one's a wide-open affair matching regally bred, talented youngsters. Both S I P (post four, Yannick Gingras) and Global Pandemic (post nine, Joe Bongiorno) — each from the stable of Run Burke — captured their last two PASS splits.
So much early speed here that if you puzzle out a youngster who'll save his brush for the final panel, you may be onto a live long shot.
Filly Pace (Race 9)
No doubt about the favourite here. That would be Captain Cowgirl (Captaintreacherous-Rideintothesunset), who is only a length from being undefeated in her five career outings. She won the August 20 PASS leg at The Meadows in a sparkling 1:51.
Tim Tetrick, who owns her with Jo Ann Looney-King and Kenneth Frieder, will steer Captain Cowgirl from post four. She's coupled in the wagering with Im No April Fool, another Jim King Jr. trainee.
(Meadows Standardbred Owners Association)